New York Yankees: Andy Pettitte to Make 2012 Debut Sunday Against Mariners
May 8, 2012

Al Messerschmidt/Getty Images
After weeks of speculation, the wait is over and Andy Pettitte will be back.
Aaron Gleeman of NBC's HardBallTalk reported that Pettitte will make his 2012 debut for the Yankees pitching at home against the Seattle Mariners.
Pettitte has been pitching in extended spring training ever since he announced back in March that he was coming out of retirement for the Yankees.
Pettitte accepted a one-year, $2.5 million minor-league deal after he was invited to the Yankees' spring training as a special instructor.
It was there that Pettitte got the urge to pitch again after retiring before the 2011 season.
While in the minors, Pettitte made four starts ranging from Class A, AA and AAA, threw 17 innings with a 13-2 strikeout-to-walk ratio and had a 3.71 ERA, which isn't too bad considering he hasn't thrown a live pitch since Game 3 of the 2010 American League Championship Series.
Pettitte's return comes at the right time with the rotation having several question marks after CC Sabathia.
Hiroki Kuroda and Ivan Nova have been up and down, Phil Hughes has been inconsistent, Freddy Garcia was so terrible that he got demoted to the bullpen and Michael Pineda is out for the season with a shoulder tear.
The crowd that will be in attendance at Yankee Stadium will certainly be pumped up and ready for one of their long-time favorites to return for one last hurrah.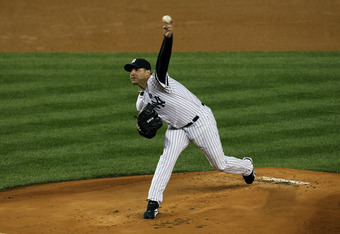 Jim McIsaac/Getty Images
As of right now, Pettitte is scheduled to square off against Mariners right-hander Blake Beaven. Seattle ranks near the bottom of the American League in multiple categories, so it's a nice game to ease Pettitte back into the major league swing of things.
I'm sure a lot of Yankee fans all over share my excitement to see Pettitte return. For me personally, my favorite player since I was 11 is coming back, and I could not be more thrilled.
Mother's Day in the Bronx just became more interesting and something not to miss.
Stay tuned, Yankees Universe.