Deion Sanders Divorce: Judge Orders Pilar Sanders to Stay Away from Dallas Home
May 8, 2012

Elsa/Getty Images
Hall of Fame cornerback Deion Sanders has been linked to an ugly divorce from estranged wife Pilar Sanders for some time now.
Stuck in the middle of the messy legal matter are the couples' three children, but things took a turn in Neon Deion's favor on Monday.
According to an AP report in the Atlanta Journal-Constitution, Sanders gained temporary custody of the children while Pilar was slapped with a 500-yard restraining order from their suburban Dallas home.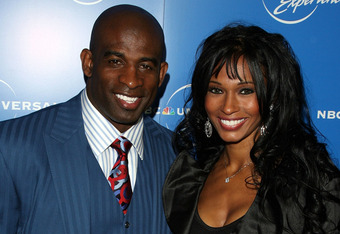 Bryan Bedder/Getty Images
The report also stated that State District Judge Ray Wheless "ruled that the injuries to Pilar Sanders, which she alleged her husband inflicted during an April 23 scuffle at their $5.7 million home in Prospect, were a result of Deion Sanders defending himself from her assault."
Deion definitely came up on top in this proceeding, but the saga isn't over just yet. There will still be a full custody hearing for the children as the divorce case continues.
Prime Time took to Twitter to express his excitement:
GOD IS SO GOOD! DON'T EVER DOUBT HIM NO MATTER HOW YOUR SITUATION LOOKS. TRUST HIM PLEASE. HE IS SO FAITHFUL.

— DeionSanders (@DeionSanders) May 8, 2012
Sanders currently works as an on-air analyst for NFL Network.