Twins vs. Mariners: Hector Noesi Uses Hapless Twins to Get Right
May 7, 2012

Otto Greule Jr/Getty Images
Hector Noesi needed this. After struggling with his consistency, Noesi brought a 7.38 ERA and 1-3 record into Sunday's matchup against the hapless Minnesota Twins.

In his best outing since April 14, Noesi pitched seven innings, allowing only one run on four hits while striking out five. On a day when the only Twins offense came from Ryan Doumit, Noesi was able to lower his ERA to 6.30 and improve his record to 2-3.

Coming off a seven-run Saturday, the M's put away a demoralized Minnesota squad early on Sunday.

Dustin Ackley walked to lead off the Mariners' half of the first. Brendan Ryan singled to left, moving Ackley to second. Both Ackley and Ryan were able to move up on an Ichiro ground out, placing runners at second and third with one out. Jesus Montero doubled to left, scoring both runners and Kyle Seager drove him home with a line drive single to deep right.

In a possible sign that he is turning the corner, Mike Carp led off the second with a solo HR into the right field bleachers. It was just his third hit since coming off the DL on Monday.

Ackley tripled to deep center in the fourth and then scored to make it 5-0 on a Brendan Ryan sacrifice fly. That was all Noesi needed.

"It's good, especially with our pitching staff," Carp said in a Seattle Times interview. "If we can score some runs early, we know they're going to come in and dominate the rest of the game."

Minnesota got on the board late. Doumit hit two solo shots—one off Noesi in the seventh and one off Wilhelmsen in the ninth. However, it was too little, too late.

Of note:

Brendan Ryan continues to show signs that his bat is coming around. Ryan singled and scored in the first and then hit an RBI sacrifice fly in the fourth. Although he is still slumping, he was a significant part of the Mariners' production over the weekend.
However, it was on defense that he shined. Ryan made a beautiful barehanded play deep in the hole in short during the top half of the fifth. Moving to his right and picking the ball out of the air with his bare hand, Ryan rocketed a strike to first for the third out of the inning.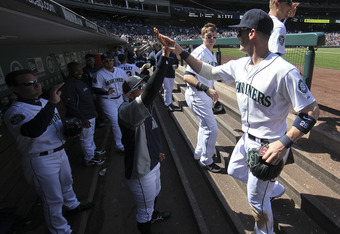 Otto Greule Jr/Getty Images
Shawn Kelley returned to the big club yesterday. The often injured pitcher will most likely be used in middle relief.

"When the phone rings, I'll be ready," Kelley told Larry LaRue of the Tacoma News Tribune. "It could be one batter or multiple innings. I feel great, better than when I came up last September."
The Minnesota Twins set a record in futility this week. They managed to string together only nine hits over the four games previous to Sunday. According to the Elias Sports Bureau, this gives them the dubious distinction of being the only team to accomplish such a feat in the modern era of baseball  (1900-present).