Fantasy Baseball: 10 Latest 'Buy Low' Fantasy Trade Options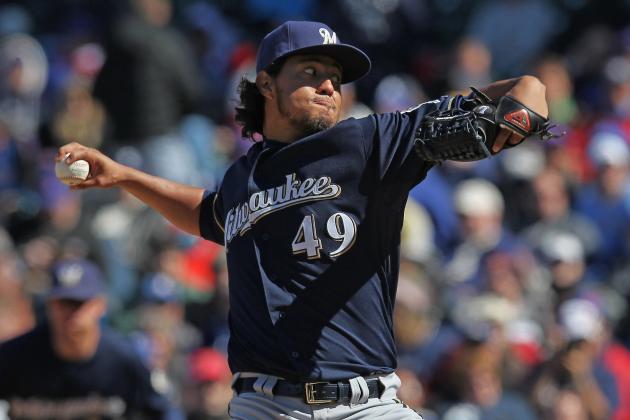 Jonathan Daniel/Getty Images
Gallardo is pitching better than his numbers suggest.
It's May now and there are some players who are still not performing like they should.
While looking at their stats, you might not find them attractive, but these are the players to target as soon as possible.
It's time for low-risk, high-reward trade options.
All the players on this list have underachieved so far in the young 2012 campaign. Buy these players now when they are low, and you will make a great profit off of them.
Begin Slideshow

»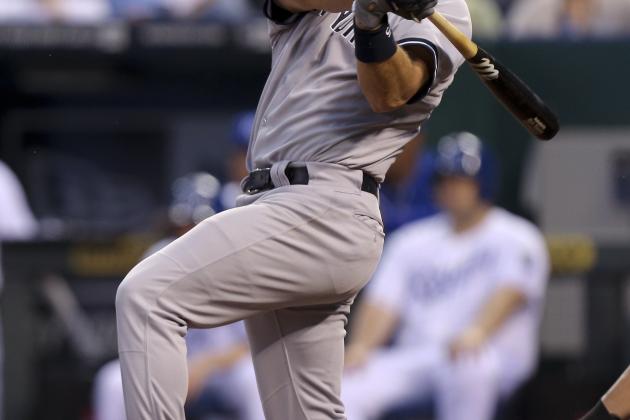 Ed Zurga/Getty Images
Teixeira is off to another slow start.
2012 stats: .229 BA, 4 HR, 16 RBI, 11 R
Mark Teixeira is notorious for getting off to slow starts, so there's no surprise that's he's doing it again in 2012. The batting average might never be higher than .260 again, but he's still good for 30-plus homers, 100-plus RBI and around 100 runs.
As the weather gets warmer, so does Teixeira. Send an offer now before you have to pay more for him later.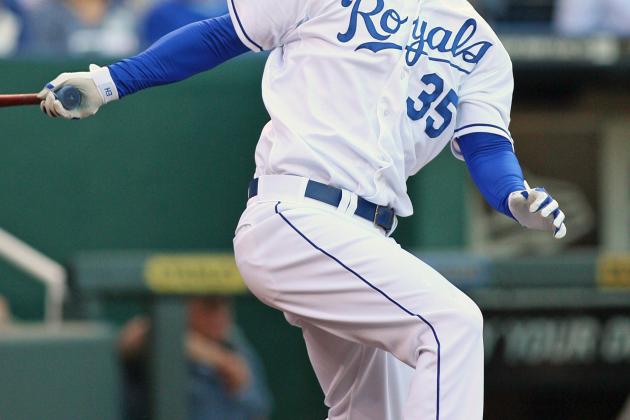 Tim Umphrey/Getty Images
Now is the time to buy low for Hosmer.
2012 stats: .185 BA, 5 HR, 15 RBI, 14 R
After hitting .398 in spring training, Eric Hosmer has struggled so far. But while his numbers might not show it, Hosmer is actually improving upon last season in some areas.
For one, he's walking more. A more disciplined approach will eventually lead to a higher average. Secondly, his ISO is actually higher this year than it was in 2011 (.192 compared to .172). While his average is low, he's still displaying power.
Buy Hosmer low now. His .179 BABIP will certainly increase, meaning his average is bound to take a dramatic jump.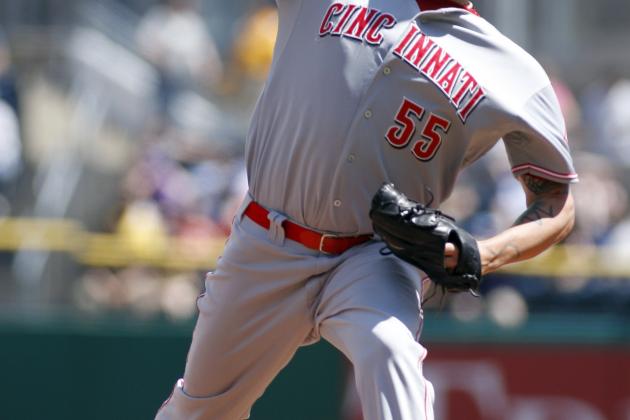 Justin K. Aller/Getty Images
Latos has a lot of potential.
2012 stats: 34.2 IP, 2-2, 4.93 ERA, 29 K.
After getting off to a rocky start, Mat Latos looks like he's finally coming around. He is 2-0 with a 2.33 ERA and 18 strikeouts in his last three starts.
Latos is a streaky pitcher, so you don't want to miss out on one of his hot streaks. You can probably get him for pretty cheap, and he'll reward you.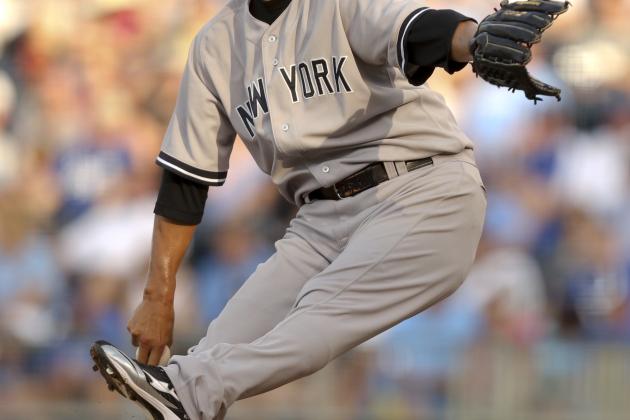 Ed Zurga/Getty Images
Expect Kuroda's numbers to get better.
2012 stats: 36 IP, 2-4, 3.75 ERA, 22 K
After giving up six earned runs against the Twins on April 18, Hiroki Kuroda has given up two or fewer runs in every start since then.
Although his start against the Royals wasn't good, Kuroda is going to get better. His BABIP is about 20 points higher than his career average and the Yankees have scored just three runs combined in his last three starts.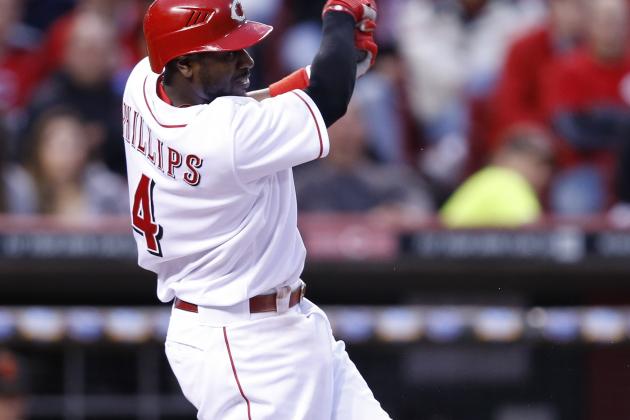 Joe Robbins/Getty Images
Phillips is bound to break out of his slump soon.
2012 stats: .215 BA, 2 HR, 9 RBI, 10 R, 0 SB
Brandon Phillips has been very consistent the last six seasons. He has averaged 20.67 homers and 22.5 stolen bases with a .280 batting average.
There's no reason to think that the 31-year-old cannot do it again in 2012, even after a dreadful start.
Phillips plays a pretty shallow second base position, so send Philips' owner a trade proposal now. You might be able to get him for cheap.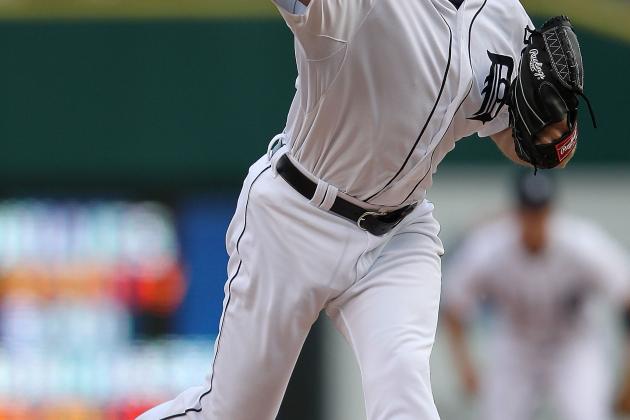 Leon Halip/Getty Images
Scherzer's K totals should setup a comeback.
2012 stats: 33.1 IP, 1-3, 6.32 ERA, 36 K
Max Scherzer is off to a terrible start, but there are a bunch of stats that are outliers.
His BABIP is a ridiculous .407. Scherzer has given up his fair share of hits in the past, but that clip of .407 is nearly 100 points higher than his career average. Expect that number to decrease.
His LOB percentage is 68.1 percent. Scherzer was at 73.7 percent in 2011 and 74.9 percent in 2010. Again, that number should get better as the season goes on.
You should be able to get Scherzer for very cheap. He's a low-risk, high-reward option at this point.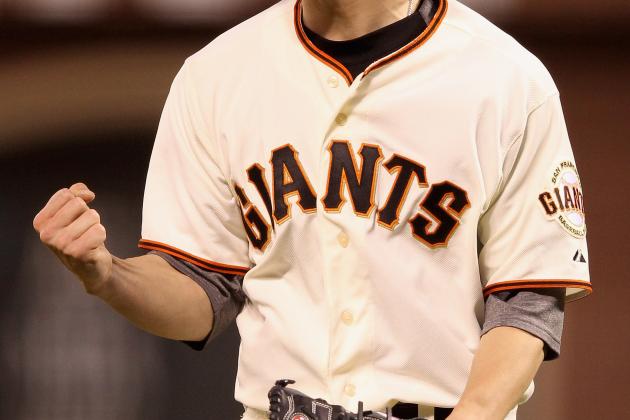 Ezra Shaw/Getty Images
Lincecum is putting his first three starts behind him.
2012 stats: 31.2 IP, 2-2, 5.68 ERA, 33 K
Tim Lincecum gave up 16 earned runs in his first three starts of the year, but has now given up just one earned run in his last two starts.
The chance at getting Lincecum very low has passed by, but you still might be able to get him pretty cheap. Try to get Lincecum as soon as possible before he gets on a hot streak.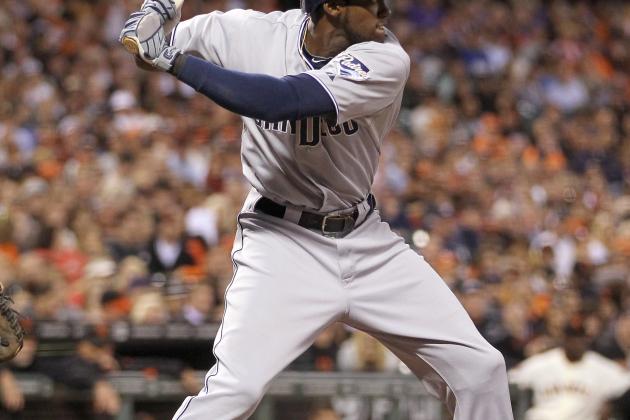 Ezra Shaw/Getty Images
Maybin is trying to follow up a good 2011 season.
2012 stats: .219 BA, 1 HR, 9 RBI, 17 R, 9 SB
Other than the stolen bases, Cameron Maybin hasn't been producing much. That might turn around very soon. He's starting to warm up, going 6-for-14 in his last four games.
Maybin had a breakout season in 2011 and he's looking for a repeat year. Maybin is an immediate impact for stolen bases. If you're hurting for steals, you can probably get Maybin for a low price. His .258 BABIP will get better and the average will follow.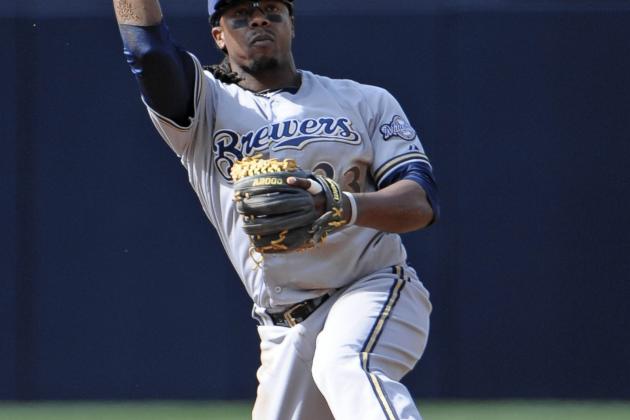 Denis Poroy/Getty Images
Weeks is off to a very slow start.
2012 stats: .181 BA, 3 HR, 6 RBI, 12 R, 2 SB
Rickie Weeks hasn't had a multi-hit game since April 17 and he's hitting just .181 so far.
Now is the time to swoop in for Weeks. While Weeks is off to a bad start, he's also walking more than he ever has in his career. He's walking 16.5 percent of the time, almost seven percent more than last season.
In the last three years, Weeks' BABIP has been above .300. This year, he's only at .231. His BABIP is going to rise and his batting average will follow.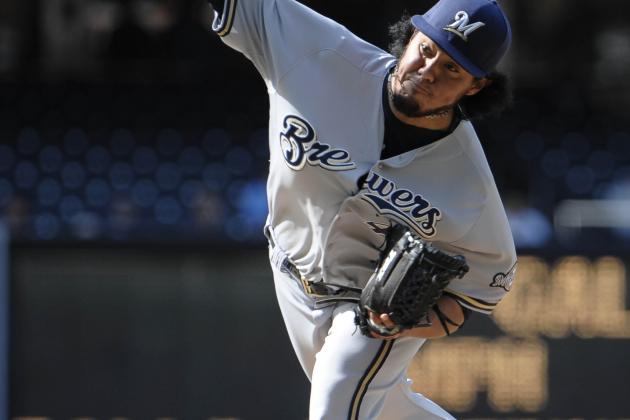 Denis Poroy/Getty Images
Gallardo is struggling so far in 2012.
2012 stats: 32.2 IP, 1-3, 5.79 ERA, 31 K
Yovani Gallardo hasn't gotten off to a good start, but he's pitching a little better than his stats suggest. His FIP is 3.94 and his xFIP is 4.02, meaning his 5.79 ERA is pretty unlucky so far.
Use this knowledge to your advantage.
Gallardo had a terrible April last year and then had a great season the rest of the way. He had a 6.23 ERA in April and had a 3.20 ERA after the All-Star break.
Take a gamble on Gallardo. His owner is most likely frustrated and will be willing to shop him.