Undrafted NFL Free-Agents 2012: Rutgers Players Look to Take Last Roster Spots
May 6, 2012

Patrick McDermott/Getty Images
The music is beginning to slow, and there are not many open seats left for when it finally stops.
As expected, talented wide receiver Mohamed Sanu was chosen in this year's NFL draft, which was then followed by the three signings of Rutgers' undrafted free-agents Joe Martinek, Desmond Stapleton and Desmond Wynn, with a fourth, Justin Francis, signing with the New England Patriots shortly thereafter.
Martinek, signed by the New York Giants, will battle for playing time at fullback with Henry Hynoski, while Desmond Stapleton will attempt to make the roster of the Pittsburgh Steelers, as his older brother did. Desmond Wynn received an invite to camp from the Tampa Bay Buccaneers, where his former college coach, Greg Schiano, will pace the sidelines this fall.
Following on the heels of those three signings was that of defensive lineman Justin Francis with the New England Patriots.
The addition of Francis brings the number of former Scarlet Knights on Coach Belichick's team to five, including Tiquan Underwood, Nate Jones, and two RU teammates of Francis: Devin McCourty and Alex Silvestro. At 6'2" and 268 pounds Francis is small, which could prove problematic when he faces off against 300-pound linemen in the NFL. 
Surely the nicest story of the post-draft period was that of defensive lineman Eric Legrand, who was signed by his former coach Greg Schiano in Tampa. Since being paralyzed in a freak collision during a game at the Meadowlands, Legrand has been an inspiration with his tireless work to overcome his present condition.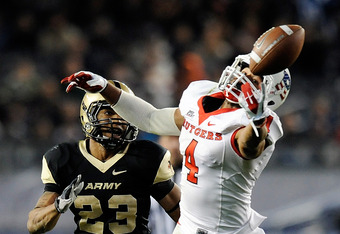 Patrick McDermott/Getty Images
That leaves just three more Rutgers graduates looking to catch on with a team before the NFL teams' focus shifts back to finding the best veteran free-agents:
1. Manny Abreu, defensive lineman. In the opinion of some, Abreu never reached the level of play originally projected for him. Standing just over 6'2" and weighing a mere 256 pounds, scouts and coaches no doubt question the ability of this DE to fight through blocks and make tackles.
2. Art Forst, offensive lineman. Standing over 6'7" and weighing 307 pounds, Forst was named to the Outland Trophy Watch List in 2010, and began starting for Rutgers as a true freshman. Look for someone to bring him in for a look, possibly even his former coach.
3. David Rowe, defensive back. At just 5'11" and 199 pounds, Rowe had been rated as Rutgers' most NFL-ready prospect by Mel Keiper of ESPN going into his senior year. Pro teams may have soured on him when he switched from cornerback to safety in his final season.
The initial flurry of signings has subsided, and the calendar has turned to May. Training camps will be opening in late July.
Free-agents who do not find a suitor before then and want to keep their NFL dream alive may look to stay ready by signing on with an Arena Football League team, the Canadian Football League, or the fledgling United Football League.