2013 NFL Mock Draft: Breaking Down Teams Still in Need of Offensive Playmakers
May 5, 2012

Stephen Dunn/Getty Images
In our 2013 NFL mock draft, we highlight teams that may need to add offensive playmakers in next year's draft:
1. Oakland Raiders: Matt Barkley, QB, USC
Raiders fans won't like to hear it, but their rebuilding team may be the top candidate to suffer a big fall to No. 1 overall. Getting Barkley at the end of a long year would brighten the future, however. 
2. Cleveland Browns: Marquess Wilson, WR, Washington State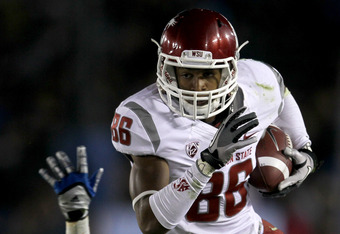 Stephen Dunn/Getty Images
The Browns made a big upgrade at running back when they took Trent Richardson at No. 4 overall, and getting Brandon Weeden 18 picks later could turn out to be their answer at quarterback. However, GM Tom Heckert still doesn't have a bonafide No. 1 receiver on his roster. That obvious hole could slow the improvement and progression of the entire Browns' offense in the short term.

Cleveland fills its need at receiver here with Wilson, who stands 6'4" and has produced 1,000-yard receiving seasons in each of his first two seasons at Washington State.
3. Miami Dolphins: Sam Montgomery, DE/OLB, LSU
Cameron Wake's contract situation is a worry for the Dolphins moving forward, but the pass rush needs help in Miami regardless. 
4. Indianapolis Colts: D.J. Fluker, OT, Alabama 
The Colts loaded up on playmakers for Andrew Luck, so next season's draft could be about protecting their investment at quarterback.
5. Jacksonville Jaguars: Jelani Jenkins, OLB, Florida
Quarterback could certainly be in play if Blaine Gabbert falters in year two, but a versatile and productive linebacker looks like a safe pick at this juncture. 
6. Minnesota Vikings: David Amerson, CB, NC State
Amerson has all the makings of being next year's Morris Claiborne; a blue-chip cover cornerback that doesn't get past the No. 6 pick. 
7. Arizona Cardinals: Tyler Bray, QB, Tennessee
If Kevin Kolb repeats his 2011 season this year, the Cardinals shouldn't hesitate to draft their future at the position in the first round. Bray has the physical makeup to be a No. 1 pick contender.
8. St. Louis Rams: Jake Matthews, OT, Texas A&M
No team in the NFL gave up more sacks than the Rams last season, and little was done to improve the edges of the offensive line. Jeff Fisher can make that improvement with one of his first-round picks in 2013.
9. St. Louis Rams (from Washington Redskins): Robert Woods, WR, USC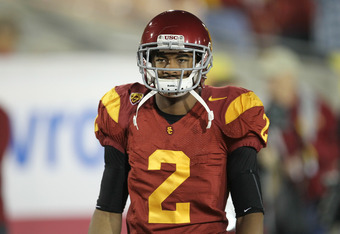 Stephen Dunn/Getty Images
The Rams made a smart gamble when they moved down twice in the first round, starting with their historic pre-draft haul from the Redskins for the No. 2 pick and ending when the Cowboys moved up to get Morris Claiborne at No. 6. St. Louis then took defensive tackle Michael Brockers in the first round, waiting until the start of the second round to address the receiver position. Will Brian Quick develop into the No. 1 that some see in him down the road? Only time will tell. But Woods is too talented and too productive for the Rams to pass on here. With Quick and Woods on board, Sam Bradford should have the receiving combination he needs to take the next step.
10. Seattle Seahawks: Keenan Allen, WR, California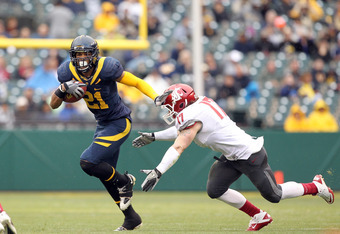 Ezra Shaw/Getty Images
The signing of Matt Flynn to a three-year deal doesn't guarantee he'll be the starter in Seattle, but I'd be shocked if he didn't win the job. If Flynn does start, GM John Schneider would do well to take a page out of Packers' book on building an offense. Running backs have a purpose, but receivers and tight ends are gold.

With the right number of talented pass-catchers in place, Flynn would have a chance to be among the game's top-12 or- 15 quarterbacks. Allen could be one of those pieces in the passing game moving forward, even if receiver isn't high on the Seahawks' need list.
11. Tampa Bay Buccaneers: Tyrann Mathieu, CB, LSU
The Honey Badger is undersized at 5'9" and may never be a true No. 1 cornerback, but his playmaking skills are will give him NFL value.  
12. Tennessee Titans: Kawann Short, DT, Purdue
The Titans still need to find their answer to the hole Albert Haynesworth left inside.
13. Carolina Panthers: Johnathan Hankins, DT, Ohio State
The Panthers are slowly but surely building a roster with talent and depth, but the need on the interior of the defensive line remains. 
14. Denver Broncos: Marcus Lattimore, RB, South Carolina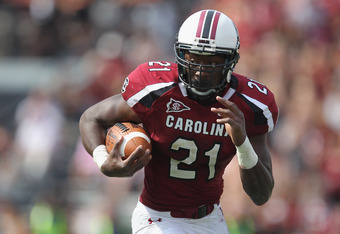 Streeter Lecka/Getty Images
He may not be the same kind of back as Trent Richardson, but Lattimore has the same elite skill set at the position that pushed Richardson's stock into the top-5 of the 2012 draft. The one problem moving forward with Lattimore's draft stock is his long injury history, and I doubt teams picking early in next year's draft will want to pull the trigger on a player who has struggled to stay on the field.

However, in the middle of the first, Lattimore makes some sense. The Broncos have a need at running back despite drafting Ronnie Hillman in the third round. 
15. Kansas City Chiefs: Landry Jones, QB, Oklahoma State
It will be interesting to see how long of leash the Chiefs continue to have with Matt Cassel at quarterback. I wouldn't rule out a first-round quarterback if Kansas City struggles in 2012.
16. Chicago Bears: DeMarcus Milliner, CB, Alabama
The Bears need to bring in some fresh talent at the cornerback position.
17. Cincinnati Bengals: Barkevious Mingo, DE/OLB, LSU
Cincinnati hasn't been shy about drafting hybrid players during Marvin Lewis' reign as head coach.
18. San Francisco 49ers: Barrett Jones, G/C, Alabama
If there's a trouble spot on the 49ers' roster, it's likely the interior of the offensive line.
19. Dallas Cowboys: Tyler Wilson, QB, Arkansas
Is it such a stretch to think that Jerry Jones would go for the quarterback of his alma mater if Tony Romo doesn't lead the Cowboys to a playoff berth in 2012?
20. New York Jets: Michael Dyer, RB, Arkansas State
2012 might be Shonn Greene's last chance to prove he's worthy of being the Jets' lead back.
21. Buffalo Bills: Xavier Rhodes, CB, Florida State
Teaming Rhodes with 2012 first-round pick Stephon Gilmore gives the Bills one of the league's best young cornerback duos. 
22. Philadelphia Eagles: Ricky Wagner, OT, Wisconsin
Time will tell if Jason Peters can return as the same player he was pre-Achilles injury.
23. New Orleans Saints: Jarvis Jones, DE/OLB, Georgia
Jones could make a big rise in next year's draft if he can build on a breakout 2011 season.
24: San Diego Chargers: T.J. McDonald, S, USC
Had he come out for the 2012 draft, some considered McDonald a first-round possibility as the second safety off the board.
25. Atlanta Falcons: Sharrif Floyd, DT, Florida
The Falcons win football games by controlling both sides of the trenches, so adding another big body on the defensive side fits here.
26. Baltimore Ravens: Alex Hurst, OT, LSU
The Ravens received a pleasant surprise in Bryant McKinnie, but I can't imagine the team is banking on him being there for the long term.
27. New York Giants: Manti Te'o, ILB, Notre Dame
Te'o might be a little undersized to be a team's primary mike linebacker, but he'll fare just fine behind the Giants' defensive line. 
28. Pittsburgh Steelers: Montee Ball, RB, Wisconsin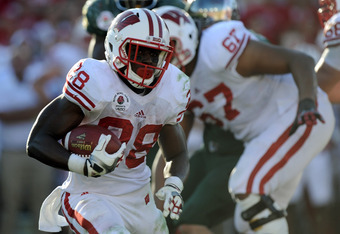 Harry How/Getty Images
Ball was a Heisman Trophy finalist in 2011 after scoring more single-season touchdowns than any player in Big Ten history. College stats mean little in the scouting process, but the production is obviously there for Ball to be a first-rounder. He can prove last season was no fluke by putting up another big season without Kevin Zeitler and Peter Konz up front, too.

For a team like the Steelers, who might have a big question mark at running back if Rashard Mendenhall doesn't come back 100 percent, Ball makes sense. 
29. Detroit Lions: Alex Okafor, DE, Texas
The Lions could be in the market for a pass rusher if Cliff Avril leaves in free agency next spring. 
30. Houston Texans: C.J. Mosley, ILB, Alabama
The Texans felt comfortable enough at inside linebacker to deal DeMeco Ryans, a former Pro Bowl player. But if that decision backfires, Mosley is a natural replacement. 
31. New England Patriots: Khaled Holmes, G/C, USC
Eventually, the Patriots will have to find replacements at both left and right guard. 
32. Green Bay Packers: Tony Jefferson, S, Oklahoma
The team has high hopes for fourth-round safety Jerron McMillian, but replacing former All-Pro Nick Collins won't be easy.