Amani Toomer Reacts Poorly to Kurt Warner's Worries
May 5, 2012

Win McNamee/Getty Images
There are a lot of parents who would prefer their kids not play football. I'm not sure how many of those parents won two NFL MVPs and a Super Bowl MVP and are likely to be enshrined in Canton.
Actually, I'm pretty sure that none of them have—which is probably why Kurt Warner's statements drew such ire from former NFL receiver Amani Toomer.
Warner appeared on The Dan Patrick Show on Thursday and told Patrick he'd prefer his sons not play football (via the New York Daily News):
They both have the dream, like dad, to play in the NFL. That's their goal. And when you hear things like the bounties, when you know certain things having played the game, and then obviously you understand the size, speed, the violence of the game and then you couple that with situations like Junior Seau. Was that a ramification of all the years playing?

It scares me as a dad. I just wonder. I wonder what the league's going to be like. I love that the commissioner is doing a lot of things to try to clean up the game from that standpoint and to improve player safety which helps, in my mind, a lot. But it's a scary thing for me.
Warner's former NY Giants teammate Amani Toomer reacted to Kurt's comments quite strongly later Thursday on NBC SportsTalk (also via the Daily News):
What this reminds me of is the guy at the basketball court who once he gets done playing takes the ball and ruins the game for everybody else. I think Kurt Warner needs to keep his opinions to himself when it comes to this. Everything that he's gotten in his life has come from playing football. He works at the NFL Network right now. For him to try and trash the game, it seems to me that it's just a little disingenuous to me.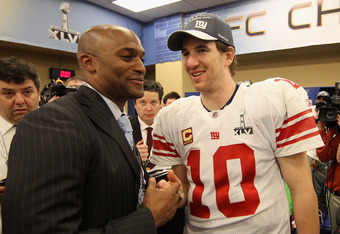 Ezra Shaw/Getty Images
Toomer is so far over the line he can't see it.
It's fine for Toomer to disagree with Warner's view on his kids playing football. But it's obnoxious for him to say Warner should keep his opinions to himself on this subject because he played the game. That's precisely what has shaped Warner's opinion.
We need to understand this isn't about the orthopedic damage that most players accept when they sign up for big-time football. ESPN analyst and former NFL guard Mark Schlereth had 29 surgeries in his playing career, and I'm sure feels like he's been in a car accident most mornings. He knew of that possibility going in and deals with it today.
This is about long-term effects on the brain that are much more difficult to deal with than busted-up knees and hips—effects that hadn't really been known about until recently.
I'm the parent of an athlete who suffered multiple concussions as a softball catcher. The last one ended her career and took her a year and a half to recover from.
She spent a year in high school barely able to make it through the day. That's after being given first period off and then Wednesdays off to help her. She suffered headaches and depression. Trust me, parents, you don't want your kid to go through this.
I'm now watching my dad deal with Parkinson's and a little dementia. His good days are nice; his bad ones have him confused and sometimes downright mean. This isn't the ache from arthritis we're talking about.
We need to get past the "it's football, the way football's always been played" mindset. The game may have always been played this way, but not by 6'5", 248-pound men who run a 4.59 40-yard dash. Those are Cam Newton's stats, by the way. He plays quarterback. Anthony Munoz had a Hall of Fame career in the '80s at offensive tackle. Munoz played at 6'6", 275 pounds.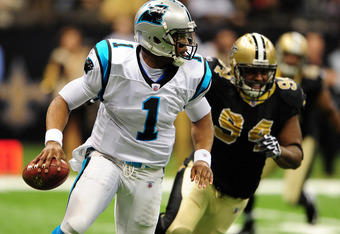 Scott Cunningham/Getty Images
Today's players are much bigger, stronger and faster. The field is the same size, but the collisions are so much more violent today than they were even 20 years ago. The human body isn't meant to take this kind of punishment.
What should be done? Learn as much as possible about all of the effects from injuries. Share all of that information with trainers, coaches and players. Legislate rules that keep players as safe as possible while changing the game as little as possible.
Think that's ridiculous, that football has always been played this way? Then call it something else because changes have to happen.
My daughter's reaction to the recent issue of long-term concussion effects from football? "They should get rid of the game."