Floyd Mayweather and Must-Follow Athletes on Twitter
May 4, 2012

Al Bello/Getty Images
If you aren't on Twitter yet, what are you waiting for?
It's the easiest way to connect with athletes in 2012 and there are certainly some that do it better than others.
Nobody likes an athlete that constantly retweets fans begging for one because it's their birthday. The best athletes to follow are the ones that provide original content on their own professional careers, as well as on their private lives.
I'm not talking about what they ate for dinner; I'm talking about athletes that allow us a vehicle to get a better idea about who they are. The media is a gift and a curse for stars today, and Twitter is the only way they can officially set the record straight.
So who is the best?
Here are the best Tweeters in professional sports today.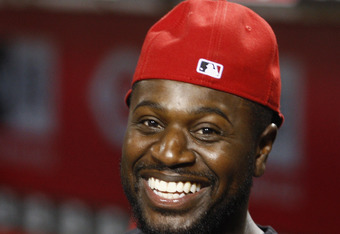 John Grieshop/Getty Images
Brandon Phillips, 2B, Cincinnati Reds
This larger-than-life personality is a guy you'd love to grab lunch with. He's full of energy and his happy-go-lucky state is incredibly evident on Twitter. He gives you updates on how he feels after games, what he does in rain delays and even used Twitter to make a little kid's day.
After tweeting his followers he was bored, a mom told him via Twitter to watch her son's game, and within two hours he was there. It's the perfect example of how powerful Twitter can be.
Awwwww... That's cute! Actually, I'm goin to your girl house so I'll be mr 1-5 😚 RT @BenDingy: @DatDudeBP how bout the batting cages mr 0-4

— Brandon Phillips (@DatDudeBP) April 29, 2012
Arian Foster, RB, Houston Texans
Quite possibly the most intellectual active athlete, Foster provides thoughtful opinion on a variety of subjects that have nothing to do with football. His perspective on life is rather refreshing in a sport where the goal is to bash another person's head into the turf.
I get so many tweets saying "I hope you don't pull a Ricky Williams".. I hope I do. A spiritually enlightened, awakened man.
— Arian Foster (@ArianFoster) May 4, 2012


Floyd Mayweather, Boxing
Money May is exciting on TV and in the ring, so of course he provides entertainment on Twitter as well. While he does promote his fights a lot when they come up on the schedule, that's only twice a year, so it's no big deal.
He's as real as it gets for an athlete on Twitter.
I want to apologize to all my fans and viewers who watched 24/7 last night. I wasn't pleased with this weeks episode of 24/7.

— Floyd Mayweather (@FloydMayweather) April 29, 2012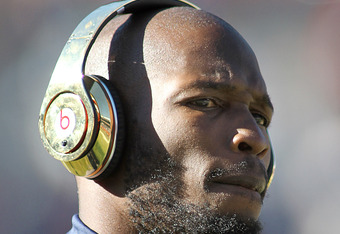 Marc Piscotty/Getty Images
Chad Ochocinco, WR, New England Patriots
While he isn't as cutting edge as he was during his Bengal days, Ocho still offers followers plenty of jokes and random one-liners that have you either scratching your head or rolling on the floor laughing.
There is no in-between.
His exchanges with other famous people from a variety of different walks of life are must-reads as well.
In life...sometimes you`re the fire hydrant and sometimes you`re the dog... Just make sure you're the dog as often as possible.

— Chad Ochocinco (@ochocinco) May 4, 2012
Tiger Woods, PGA Tour
Woods is a sealed book when it comes to the media, and once in a while he uses Twitter to give fans news directly. His dry personality certainly is evident, but if you want breaking news on the world's most famous golfer, then this is the only way to find it.
Got good news from doc tonight. Only mild strain of left Achilles. Can resume hitting balls late in week and hopeful for next week.
— Tiger Woods (@TigerWoods) March 13, 2012


Logan Morrison, OF, Florida Marlins
One glance of his Twitter avatar is all you need to know about this goofball. His quirky style makes me think he has a future in comedy if this whole baseball thing doesn't work out.
Fun Fact: The robe the hotel provides u is NOT to be worn like a hospital gown AND is inappropriate attire 4 breakfast in the lobby #WhoKnew

— Logan Morrison (@LoMoMarlins) May 4, 2012
Who is your top five?