Tennessee Titans: 3 Players the Titans Should Sign to Extensions Now
May 4, 2012

Grant Halverson/Getty Images
If a Tennessee Titans player reaches free agency, it's almost a lock that he's not signing an extension. In the past five years or so, key free agents take the money and run. Two exceptions are Albert Haynesworth in 2008 and Michael Griffin in 2012. Both players were franchised, and Griffin's probably out the door next year.
The Titans have about $13 million in cap space after rookies are signed. They don't have to spend the money. If they want a head start on the future, here are three players who must be extended now. All three deals would save the franchise a lot of money versus waiting a year. 
Note that all current salary-cap figures are from Sportac. 
Jason McCourty, CB

In 2008, the Titans gave Cortland Finnegan a four-year, $16 million extension. Rookie deals were three years when Finnegan was a seventh-round pick. After one year of starting, the franchise decided that Finnegan was worth starter money and paid him before his rookie deal expired. They got a bargain.
McCourty started slower than Finnegan, and he earned a starting spot in his third year. He's in the final year of his deal. If the front office thinks McCourty's a No. 1 cornerback, they can lock him down long-term for less than half of what it cost to sign Finnegan.
Offer: Four years, $20 million ($8 million signing bonus, keep his salary at 1.26 million this year), $3.26 million salary cap hit ($1.282 current million cap number)
Jared Cook, TE

Jason McCourty started from opening day last year and played well all season. Jared Cook showed his potential in the final three games of 2012. From the drafting of Kendall Wright, it's obvious that the Titans want a more wide-open passing attack. Jared Cook fits that offense perfectly.
Top cornerbacks make eight figures, while the top salaried tight end according to Spotrac is Zach Miller at $6 million. That number's going to go through the roof when Rob Gronkowski and Jimmy Graham are free agents. The Titans have an opportunity to lock Cook down now before he's putting up All-Pro numbers.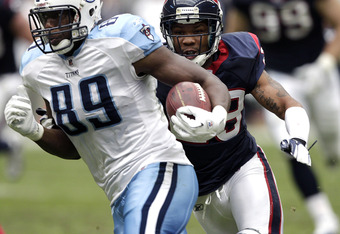 Bob Levey/Getty Images
Offer: Four years, $16 million ($6 million signing bonus, salary $1 million this year), $2.5 million salary cap hit ($790,000 current cap number)
Kenny Britt, WR

This would be the riskiest move with the most potential reward. Britt is in the fourth year of his five-year rookie deal, so he is still relatively cheap. He's coming off an ACL tear, so there is a chance that he never fully recovers.
This is when teams get creative with roster bonuses that are insurance policies. Britt's an elite talent and is going to look for Vincent Jackson money (five years, $55 million). Sign him now and the price tag won't be so high.
Offer, Five years, $40 million ($5 million signing bonus, $5 million roster bonus in 2013, $3 million this year),  $4 million salary cap hit ($1.563 million current cap number)
Salary-cap math is always a bit fuzzy, but these contracts keep three key, young players on the roster for the next few years while costing the team less than half of its remaining cap space. Smart teams know their players and target the best performers before their price goes too high.