Amani Toomer's Comments on Kurt Warner Are Out of Line
May 4, 2012

Cindy Ord/Getty Images
Recently, Kurt Warner said on the Dan Patrick Show that he prefers that his children do not play football:
They both (Warner's sons) have the dream, like dad, to play in the NFL," Warner said. "That's their goal. And when you hear things like the bounties, when you know certain things having played the game, and then obviously when you understand the size, the speed, the violence of the game, and then you couple that with situations like Junior Seau — was that a ramification of all the years playing? And things that go with that. It scares me as a dad. I just wonder — I wonder what the league's going to be like. I love that the commissioner is doing a lot of things to try to clean up the game from that standpoint and improve player safety, which helps, in my mind, a lot. But it's a scary thing for me.
Former New York Giant Amani Toomer did not take too kindly to Warner's statements and reciprocated in kind:
What this reminds me of is the guy at the basketball court, who once he gets done playing takes the ball and ruins the game for everybody else," Toomer said Thursday on NBC SportsTalk. "I think Kurt Warner needs to keep his opinions to himself when it comes to this. Everything that he's gotten in his life has come from playing football. He works at the NFL Network right now. For him to try and trash the game, it seems to me that it's just a little disingenuous to me.
Let me start by saying that Toomer is one of my favorite players of all-time. He was an outstanding wide receiver and a class act. However, the comments that he made toward Warner's statement were 100 percent out-of-line and, to be quite honest, they really don't make much sense.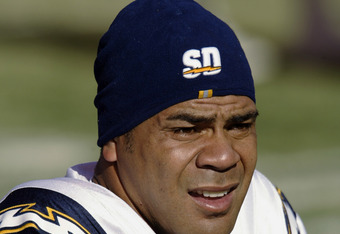 Brian Bahr/Getty Images
First and foremost, I really don't understand Toomer's pick-up basketball analogy. How is this like someone taking his ball and going home? Warner is not ruining the game for anybody. He is looking out for his kids and does not want to see them end up with the kind of brain damage that Junior Seau could have had—brain damage that could have been the impetus of his tragic suicide.
If Warner would have came out and said that the NFL should revamp its rulebook and change the way the game is played, that's one thing, but he did not say that. Actually, he did not even come close to saying that. Again, he was speaking from the perspective of a father. 
I guess I can understand where Toomer is coming from. For someone who played the game for 14 years, it must be painful to see people questioning the sport he loves due to bounties, concussions and suicides.
This is the nature of professional football, and both Warner and Toomer understand this. However, the two former greats obviously have different views on such consequences.
I think it is pretty obvious that Toomer views these unfortunate things as byproducts of the NFL, and while that is certainly true, you have to look deeper into it, which Warner is doing. I mean, what father would want to see his kids end up with brain damage? 
Now, playing football does not necessarily mean you are going to end up with brain damage. Some of the greatest and hardest hitters of all-time played the game with a ferocious, reckless mindset and are still healthy as horses today. Former Dallas Cowboys safety Darren Woodson, who was discussing this matter on ESPN First Take on Friday morning, comes to mind. However, the concern is still there, and if and when I have children, I will likely think along the same lines as Warner.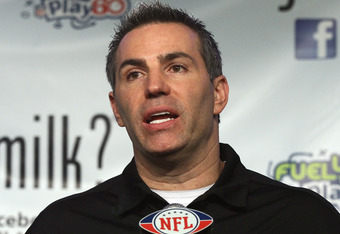 Win McNamee/Getty Images
I think it is also important to note that Warner never said that he would not let his kids play football, another aspect of Warner's statement that I think Toomer is taking out of context. Warner just said that he would prefer that his children didn't play the game, and those are two very different things.
The final thing I would like to point out is how Toomer essentially said that Warner owes everything he has to football. What does that have to do with Warner looking out for his children? Because Warner's professional career allowed him to land a job at NFL Network, does that mean he shouldn't worry about the welfare of his children? 
I have the utmost respect for Toomer and he will always be one of my favorite players to ever don an NFL uniform, but he is in the wrong here. Big time.