Tim Tebow's Impressive Skill Set Will Reignite Jets Struggling Offense
May 4, 2012

Mike Stobe/Getty Images
Last season the New York Jets' offense lacked explosiveness, which then limited the number of big plays executed in keeping defenses off balance.
Ranking No. 22 in passing and No. 23 in rushing, Gang Green did present a balanced attack but were inconsistent on a weekly basis. In six of their eight losses the Jets failed to score 20 points; however, they scored at least 24 in all eight wins.
In order to become more consistent, the addition of Tim Tebow does help, because his diverse skill set allows the Jets' offense to open up the playbook. Let's take a look how Tebow fits in and what we can expect to see from Tony Sparano's offense this fall.
Setup to Play-Action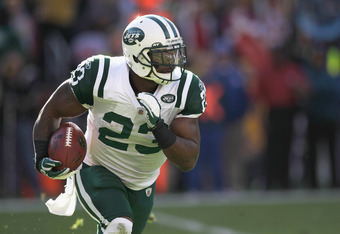 Rob Carr/Getty Images
One of the best attributes about Tim Tebow is his mobility, which causes so much trouble for a defense. His presence alone in the Jets' backfield will draw attention away from running back Shonn Greene, and allow the traditional ground game to remain solid.
Not to mention that Greene did compile a career-best 1,054 rushing yards in 2011. That said, Tebow and his own mobility on top of Greene's production makes for a stronger play-action pass. From shotgun, Tebow can take a direct snap and hit the trenches between the tackles so that even faking a quarterback draw can freeze the linebackers long enough to open up crossing routes.
Include in the reliability of Dustin Keller—one of the NFL's more complete tight ends—and Tebow will improve as a passer. However, it's New York's overall running game that will be most vital to the offense, because Tebow's capabilities will present a stronger balanced attack.
More Big Plays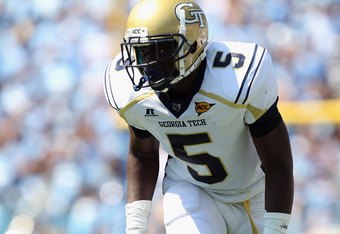 Streeter Lecka/Getty Images
One of the more interesting statistics that goes largely unrecognized is Tim Tebow's average yards per completion. It's unfair to compare the majority of his passing numbers to some of the game's top performers because for one, Tebow is still developing and two, he ran the ball 660 yards in 2011 but did average 5.4 yards per rush.
Despite only throwing for 1,729 yards during the regular season, Tebow averaged 13.7 yards per completion (more than Aaron Rodgers, Tom Brady, Matthew Stafford and Drew Brees). Considering his ugly 46.5 completion percentage, this obviously means the Broncos were either seeing plays happen downfield or an incomplete pass (Tebow only threw six picks).
In the postseason alone, Tebow averaged over 23 yards per completion and although the completion percentage will make you cringe, at least he didn't throw an interception. The Jets then proceeded to help Tebow via the 2012 NFL draft by selecting Georgia Tech receiver Stephen Hill.
Hill is the perfect option for the Jets and Tebow, because he brings excellent size and is a run-blocking specialist. Even better though, Hill averaged almost 30 yards per catch in 2011, despite only having 28 receptions.
Therefore, expect many more big plays from the Jets as Tebow and Hill will connect quite often when the versatile quarterback is at the helm.
Red Zone Dynamics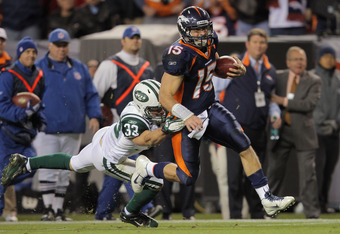 Doug Pensinger/Getty Images
No matter how effective an offense is between the goal lines, it means nothing if the unit fails to consistently put points on the board. Defenses always tighten up once backed up inside their own red zone, so it's never surprising to see a drive stall after such efficiency.
Tim Tebow helps Gang Green immensely in this category because of his size, acceleration and ability to get yards after first contact. As a runner, he'll likely have designed plays from shotgun to hit between the tackles, but having him sprint out and then have the option to throw or run will get a defense moving laterally.
This then will open up the running lanes for Shonn Greene near the goal-line and only make play-action more relevant. With Tebow's strong arm, all the Jets really have to do from the fake is to hit Stephen Hill on a fade route.
So once near the end zone, the Jets can work the middle with Tebow and Greene, roll Tebow outside with multiple options or look for Hill near the back-corner pylon.
Obviously all these options are also available when not inside the red zone, but it won't be nearly as effective since a defense is more reluctant to blitz and play man coverage with its back against the wall.
John Rozum on Twitter.