David Robertson: 3 Reasons He Can Successfully Replace Mariano Rivera
May 4, 2012

Al Bello/Getty Images
Mariano Rivera's season and possibly his career may have come to an end yesterday. He injured his knee at Kaufman Stadium shagging fly balls during batting practice - something that he's done for years, by the way - in preparation for a game against the Kansas City Royals.
He tore his ACL and his meniscus in his right knee, and we may have seen the greatest closer of all time for the final time as a player, leaving the stadium not on his own free will, but on a cart.
It is a big blow to the Yankees organization, but not as much as you think it is.
In a historical and Yankee fan's sense, it's a blow because this is Mariano Rivera we're talking about. Rivera's been dominating for the past 15 years - all with the Yankees. He's a 12-time All-Star, he's a member of the "Core Four," with Derek Jeter, Jorge Posada, and Andy Pettitte, and he's won 5 World Series rings.
But take a look at the rest of the bullpen. Guys like Boone Logan, Cory Wade, and Rafael Soriano, have pulled their own weight so far this season. And the best of the bullpen right now is David Robertson.
With Mariano Rivera out, though, it's time for Robertson to step up to the task and replace one of the all-time greats in baseball history.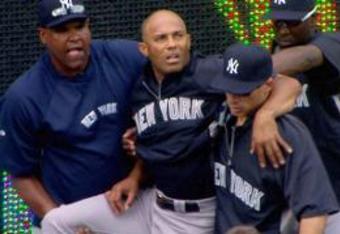 Can David Robertson ever be considered as a great like Rivera? Doubtful, as Rivera is one-of-a-kind.. But can he live up to the task and show that he can be a great closer? Absolutely.
Here are three reasons why he's capable of doing so.
Track Record
Even though Robertson has little experience as a closer (in four seasons, he's had eight save opportunities, he's done a good job since being brought up to the majors on June 29, 2008.
His best season, though, was last year. In 70 games, he pitched in 66.2 innings. In that span, he allowed just eight earned runs. That means, he had an ERA of 1.03, the lowest of any pitcher in the entire league. He also had 34 holds, the most of anyone in the American League.To top it all off, he had 100 strikeouts.
Excellent Start to 2012
His success last season has easily transitioned into 2012. He had a great April, not allowing a single run, and just seven hits in 11 games. He also has 18 strikeouts.
Though just small sample so far this season, if you compare how's he's doing doing this season to 2011:
2011: 70 games, 40 H, 100 K, 35 BB = .57 hits allowed, 1.43 strikeouts, .50 walks per game
2012: 11 games, 7 H, 18 K, 3 BB = .63 hits allowed, 1.64 strikeouts, .27 walks per game
Obviously, give or take a few on his overall numbers, as there will be some days where Robertson will be lights out or just doesn't have it that day. Nonetheless, though, he's posting great numbers.
Similarities
Believe it or not, David Robertson and Mariano Rivera are a lot more similar than you think.
Rivera got his chance to be the true closer of the team in 1997, after the organization let John Wetteland go. He was 27 years old at the time. David Robertson right now is 27.
There's also the way they've gotten the careers off the ground.
Mariano Rivera actually started his career as a starter. Unfortunately, he wasn't a very good one. In his lone year in 1995, Rivera started 10 games and posted an ERA of 5.51.
In fact, in the spring of 1996, the organization almost traded him to the Seattle Mariners for backup shortstop Felix Fermin. The ownership needed a replacement because their starting shortstop at the time, Tony Fernandez, was injured, and Derek Jeter, at the time a prospect who had played in 15 games in 1995, was considered apprehensive to use as a starter.
Imagine such a scenario, Mariano Rivera on the Mariners and Derek Jeter not starting in 1996?
As for David Robertson, he got his start on June 29, 2008, called up from Double-A Trenton. He didn't do so well, posting a 5.4 ERA and being sent down twice. He returned in May 2009, after Brian Bruney suffered an injury.
Both pitchers have been pitching great ever since.
And then of course, there's the pitching styles.
Mariano Rivera is famous for his cutter. It has been the pitch that's kept him dominant for the past 15 years.
But David Robertson's main pitch is also the cutter. For him, it's technically a fastball pitch, but ever since college, he's been unable to throw the pitch straight, making his pitch appear more "natural." Robertson also possesses a curveball with a good angle and bite that can he throw for strikes, and a slider with good breaking action that he'll throw down in the zone.
The loss of Rivera will feel heavy, but do not think that the loss means that the team has no chance of making it into the postseason. There is still a long season ahead of us, and the team has a pitcher that can rise up to the challenge of being the full-time closer for the New York Yankees.
His name is David Robertson.