Chicago Cubs: Why the Cubs Need to Trade or Release Carlos Marmol Today
May 3, 2012

Joe Robbins/Getty Images
Well it's another blown save for Chicago Cubs closer Carlos Marmol.
Of course, he wasn't on the mound long enough this afternoon during the Cubs' 4-3 loss to the Cincinnati Reds to even be credited with the blown save. That honor went to young reliever Rafael Dolis since he was the pitcher on the mound trying to mop up Marmol's wonderful ninth inning meltdown. 
Before the ninth, the Cubs seemingly had the game in hand.
Ryan Dempster made his first start coming off of the DL today, throwing eight innings of three-hit, shutout baseball.
Today was also Dempster's 35th birthday, along with Cincinnati Reds starter Homer Bailey celebrating his 26th birthday.
The Cubs had a 3-0 lead going into the bottom of the ninth, a lead that to an average baseball fan should have been nowhere near in jeopardy. 
But as all seasoned Cubs fans know too well, any lead is a slim one, especially these days with Carlos Marmol as the closer. 
Marmol walked the first two batters he faced. Then after an error by third baseman Ian Stewart, Marmol served up a line drive on the first pitch to Reds' outfielder Jay Bruce, ending Dempster's shutout and loading the bases for Reds left fielder Ryan Ludwick. After battling back from behind the count, Marmol walked Ludwick, bringing in the second run of the inning. That would be Marmol's last batter of the game. 
As Marmol and birthday boy Dempster sat on the bench for the last inning-and-a-half, the Cubs would blow the game in the ninth, fail to score in the 10th, and lose on a sacrifice fly-out by Reds third baseman Scott Rolen.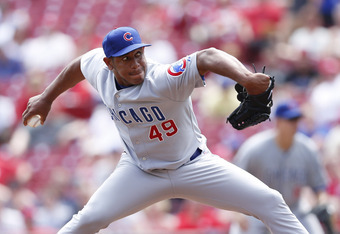 Joe Robbins/Getty Images
Happy Birthday, Ryan.
Now of course the questions will be hurled towards Cubs manager Dale Sveum to explain the ninth inning. He will have to explain why he decided to stick with Marmol after giving up the first-pitch single to Ryan Ludwick. 
But as a Cubs fan myself, I feel the questions should hurled a little bit higher on the Cubs' chain of command. Possibly as high as general manager Jed Hoyer, or team president Theo Epstein. 
The question shouldn't be whether or not Marmol had a bad game today. The question should be why is he still a Cub.
You can take a look back at Marmol's numbers since becoming the Cubs' full-time closer in 2009. You can count how many blown saves he's had over his career, and how many walks he's issued during his Cubs tenure. 
Or you can use your own eyes when watching him pitch to know that his days with the Cubs should be numbered.
It's a known fact that Marmol has a nasty slider and the proper stuff to be a major league closer. But it's also a known fact that the questions about his control and his mentality have continued to be asked since he became the closer. And while Marmol is on a young team with experience issues, you cannot apologize for a 5.19 ERA and seven runs allowed only one month into this season. 
Marmol's rookie days are long behind him. The argument for his youth and inexperience in the league are beyond the point of irrelevance. 
The bottom line is production. As a closer, can you get the hardest three outs in baseball? Or will you walk the bases loaded before you can record a single out?
Carlos Marmol is under the Cubs' control until the end of 2013 according to baseball-reference.com. And while he has been struggling, Marmol has shown us Cubs fans what he can do with a little bit of control to that sick slider. 
But so far, the show is but a show, and Marmol is still out of control.
Pitching coach Chris Bosio has been tasked to help the closer regain his form, but one man can only teach the same things that Marmol has been told over and over by his former pitching coaches Larry Rothschild and Mark Riggins. 
Two other coaches have tried to help Marmol. Will Bosio really be that magic Mr. Miyagi to Carlos Marmol's Ralph Macchio? 

The question of whether the Cubs could command a decent return for the young closer could take up about five articles worth of discussion. The only men who know his trade value are Epstein and Hoyer. 
For now, the growing consensus among Cubs fans should be a dismissal of Mr. Marmol. Whether Chicago must eat the remaining $13 million left on his contract or at least some percentage of it, the Cubs should find the most profitable transaction soon.
Hopefully, they can find a nice deal before teams start offering up pitching machines and pine tar for the Cubs closer.