Jered Weaver No-Hitter: Weaver's Just Another Product of the 2004 Draft
May 3, 2012

Jeff Gross/Getty Images
What do Jered Weaver, Justin Verlander, Jonathan Sanchez, Philip Humber and Dallas Braden have in common?
Aside from the fact that they were all selected in the 2004 MLB Draft, all of them have tossed a no-hitter.
Last night, Weaver became the most recent member of the historic group.
The no-hitter he completed early Thursday morning was absolutely brilliant. He struck out nine in the contest, and allowed just two baserunners—a walk to Josh Willingham and a passed ball strikeout of Chris Parmelee.
The no-no was complete when Torii Hunter ranged back to the warning track in right field to catch a hard hit ball off the bat of Alexi Casilla.
Philip Humber tossed a perfect game just a few weeks ago against the Mariners, and he was just slightly more dominant than Weaver.
He too recorded nine strikeouts over nine innings, but he obviously did not allow a single baserunner.
He only worked into three-ball counts twice—both in the ninth inning—and both resulted in strikeouts.
Justin Verlander has thrown two no-hitters in his career, with the most recent coming last May against the Blue Jays.
Verlander relied on contact in the game, only striking out four batters. He also walked just one.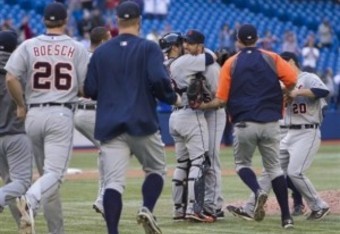 Maybe the most remarkable thing about the game was that 74 of his 108 pitches went for strikes.
Dallas Braden tossed a perfect game of his own in May of 2010 against the Rays.
His dominant performance was surprising, as he had never established himself as a consistent starter before that game. He is still considered somewhat of a liability on the mound at this point in his career.
Many would argue that Sanchez's no-hitter was the best one out of the entire 2004 draft.
Sanchez needed just 110 pitches (77 strikes) to strike out 11 batters and get through the game. He did not walk a batter, but an error by Juan Uribe cost him a perfect game.
Verlander's first career no-hitter came in June of 2007 against the Brewers.
He struck out 12 in the contest, but he also issued four free passes.
The fact that these pitchers all came out of the same draft class is remarkable. The 2004 class may not be the best class of pitchers of all time, but it may certainly end up being the most historic.