Texas Rangers 2012: Why Locking Up Elvis Andrus Should Be the Top Priority
May 3, 2012

Jamie Squire/Getty Images
Ever since the end of last season, one question has been on the minds of Texas Rangers fans everywhere.
When will Texas re-sign Josh Hamilton?
But that may not be the right question to ask. Instead, everyone should be asking when the Rangers will get around to a long-term extension for Elvis Andrus.
Andrus should be the No. 1 priority for general manager Jon Daniels for a myriad of reasons.
First and foremost is the importance of the position Andrus plays as oppose to Hamilton. Shortstop is one of the most crucial positions defensively in baseball. In order to have a great defensive team, you have to be solid up the middle. With the recent extension of Ian Kinsler, locking up Andrus solidifies the middle infield for years to come.
Kinsler's extension with Texas also adds incentive to get a new contract for Andrus quickly because of the rapport that the duo has formed.
The chemistry between the two has been built up over the past three seasons and has ultimately blossomed into one of the best defensive middle fields in all of baseball. That is something the Rangers should want to keep instead of trying to break in a new shortstop who may or may not build the same chemistry with Kinsler.
Andrus is also a safer bet than Hamilton is.
It sounds weird, but in all honesty you know what you are going to get from Andrus—excellent defense, a solid bat, great base running and a healthy player.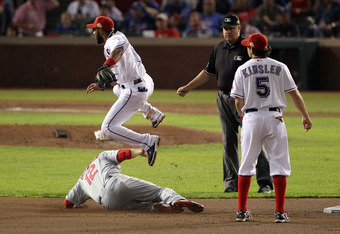 Ezra Shaw/Getty Images
Andrus has played in at least 143 games in each of his first three major league seasons. On the other hand, Hamilton has proven that he cannot stay healthy for a whole year time and time again. He has played in 140 games just once in his six seasons.
Hamilton's constant injury concerns even led manager Ron Washington to put him in left field in 2011 in order to try and avoid the added risk of injury leaving him in center can create.
It is hard to ask a team to sink $120 million into a player they are not even sure will be on the field. Andrus is not the same impact player that Hamilton is at the plate, but what he provides on defense and on the bases is just as important, if not more so, than what Hamilton does at the plate.
The Rangers would also be able to turn a new contract for Andrus into upgrades at other positions, even possibly a replacement for Hamilton in center field.
With Andrus in the fold, Texas could move standout shortstop Jurickson Profar. This is not something they would necessarily do, but it provides great options for the Rangers if the right trade arises.
Profar is just 19 and is one of the best prospects in baseball. If Andrus were to be signed that would effectively put a big Venezuelan road block in the path of Profar's road to the major leagues.
In a time when teams are looking for talented young players and are willing to pay an extreme premium to obtain them, Texas could turn the minor league phenom into top-tier major league players.
Andrus may not be the sexier signing of the two, but because of the position he plays and the possibilities it would open up for the Rangers down the road he is the more important.