Joe Saunders, NL Cy Young Winner? Early Season MLB Awards Projections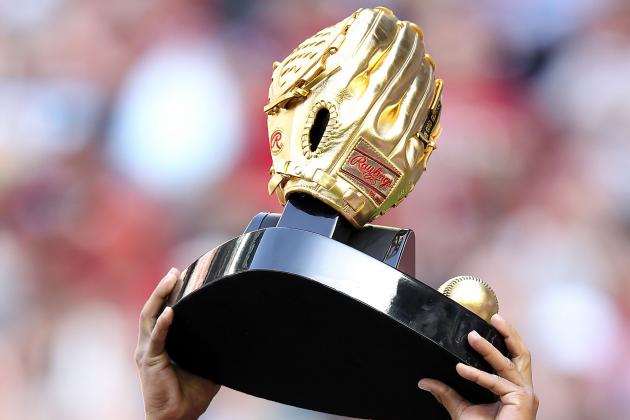 Christian Petersen/Getty Images

I know, I know, it is way too early to start handing out MLB's major awards for 2012, but we have seen some players show their true colors the first month of the season.
These players cannot be expected to keep up their torrid paces all year long, but some of them may.
On the other hand, some extremely talented players have struggled mightily so far, and as mentioned above, it is way too early to judge, but just for fun, let's take a look at how the awards season would go if the trophies were handed out today.
Begin Slideshow

»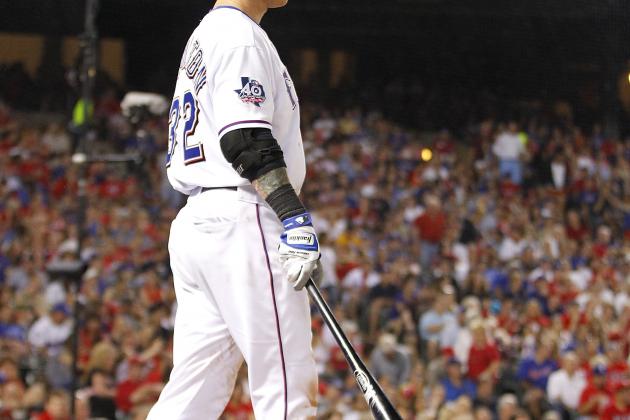 Rick Yeatts/Getty Images

Josh Hamilton is perhaps the best hitter in the American League and he is no slouch on defense either. As of today, Hamilton is leading in each triple-crown category. Hamilton is batting a staggering .395, has hit nine home runs and has 25 RBI to begin the season.
The one thing that will hinder Hamilton from reaching the MVP plateau would be injuries. He has already sat out a handful of games due to a sore back and we all know he will probably take a little trip to the disabled list at some point this season.
The rest of the top five for MVP voting right now would be:
2. David Ortiz
3. Edwin Encarnacion (Yes, Edwin Encarnacion)
4. Derek Jeter
5. Curtis Granderson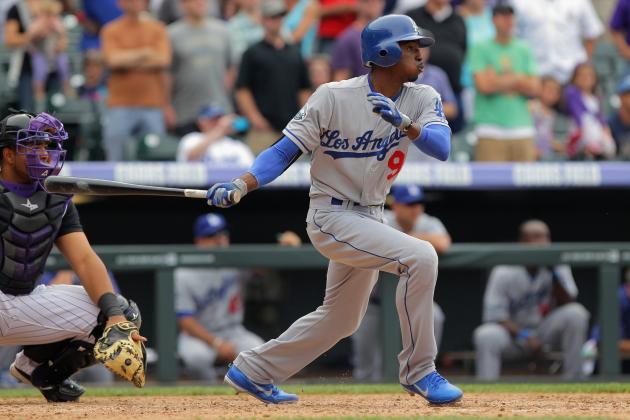 Doug Pensinger/Getty Images

Just like Josh Hamilton in the AL, Matt Kemp is right there challenging for the triple crown in the National League.
I honestly believe Kemp has a major shot at the triple crown this season. There is not really any serious competition right now in the National League MVP race other than Kemp, and that will more than likely continue for the remainder of the season.
Kemp is hitting a scorching .411, has an MLB-leading 12 home runs to go with 25 RBI, which is second in the National League to teammate, Andre Ethier.
The rest of the top five for MVP thus far:
2. Andre Ethier
3. David Wright
4. Carlos Beltran
5. Wait for it...wait for it...Jose Altuve
I do not expect Ethier and Altuve to remain here, and we cannot take away what Beltran has done for the Cardinals. He is only hitting .279, but he has taken over in St. Louis as the leader of the team.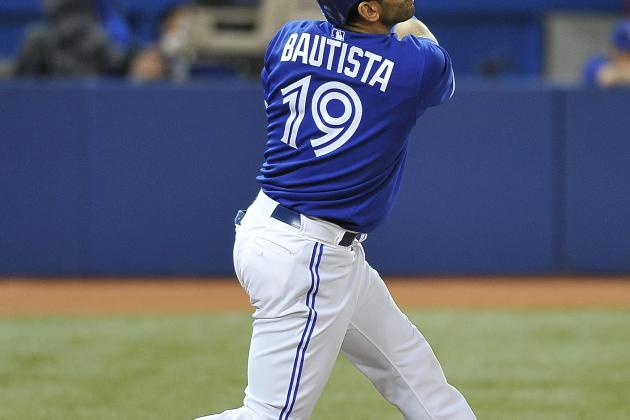 Brad White/Getty Images

Jose Bautista has looked lost through the first month of the season and I am not so sure he is going to get back to form quickly, either.
I cannot imagine Bautista hitting under .200 for the rest of the year, but his swing has looked worse-than-awful so far. I am still betting he cracks 40 home runs, but I see him hitting an Adam Dunn-esque .220 this season.
There have been players far worse this year, but when you have this amount of money committed to one player, you expect better results. At least Edwin Encarnacion has picked up the slack.
Other candidates for Least Valuable Player
2. Mark Reynolds
3. Eric Hosmer (he should come around)
4. Jemile Weeks
5. Albert Pujols
Scott Boehm/Getty Images

I have always been a Rickie Weeks guy and I think he should turn it around in the near future, but as of right now, he has been just plain dreadful to watch. I have noticed he is pulling his shoulder during swings and has struck out 30 times in only 93 at-bats.
I think part of the problem is the added pressure he has been given since the Brewers lost Prince Fielder, but he has also seemed to have lost his passion for the game.
More candidates for Least Valuable Player in the NL
2. Ike Davis
3. Aramis Ramirez
4. Hanley Ramirez
5. Dee Gordon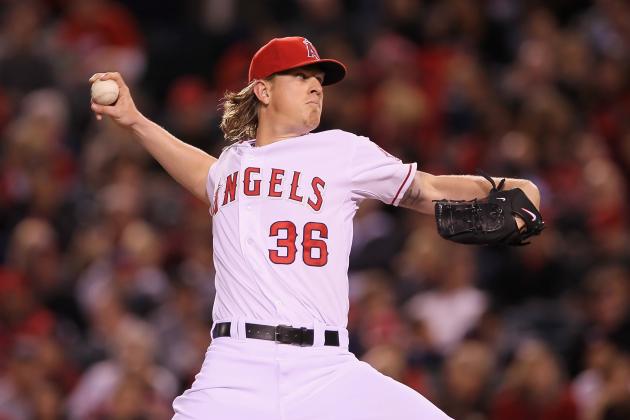 Jeff Gross/Getty Images

Jered Weaver has had a couple of amazing seasons in a row and is on a tear as of right now. Last night's no-hitter is proof that this kid is no fluke. Weaver leads the American League in ERA and strikeouts and I believe he will continue this pace.
The one knock on Weaver is his lack of big-game experience. Weaver has had issues later in the season when games start to mean much more. If he can finally mature at that point in the season, then folks, you are looking at your Cy Young winner right now.
The best of the rest:
2. Jake Peavy (He is back)
3. Felix Hernandez
4. Justin Verlander
5. Bartolo Colon ( The old man still has some in the tank)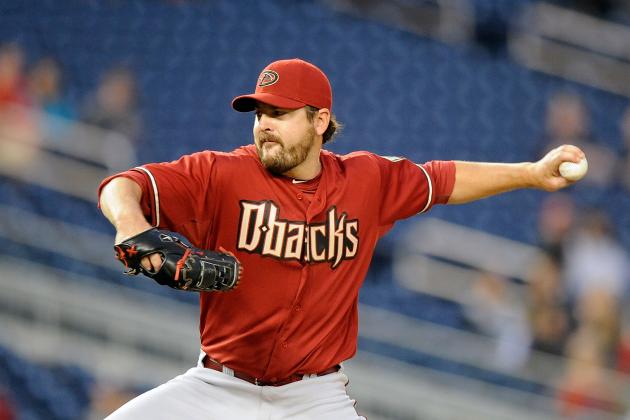 Greg Fiume/Getty Images

This was a much tougher call, due to the fact that several players have been flat out awesome to begin the season. I did not go Stephen Strasburg just yet, but if he continues this pace, he may be the favorite in May.
Saunders has been nearly unhittable to begin the year and he may have finally righted the ship. Arizona might have the most underrated rotation in the league and I fully expect Saunders to come out this year and show his No. 1 starter potential.
The best of the rest:
2. Stephen Strasburg
3. Brandon Beachy
4. Gio Gonzalez
5. Vance Worley
This list will change constantly as I do not see Beachy, Gonzalez or Worley continuing the pace of the first month at all.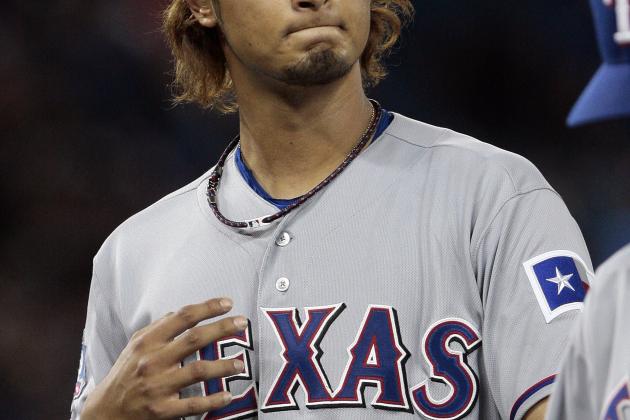 Abelimages/Getty Images

Ladies and gentlemen, Yu Darvish is for real.
Darvish has a chance to become one of the top-tier pitchers in the American League for a long time to come. He is still mighty young and has some of the best stuff in the league. He will suffer some bumps and bruises, but should come out just fine for the remainder of the season.
We can bicker about how Jesus Montero has been great to begin the year, but the Mariners will probably fade and the Rangers could run away with the division. Darvish has No. 1 potential and should take AL ROY honors with ease.
Next in line:
2. Jesus Montero
3. Tommy Milone
4. Yoenis Cespedes
5. Matt Moore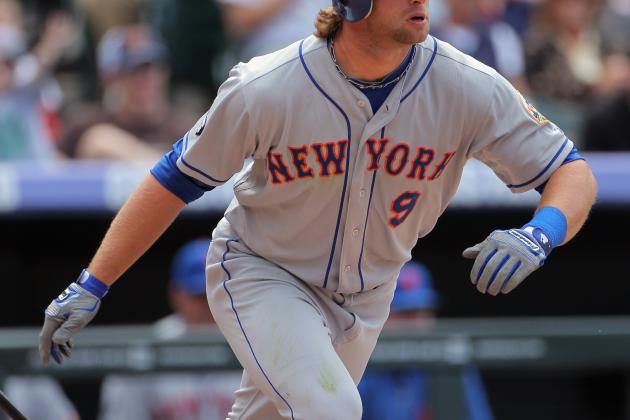 Doug Pensinger/Getty Images

So you thought I would say Bryce Harper, didn't you?
Well, I love Harper, but I do not think he will be in the big leagues long enough to compete for the award. He is a year away from really becoming a superstar and will more than likely spend most of the year in Triple-A Syracuse.
Kirk Nieuwenhuis has been a surprise to me.
Last season, I did not think he would be more than a fourth outfielder, but he has been impressive with the bat as well as his maturity. I think he will have some major competition from Zack Cozart and Matt Carpenter, but, so far, Nieuwenhuis is my pick.
The next group:
2. Zack Cozart
3. Matt Carpenter
4. Randall Delgado
5. Freddy Galvis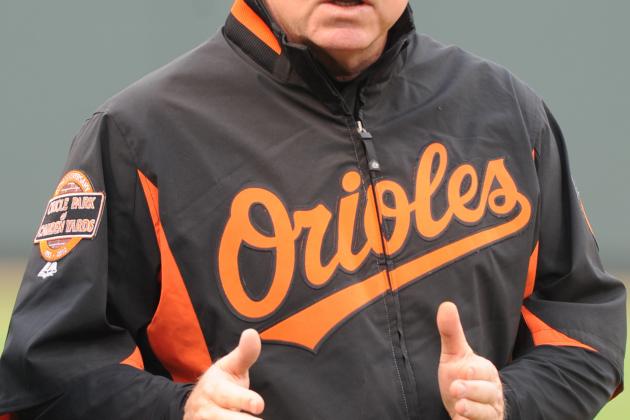 Mitchell Layton/Getty Images

Buck Showalter knows how to get the best out of his team, and mark my words, the Orioles will compete for a playoff spot this year. The Orioles really do not have a star on the team, but they play as a team, which should carry them far this season.
Joe Maddon and Ron Washington are both up there for consideration too, but they are expected to win, the Orioles are not.
Next in line:
2. Joe Maddon
3. Ron Washington
4. John Farrell
5. Manny Acta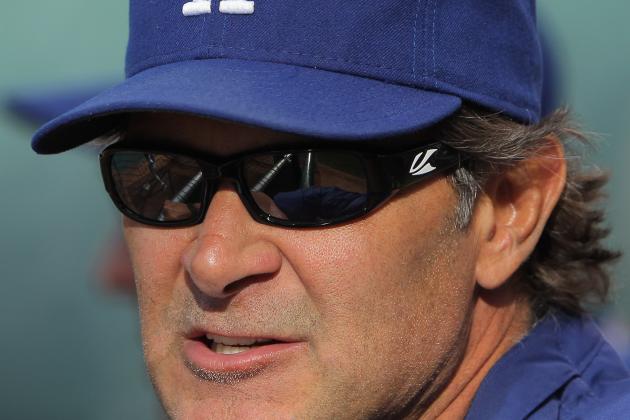 Doug Pensinger/Getty Images

This year's NL Manager of the Year race could come down to a three-way battle between Mattingly, Mike Matheny and Davey Johnson. All three have reversed course for their teams and have shown they can flat out coach.
I give the nod to Mattingly right now, but if Mike Matheny keeps the Cardinals up there throughout the season, which I do not think will happen, then he will have a race on his hands.
Best of the rest:
2. Mike Matheny
3. Davey Johnson
4. Fredi Gonzalez
5. Terry Collins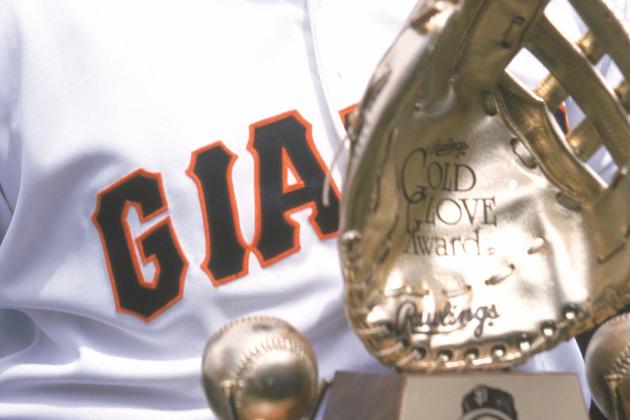 Jed Jacobsohn/Getty Images

First Base: Adrian Gonzalez
Gonzalez is one of the better defensive first basemen in the league and should be able to grab this one in 2012. Albert Pujols is also great in the field, so he will be the main competition.
Second Base: Robinson Cano
Cano has not been outstanding with the bat, but his defense has been amazing, to say the least.
Third Base: Adrian Beltre
Beltre is injury prone, so he may not qualify later on, but as of right now, he has earned this award.
Shortstop: J.J. Hardy
Hardy has been atrocious at the plate, but the Gold Glove goes for defensive stars, and Hardy has been better than the rest.
Left Field: Alex Gordon
Much like Hardy, Gordon has struggled at the plate, but his glove has been stellar. Eric Thames could be up there too.
Center Field: Yoenis Cespedes
This one has been tougher to call, but right now I give Cespedes the slight lead over Curtis Granderson and Austin Jackson.
Right Field: Ichiro
The hitting has slipped away from Ichiro, but he can still play the field. He looks like a 20-year-old kid in right field.
Catcher: Chris Iannetta
The catching position is generally tough to call, but Iannetta has been great behind the plate for the Angels.
Pitcher: Justin Masterson
Much like catcher, choosing a Gold Glove pitcher is extremely hard, but Justin Masterson has made some excellent plays and I give him the nod for right now.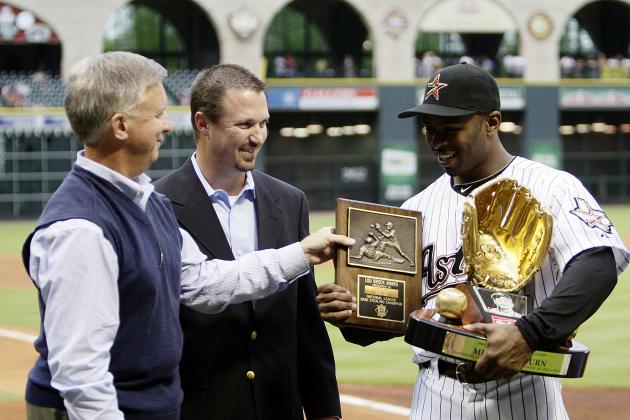 Bob Levey/Getty Images

First Base: Todd Helton
Helton can still play the game and he deserves the award right now.
Second Base: Marco Scutaro
Scutaro has been amazing since coming to the National League, but beware, Brandon Phillips will be lurking for this award again.
Third Base: David Freese
Freese has really become an all-around player and could become a Gold Glover this year.
Shortstop: Jed Lowrie
I am going with Lowrie for now, but Brandon Crawford has made some amazing plays for the Giants. Troy Tulowitzki has been mighty good too.
Left Field: Alfonso Soriano
I cannot believe Soriano has been in the discussion, but he has looked excellent in left so far this year. If Tony Gwynn Jr. got more playing time, I would go with him here.
Center Field: Jon Jay
Jay has looked brilliant for the Cardinals, but watch out for Andrew McCutchen and Michael Bourn.
Right Field: David DeJesus
This one is virtually a tie for me with DeJesus and Jay Bruce. Bruce has a cannon for an arm, probably the best arm in the majors, but DeJesus and has been stellar so far.
Catcher: Jonathan Lucroy
Lucroy has been great for the Brewers and is my favorite for the award.
Pitcher: Jordan Zimmerman
Zimmerman can play the part as defender mighty well, but keep a close eye on Johnny Cueto and Father Time, Jamie Moyer.