Dallas Cowboys: Early Projections for the 53-Man Roster
May 4, 2012

Al Bello/Getty Images
Now that the Dallas Cowboys' 2012 draft is done and no more big-name free agents will be signed,—at least we think they won't—it is time for an earlier-than-early projection of the 53-man roster. This thing will be stocked full of good players such as DeMarco Murray and Dez Bryant, but we'll have new jersey numbers and names to remember, such as Morris Claibrone and Tyrone Crawford.
We've already discussed how the Cowboys rooks will fit into the team next year and who we think will start. Now, it's just a matter of making them an official part of the team by minting their roster status.
So, let's get into the earlier-than-early roster projections, including rookies and recent free agents.
Quarterback: Tony Romo, Kyle Orton, Rudy Carpenter
The first two quarterback slots are pretty set in stone. Romo is the starter, Orton will be the backup and there will be a fight for the third roster position.
I believe the Stephen McGee project is just about over and done with.
I could be absolutely wrong on this one, but McGee hasn't shown enough to keep this train going, in my opinion. He could show up in training camp and beat the pants off Carpenter for the third spot, but I believe Dallas is ready to move on.
Of course, this is contingent upon Carpenter showing enough to warrant him being on the roster as well.
Running Back: DeMarco Murray, Felix Jones, Phillip Tanner
No surprises here, as Murray will be the lead dog and Jones will be the change-of-pace back.
Murray is coming back from an injury, and Jones is often injured, so it would seem to be in the team's best interest to at least keep a third runner on the practice squad. Not that the team doesn't, but judging by recent history, a third one on the roster may be needed.
Without much theater, the Cowboys' running back situation should remain the same.
Fullback: Lawrence Vickers
I really liked Tony Fiammetta, but his mysterious injury last season left a bad taste in the mouth of team officials. He was slow to come back, and players cannot contribute if they aren't on the field.
Vickers is a veteran who will bring stability to the position as well as grit.
Wide Receiver: Miles Austin, Dez Bryant, Kevin Ogletree, Danny Coale, Andre Holmes, Dwayne Harris
I still believe Harris will turn into a pretty good receiver, no matter if he plays inside or outside.
We know what we'll get from Austin, and if Bryant has grown any over the past few years, it will show this season.
This is an opportunity for players to step up and show that they are worthy of a roster spot, as Austin was oft-injured last season and Bryant can be aloof when it comes to the playbook. Now is the time.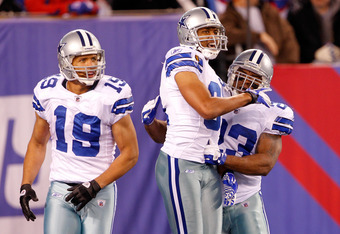 Rich Schultz/Getty Images
Tight End: Jason Witten, John Phillips, James Hanna
This could very well be one of the most formidable tight end combinations in the league. We all know about Jason Witten, and we've seen or read about the potential of John Phillips.
But what will happen when the Cowboys add another weapon who can stretch the field and is faster than most wide receivers?
That all depends on Hanna. He runs a sub-4.5 in the 40 and can easily burn most linebackers. Watching him grow and develop should be fun.
Center: Phil Costa, Kevin Kowalski
I'm still convinced that head coach Jason Garrett wants more competition at the position, so he may go out and sign another free agent for competition.
Costa is older and a tad more experienced, but Kowalski is growing, and Romo may work better with him.
It is going to be a dog fight, and seeing which snapper wins may hold the key to a few wins in 2013.
Tackle: Doug Free, Tyron Smith, Jermey Parnell
I like where the offensive line is headed, because team owner Jerry Jones isn't gong after patchwork guys. He's drafting well and signing quality free agents. The offensive line is one of the most important parts of the offense because their top priority is to make sure Romo remains upright.
The side switch with Smith and Free should serve them both well, and we will get to see how much Smith has improved on the blind side.
Guard: David Arkin, Nate Livings, Mackenzy Bernadeau
I was hopeful that the Cowboys would snag David DeCastro in the draft, but they chose another route. Arkin will be good, and Livings may be better than expected, but the guard spot is one of the most unrecognizable parts of the Cowboys.
Dallas just needs Arkin and Livings to play their roles and be solid; remain disciplined and stay in the lane on their man.
Defensive End: Marcus Spears, Tyron Crawford, Kyle Wilber, Kenyon Coleman
Crawford has the opportunity to shine and do so brightly. Spears is the run-stuffer and will never get 10-plus sacks a game, but Crawford has an opening to be that type of player.
Crawford totaled 13 sacks in two years at Boise, and hopefully—just hopefully—he can double that number in the NFL.
Wilber is listed as an end, but he may end up playing strong-side linebacker. He is the pass-rusher of the group and will hopefully give opposing teams fits.
Defensive Tackle: Jay Ratliff, Josh Brent
Ratliff will remain at the nose tackle position for this year and the foreseeable future.
Yes, he's only 287 pounds—and no, the Cowboys aren't looking to beef up the middle.
Dallas did OK stopping the run last season, and as much as I would like to see Ratliff get some time at end while a bigger body clogs the middle, the Cowboys do not want it.
Brent is 320 pounds, and if the team ever decides to head down that road, they might as well do it with a guy who knows their system.
Linebacker: Bruce Carter, Sean Lee, DeMarcus Ware, Anthony Spencer, Dan Connor, Victor Butler, Alex Albright, Caleb McSurdy, Isaiah Greenhouse
I am still iffy on the McSurdy spot because I keep hearing that he may be turned into a fullback.
What's also interesting about this is that, while the team publicly says that Bruce Carter is their guy and this is his year, they privately seem concerned with his development and whether or not he fits into their scheme.
This is also a big year for Victor Butler and Anthony Spencer, as both players are looking to make an impact. For Butler, it is to show that he's growing and warrants a starting job; for Spencer, it's because he wants a long-term contract.
It's up to both players as to how high they'll fly.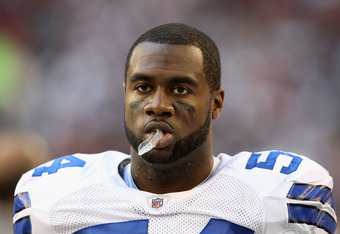 Christian Petersen/Getty Images
Cornerback: Brandon Carr, Morris Claiborne, Mike Jenkins, Orlando Scandrick, Mario Butler
I believe the team will keep Jenkins for depth reasons, and the market for him isn't as deep as they thought. He was injured last year, and if he's healthy in 2012-13, then why not keep him?
Jenkins was the team's best corner last year and will probably have another great season since he's in a contract year.
Claiborne is the rookie, and Carr is the star free agent whom the team admittedly overpaid to get. Each player will have a key role on defense and will be charged with fixing the Cowboys' secondary woes.
Safety: Gerald Sensabaugh, Brodney Pool, Barry Church, Matt Johnson
Sensabaugh is the known commodity here, as Pool and Johnson are new to the team.
Church is a backup looking to step into a starter role here soon.
Matt Johnson is a rookie who will make his difference on special teams, while Pool represents depth and stability.
There are no stars at safety for Dallas; just a bunch of players who can hopefully get the job done.
Kicker: Dan Bailey
Bailey proved himself last season, and he will have to do it again this year. He was simply great at times, but at others he looked lost—like when his own head coach iced him.
At any rate, this is Bailey's job to lose, but as of right now, it seems that he has a firm grip on it.
Punter: Chris Jones
The Cowboys did not re-sign long-time punter Mat McBriar after he had foot surgery, and they decided to go with the younger Chris Jones. McBriar was one of the league's top punters during his prime, and Jones is looking to replace that golden toe.
He has big shoes to fill, because McBriar was important on defense. He would routinely pin teams deep, giving the Cowboys defense a leg up.
Get it? Ahh, whatever.
Long Snapper: L.P. LaDouceur
As many issues as the Cowboys had with snapping the ball last season, having a steady guy who can launch the ball back to the punter in a timely and safe manner is important.