Bryce Harper Saved the Washington Nationals' Season Wednesday Night
May 3, 2012

Greg Fiume/Getty Images
Who would have thought that a game on May 2nd could be a spark plug to a team's season? 
Just ask the team that had lost five in a row and was barely hanging on to a surprising early-season division lead: the Washington Nationals.
Newly called-up Bryce Harper is doing his best to be the spark that the Nats need.
Many thought that Harper was not ready for the big leagues, but he is quickly doing his best to prove the non-believers wrong.
Harper easily had his best game of the year on Wednesday night, when the Washington Nationals defeated the Arizona Diamondbacks in come-from-behind, walk-off fashion.
Although it was Ian Desmond who put the last pitch of the game in the left-field seats, it was Harper who began the inning with a lead-off double, and earlier made spectacular plays to ignite Nationals Park.
In the second inning, Harper had a hustle single that gave him his first hit of the night. His next at-bat came in the fourth, when he took a 3-2 pitch to deep right-center field to get an RBI double off of the scoreboard.
Harper then scored later in the inning on a close play at the plate, when he jarred the ball from catcher Miguel Montero's glove and scored his first major-league run.
In the ninth inning, Harper took the first step in the Nationals rally, when he smashed another ball off of left-center scoreboard for a double. He stood at second, representing the tying run in the ninth inning.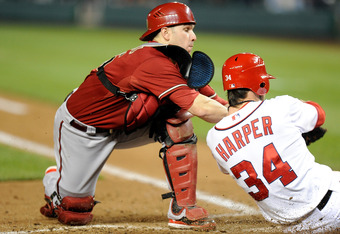 Greg Fiume/Getty Images
After the next two batters struck out, Desmond connected for a game-winning home run that would not have happened if Harper was still playing baseball in Syracuse.
Harper single-handedly ignited this ballclub when all seemed lost in the middle of a five-game losing skid. The Nats were on the verge of dropping their sixth straight in this one, but Harper's lead-off double gave the Nats hope that they were going to be able to pull this one out.
Harper is now 5-for-13 (.385) this season, with three doubles, two RBI and two runs scored. His production will be heavily relied upon with Ryan Zimmerman continuing to be sidelined on the DL.
That Nats improve to 15-9 and are still atop the NL East.
The most important part of Harper's big night was that he experienced his first major-league win, in a fashion that made it so much sweeter.