2012 NFL Draft Recap: Will Broyles Have Enough Impact to Justify the Pick?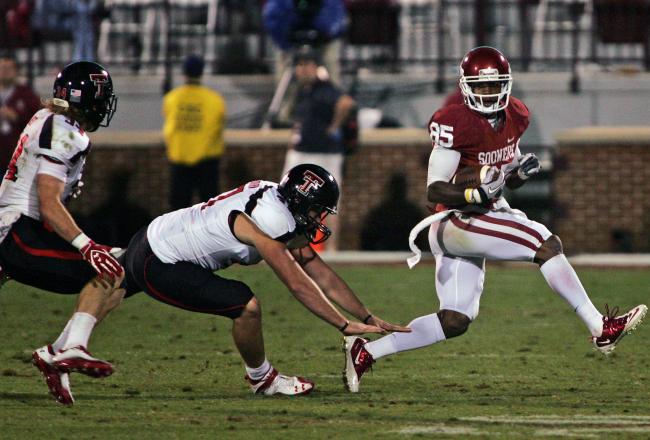 Brett Deering/Getty Images
As we journey through our look at the rookies of all the NFC North teams, we arrive at probably the most controversial pick in the division from the Detroit Lions—wide receiver Ryan Broyles.
At least it isn't a punter.
Broyles himself isn't the controversial aspect of the pick. Aside from his recent injury (we'll get to that), he's a solid looking prospect.
It's more the perception (shared by many but not all, of course) that it was a pick that was the least well spent—that of all the things the Lions could have grabbed in the second round, a wide receiver was unnecessary.
Really, that's a question that will require years to fully answer, but we're going to take a look at the player who has been so overlooked in the shock of the pick.
If you look at him in a vacuum without worrying about team, round or "need," Broyles is a decent pick with some real upside.
The injury is a concern, of course. Broyles tore his ACL in November against Texas A&M and it certainly hurt his draft stock to some extent. He appears healthy, though, having run a 4.57 40-yard dash, and looks to have regained what explosion and speed he had prior to the injury.
You can take a closer look at him in his pro day video to the right.
Broyles was never going to be a legit No. 1 wide receiver anyway. He's got the potential to be a very good slot or No. 2 guy, but he's never someone you look at and say, "He's the next top option for an offense."
That's not as much of a knock as it might sound like. There's nothing wrong with being a perennial No. 2—just ask Anquan Boldin. Heck, right about now, T.J. Houshmandzedah might be willing to go back to being a No. 2.
Broyles has good speed, not elite speed, but enough to make him dangerous after a catch. He uses what he has to for good effect on vertical routes, and can explode past a defender he has lulled off the line. He doesn't have a great second gear though, and he's not going to outrun anyone over a distance.
He struggles with press coverage, as he's not physical enough to get off defenders hitting him at the line.
Broyles generally runs a good route, though sometimes he's a bit sloppy on his breaks. He does a very good job finding seams in zone coverage, especially on a short route.
In a vacuum, he's a solid receiver who can do some good things and, in general, is worthy of a middle-to-late, second-round pick.
What should the Lions have taken with the second-round pick?
However, we don't exist in a vacuum and neither do the Lions. The truth is that he is no better or worse than numerous guys available in Round 3. Guys like Chris Givens, Devon Wylie and Jarius Wright (all of whom went in the fourth).
Meanwhile, at a position of need (the secondary), guys like Trumaine Johnson, Josh Robinson and Casey Hayward were there for the taking.
So on that end, it seems like a missed opportunity—especially since they just used a high draft pick on Titus Young last year.
However I am a big proponent of getting the guy you like when you can, and maybe they didn't like Givens, Wylie, Wright, Johnson, Robinson or Hayward.
The real question is, even in a vacuum, what does a guy like Broyles (who was largely rated in among scouts and draftniks as a third/fourth rounder) have to do to "deserve" his draft spot?
He's in an interesting position this year. On the one hand, he's going to get an extra hard look by fans and media because of the criticism of the pick.
If the secondary struggles, even more so.
On the other hand, because Young, Nate Burleson and some dude named Johnson are in front of him, they don't need him to blow up this year. He has time. Young is only in his second year, Johnson isn't going anywhere and Burleson has at least a few more years left.
So immediately, all we need to see is he is healthy and, when he needs to be, productive.
Long term? Well, he's going to have to crawl up that depth chart over the next couple of years. Broyles will need to find a way to get ahead of one of the pair of Burleson/Young and start becoming a reliable target for Matthew Stafford.
He's going to have to stay healthy (should be no real issue) and make an impact, even if he's only briefly on the field.
You may have hated the pick, you may have loved it.
In the end, Broyles has to make us forget where he was picked at all.
He can do that by producing regularly on the field.
This article is
What is the duplicate article?
Why is this article offensive?
Where is this article plagiarized from?
Why is this article poorly edited?