Pittsburgh Steelers Post-Draft Position Grades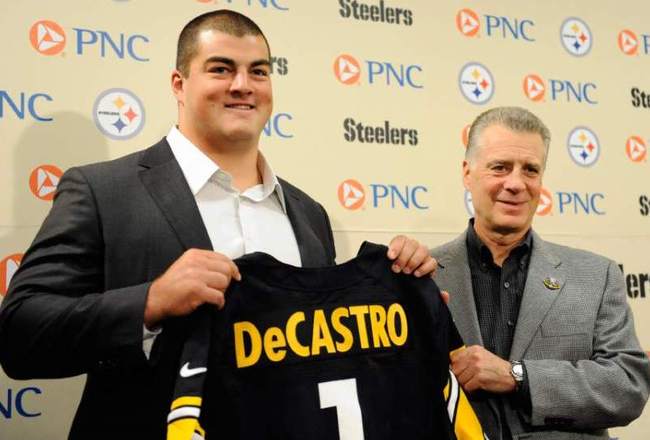 The NFL Draft has come and passed. The selections have been made, undrafted free agents are being courted and signed, and training camp is only months away. This is as good a time as any to look at the Steelers roster again, post-NFL Draft.
Many experts believe the Pittsburgh Steelers were once again one of the big winners in the draft.
With the acquisitions of Stanford Guard, David DeCastro, and Ohio State tackle, Mike Adams, Pittsburgh improved its offensive line immensely.
Nose tackle Alameda Ta'amu should be a big contributor this year, competing with and learning from Casey Hampton. Also, running back Chris Rainey looking to get carries.
Couple these impact players with the UFAs that the Steelers have signed, and you get a team that is already noticeably better than it was a week ago.
Here is a breakdown of each position, with previous grades and post-draft grades.
Quarterback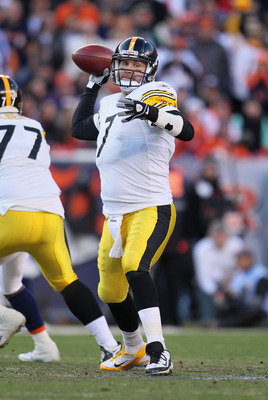 Jeff Gross/Getty Images
No change since the draft at this position.
Pittsburgh has Ben Roethlisberger and that's all they really needed. With the resigning of aging veterans, Charlie Batch and Byron Leftwich, the Steelers have depth but could possibly bring in a rookie free agent to learn the position.
Previous Grade: 5
Post-Draft Grade: 5
Running Back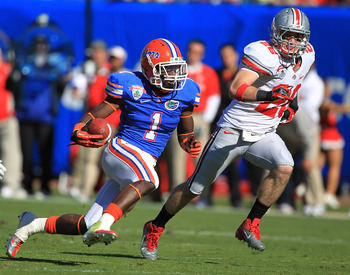 Scott Halleran/Getty Images
With their fifth-round pick the Steelers selected the speedster out of Florida, Chris Rainey.
Rainey was a former teammate of center Maurkice Pouncey, something that no doubt helped his chances of ending up with the Steelers. Rainey has game-breaking speed and elusiveness that has been missing from the Steelers since Willie Parker was in town. Rainey should compete for the third-down back job and see more playing time if he performs well.
The other backs are Isaac Redman, Johnathan Dwyer, John Clay, and Baron Batch. There is also an outside chance of Rashard Mendenhall returning as well.
Previous Grade: 3
Post-Draft Grade: 4
Wide Receiver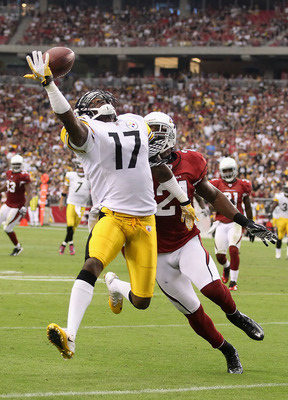 Christian Petersen/Getty Images
The Steelers selected Tony Clemons of Colorado with one of their seventh-round picks. Clemons is a big and athletic receiver who should add good depth to the receiving corp. He'll look to compete with Jericho Cotchery for the fourth receiver spot.
They also signed Conor Dixon as an UFA out of Duquesne. Dixon is a backyard pick for the Steelers, as he played just miles from Heinz Field. He is big, fast, and has a high football IQ. Look for him to add depth and compete for the fourth receiver job as well.
With Mike Wallace still a no-show, the state of the corp is unknown, but good depth has been added and it will perform as a whole this season.
Previous Grade: 4 to 5
Post-Draft Grade: 4.5
Tight End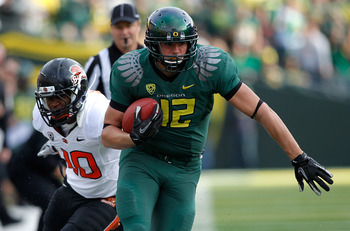 Jonathan Ferrey/Getty Images
With one of their seventh-round picks, Pittsburgh selected David Paulson out of Oregon. Paulson is an athletic, pass-catching end who shows good flashes of talent. He will have to improve his blocking and definitely bulk up because he is small for an NFL tight end. He could make the roster and push one of the old tight ends out the door.
Given time, Paulson could be the number-two option behind Heath Miller and develop into a good pass-catching end in the league. With Weslye Saunders' future questionable, Paulson could move into prime position to make the team and go even further.
Previous Grade: 3
Post-Draft Grade: 3.5
Offensive Line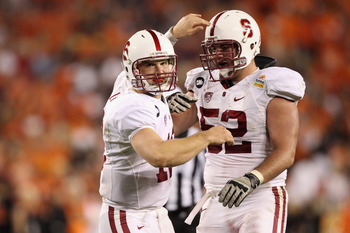 Christian Petersen/Getty Images
The offensive line has come the furthest since the previous grades. The NFL Draft was very kind to Pittsburgh in that they got two, day-one starters in David DeCastro and Mike Adams.
DeCastro is was the best guards in the draft and a potential pro-bowl player right out of the gate. He is strong, mean, and very skilled in both run and pass blocking. He will pave the way for any running back and protect Big Ben for years to come.
Adams was a question mark with his character, but impressed the Steelers enough that they took a chance on him. Adams can be the day-one starter at either tackle position, with Marcus Gilbert playing opposite of him. Willie Colon could then be moved inside to the other guard position, opposite of DeCastro. They all give Pittsburgh a very good offensive line.
Previous Grade: Center 4, Guard 2, Tackle 3
Post-Draft Grade: Center 4, Guard 4, Tackle 4
Defensive Line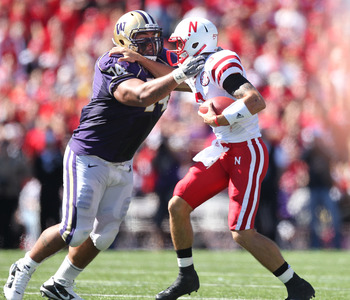 Otto Greule Jr/Getty Images
Alameda Ta'amu is the next Casey Hampton.
A second-round talent, selected in the fourth-round, Ta'amu is a perfect Nose Tackle for a 3-4 defense. Depending on Casey Hampton's situation, Ta'amu could either learn behind the veteran for a year, outplay Hampton and become a starter, or be forced into the starting lineup; all three are a real possibility.
Ta'amu is a run stuffer who will anchor the defensive line for years to come. He will also keep Ziggy Hood at the defensive end spot that he is so good at.
Previous Grade: DE 4 DT 2
Post-Draft Grade: DE 4 DT 3.5
Linebacker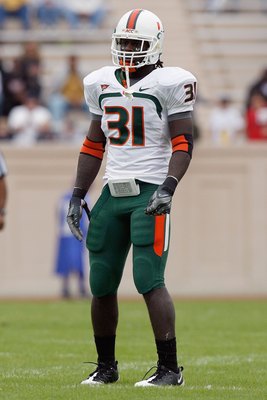 Kevin C. Cox/Getty Images
Sean Spence was selected in the third-round out of Miami and provides the Steelers with a great talent and good depth at the linebacker position.
Spence was a starter as a true-freshmen at Miami and produced excellently in his time with the Hurricanes. He has great speed for the position and a nose for the football. While he is a little small for a prototypical NFL linebacker, which has led some to think he could be moved to safety, he has the meanness to compete and should stay at his natural position.
With the opening left by James Farrior, Spence will look to be in the hunt for the starting job. He will have an uphill battle against Stevenson Sylvester and Larry Foote though.
Previous Grade: 5
Previous Grade: Strong 5
Cornerback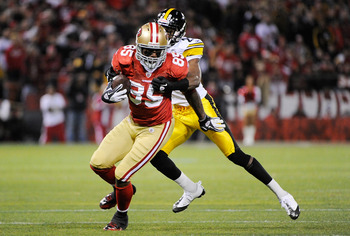 Thearon W. Henderson/Getty Images
The Steelers selected Texas A&M corner Terrence Frederick in the seventh round. Frederick isn't terribly skilled at any aspect of the corner position and will need a lot of work if he's to even make the roster. Still, the Steelers must see something in the Aggie product, otherwise he wouldn't have been drafted.
Terry Carter, of Louisiana Tech, was signed as a UFA and is a better prospect than Frederick. He is fast, 4.57 in the 40, and has decent height. While his team in college struggled against the pass at times, Carter had ten passes defended last season and showed he isn't afraid to play the run. He will need to get bigger, but a good camp should help him make the team.
Previous Grade: 3
Post-Draft Grade: 3.5
Safety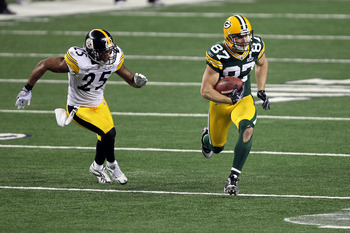 Mike Ehrmann/Getty Images
Pittsburgh signed UFA Robert Golden of Arizona, but didn't do too much to upgrade the safety position outside of that.
Golden is fast and a good tackler, but is undersized and gets a little out of control at times. If he bulks up and learns the playbook, he could make the team.
Sean Spence could also be at play here, especially if Stevenson Sylvester lights it up at training camp. Spence is a little small for linebacker and has the speed to play safety.
Previous Grade: 4.5
Post-Draft Grade: 4.75
Keep Reading

Pittsburgh Steelers: Like this team?