Alabama Football: Top Talents Sure To Land in Round 1 of 2013 NFL Draft
May 1, 2012

Mike Zarrilli/Getty Images
The Alabama football program was ridiculously dominant in 2011.
Not only did they win the national championship, but five of their players were selected in the top 35 picks of the 2012 NFL draft.
Well, guess what?
Nick Saban is not going to miss a beat with his new team this fall. Along with one of the top recruiting classes in the nation (again), there are going to be numerous players that will grade out as first-round picks by this time next year.
Will 'Bama win consecutive titles? If they do, it will be thanks in large part to the following three players.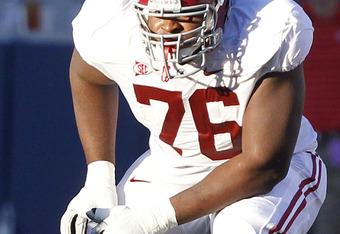 Butch Dill/Getty Images
DJ Fluker, OT (Junior)
This guy is incredibly large. Like 6'6'', 335-pound large.
DJ Fluker's power and strength allow him to dominate opponents on virtually every play. While his footwork is still a work in progress, he is learning rapidly.
You can't teach Fluker's size and assuming he makes a similar jump to the one he made between his freshman and sophomore year, he'd be a fool to return for his senior season.
Kevin C. Cox/Getty Images
With Mark Barron long gone, Robert Lester is now the main man patrolling the Crimson Tide secondary. Last year he registered 38 tackles, 1.5 for a loss in addition to two interceptions a forced fumble and blocked kick. This was a year after catching eight INTs.
At 6'2'' and 210 pounds he can be a wrecking ball that lands the devastating hit, yet can still go step for step with even the fastest receivers in coverage.
Tyler Wilson will be having nightmares about this guy in the fall.
Barrett Jones, OT/C
While he may not have Fluker's size (6'5'', 310 pounds), Barrett Jones is a much more polished player at this point. His pass protection is incredible in addition to being a stand-out run blocker.
He was the winner of the 2012 Outland Trophy for best offensive lineman at left tackle, and his additional value lies in the versatility to play center if needed.
There is no doubt he has franchise tackle potential and expect Jones to be the anchor of what is surely going to be the best offensive line in the country in 2012.