Chicago Bears 2012 Draft: Video on Every Pick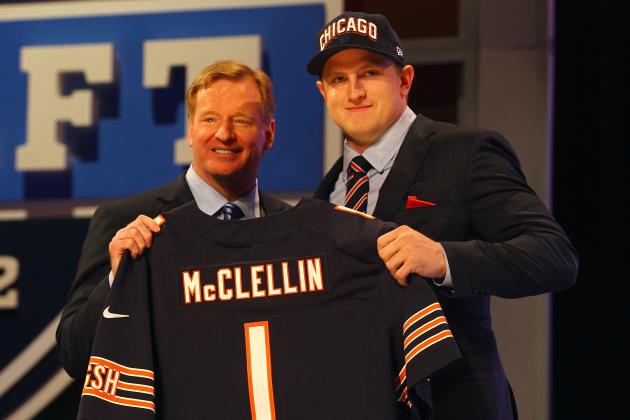 Al Bello/Getty Images
Bears first round pick Shea McClellin
After doing a similar article for the Cleveland Browns, a Bears fan asked me if I could put together some highlights of his team's draft picks. So here they are—video highlights on every Bears pick, plus highlights of an undrafted free agent who has a shot to make the team.
Enjoy. I hope the videos get you excited about the Bears' 2012 season.
Begin Slideshow

»
Taking down running backs behind the line and sacking quarterbacks is his modus operandi. One thing is for sure, McClellin gets into opposing backfields quick.
Watch the video and that is all you will see. Some people call him a reach at No. 19. He looks like anything but in this video.
The so-called experts never cease to amaze me. When the Bears made the trade for Brandon Marshall, it was a great move, reuniting Jay Cutler with his favorite target back from their Denver days. But when they pick Jeffery, they are criticized for picking a receiver who is too similar to Marshall.
Regardless of what the experts think, Marshall and Jeffery should give Cutler the two best receivers he has had since he became a Bear.
It seems like most highlight videos come from a prospect's senior season, unless they are universally considered a first-round talent. With Hardin missing his entire senior season, highlights are difficult to come by. But the few he has are enough to show that he is a hard-hitting safety. When he hits a guy, he hits him so hard that anyone who is watching can feel the pain.
I promise you another hard hit in the next slide.
This time he knocks the ball out, too!
I love how he throws a chip-block on the second play of this video while spinning off the defender and knocking him down. Then he gets open for the catch. I know it's not the most exciting thing for some to watch, but I also like watching a guy lead his running back by finding the right guy to block.
Since he also is clearly a target in the passing game, he should be a big contributor to the Bears offense.
I will say I go to Nevada and leave it at that, since my opinion won't be objective. Though I will be happy to go into more detail if you send a message to my in-box.
Search Greg McCoy's name on YouTube and you find a bunch of kick-return videos. A defensive back who can return kicks on the Bears? That sounds familiar for some reason.
There weren't any videos of him playing cornerback that I could find. However, he did have a 99-yard kick return against UNLV that I enjoyed (Like I said in the last slide, I go to Nevada).
With only six picks, the Bears could see an undrafted free agent or two compete to make the final roster. Here are a few highlights from Cole's freshman year at Louisiana Tech. These are impressive for a first-year player, so Cole may be one free agent to keep an eye on.
I said I was only going to do one undrafted free agent, the experts were all over the Bears for not adding speed at wide receiver. Well, here is Brittan Golden out of West Texas A&M running a 4.32 40-yard dash. I tried timing it myself a few times, and my average was about the same. If the Bears agree with the experts, maybe Golden has a chance.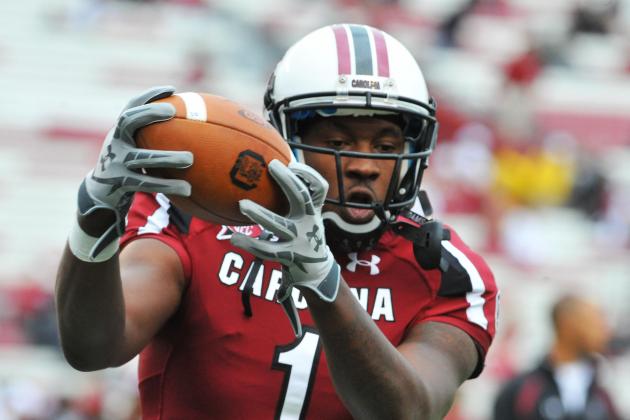 Al Messerschmidt/Getty Images

So there you have it, the Chicago Bears 2012 rookies. I hope you are excited about these guys!
Personally, I can't wait to see just how much Alshon Jeffery helps the offense. Shea McClellin looks like a great pick, too.
Which Bears rookies are you most excited about?
I appreciate any comments, positive or negative.
You can follow me on Twitter @deg4.