MLB Free Agency: Andre Ethier and 9 Stars GMs Shouldn't Be Fooled by in 2012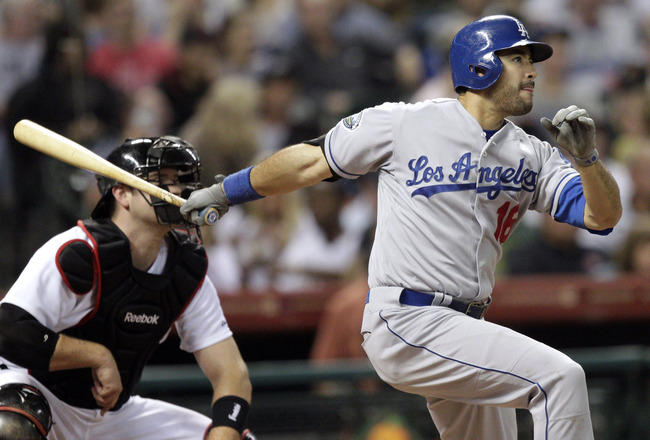 Bob Levey/Getty Images
We're a month into the 2012 season, and so far, it's been a season full of surprises. The Nationals, Orioles and White Sox are all either in first place or a game or two out, Derek Jeter and David Ortiz are both hitting near .400 and Albert Pujols has yet to hit a home run in an Angels uniform.
A lot of players are playing at high levels so far this season, and oddly enough, a lot of them are in contract years. These players are playing like a bunch of guys with big paydays in their dreams, but for most of them, general managers would be wise to stay away. They all have some lackluster past records to their names and should not be trusted with a major contract. While some of them have the talent to keep up this elite level of play, other factors come into play that makes them a risk.
I'll bet you're wondering who these players are now, huh? Well, let's get right into it, the nine players who GMs should steer clear of this offseason despite what they wind up doing this year.
C Miguel Montero (ARI)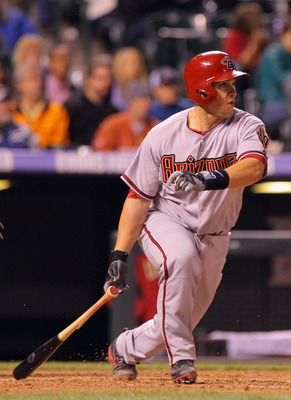 Doug Pensinger/Getty Images
Diamondbacks catcher Miguel Montero is widely regarded as one of the top offensive catchers in baseball. He's off to a decent start this year and will likely wind up with similar stats to most of his other big-league campaigns. However, he is not worth what he is likely to get, contract-wise.
Cardinals catcher Yadier Molina received a five-year, $75 million contract extension in spring training that unfortunately will now serve as the benchmark for any good catchers in the near future. Montero will likely ask for the exact same thing, and he could very well get it from a team in need of some offensive help behind the plate. But, no catcher deserves that kind of money, and GMs would be smart to offer him no more than a four-year, $40 million deal.
RHP Jake Peavy (CHW)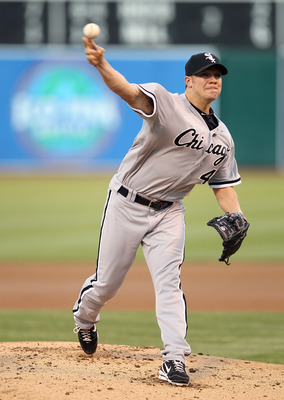 Ezra Shaw/Getty Images
So far in 2012, Jake Peavy has looked like the Jake Peavy that won the NL Cy Young Award for the Padres back in 2007. In five starts, Peavy is 3-1 with a 1.67 ERA and 33 strikeouts, with the one loss being a complete game, one-run effort against Jon Lester of the Red Sox.
If Peavy can continue his dominance, he might not even hit free agency, as he still has an option left with the White Sox. However, with that being a $22 million club option, unless Peavy pitches like a bonafide Cy Young winner, Chicago isn't likely to pick it up. So, he will likely wind up testing the free agent market, and if anyone comes close to offering him the three-year, $52 million contract he signed with Chicago, it would be a foolish move to say the least.
CF B.J. Upton (TB)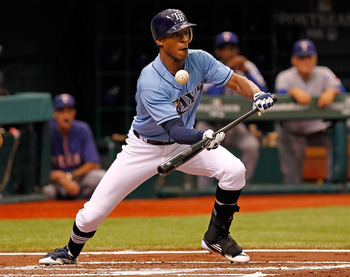 J. Meric/Getty Images
Tampa Bay centerfielder B.J. Upton has played in just a handful of games this season after coming back from injury, but he already looks pretty impressive. Upton has always had the power, even for a skinny guy, and if he can keep his batting average somewhere in between where it is now and where it ended last year, he would likely be regarded as one of the best outfielders in the game, both offensively and defensively.
However, you can't take anything for granted when it comes to Upton, as he does tend to hit for a low average and strike out more than his fair share. So, does Upton deserve anything close to what Jayson Werth and his former teammate, Carl Crawford, got a little over a year ago from the Nationals and Red Sox, respectively? No, especially since not even they deserve those contracts. Upton isn't in the same class as those players are (once were?), and therefore, should be paid accordingly.
3B David Wright (NYM)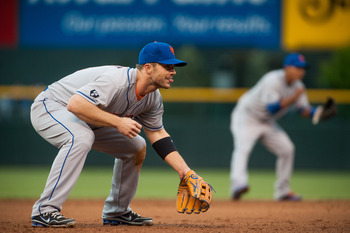 Dustin Bradford/Getty Images
Mets star third baseman David Wright is now the face of the franchise following the departure of Jose Reyes. However, with the Mets being deep in a rebuilding mode, the future may not include Wright in New York. With a $16 million club option for 2013, Wright may find himself entering free agency if the Mets instead opt to exercise the $1 million buyout and let him go, allocating his salary to other areas of need.
If Wright hits the free-agent market, he will likely receive multiple lucrative offers, as third base is not by any means a deep position in the MLB. Now, if this were the 2009-2010 offseason, I would have said by all means give this guy $18-20 million a year for six to eight years, as he was consistently one of the best third basemen, both offensively and defensively, in the game.
However, Wright has regressed over the last two years and also missed significant time due to injury. This doesn't mean he is no longer a great option at third, but he may not be worth what he once was, even if 2012 looks like an amazing season for him so far.
RHP Colby Lewis (TEX)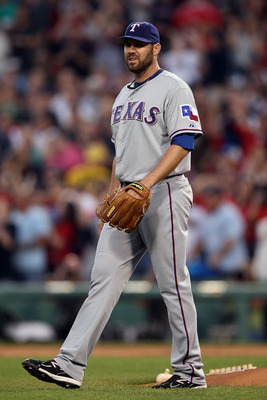 Elsa/Getty Images
Colby Lewis left the MLB after the 2007 season and pitched in Japan's Nippon Professional Baseball league for two years before returning to America and signing with the Texas Rangers. Since then, Lewis has been a consistent starter in the Texas rotation, helping the Rangers reach the World Series with some dominant postseason pitching in 2010 and 2011.
However, Lewis should not be judged based solely on his postseason performances. Since returning from Japan, Lewis is 29-23 with a 3.90 ERA. Those are average numbers at best, nothing worth a major contract. Lewis should be viewed at best as a a third starter, but is probably more suited as a fourth starter, and GMs should view him as such when he hits free agency this coming offseason.
RF Nick Swisher (NYY)
Christopher Pasatieri/Getty Images
Ever since joining the Yankees in a November 2008 trade, Nick Swisher has been a new player. Originally acquired to replace Jason Giambi at first base, Swisher soon became a bench player when the Yankees signed Mark Teixeira, with Xavier Nady already occupying his current right field position.
However, an early season injury to Nady gave Swisher his chance, and he latched onto the job and refused to let go. He helped the Yankees to a World Series championship in 2009 and has been a force at the plate for the Bombers every year, consistently hitting just shy of 30 home runs while driving in 80-plus.
While you can't put a number to the value Swisher has with the Yankees, both on the field and in the clubhouse, you can determine his value to other teams. Just look at his history. Swisher has been significantly better as a Yankee than he was in both Oakland and Chicago. His personality doesn't fit just anywhere, and he might be the kind of guy that needs to play on a good ballclub in order to reach his full potential. So, GMs should not throw money at Swisher following the 2012 season when he hits free agency, even if he does continue his torrid pace.
Swisher is meant to be a Yankee, and any other team that potentially signs him might just come to regret it.
DH David Ortiz (BOS)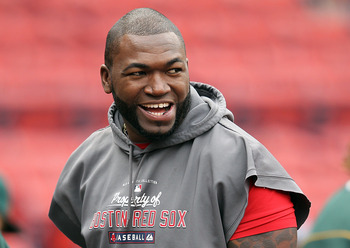 Jim Rogash/Getty Images
David Ortiz has followed up a fairly successful 2011 season (personally, that is) with a hot start to the 2012 season. Now playing on one-year deals, Ortiz has to make every at-bat count, and so far, he has shown that he is up to the challenge. However, there are multiple red flags when it comes to signing Ortiz during the offseason.
First of all, there's the fact that he is nothing more than a hitter. He can't play at any position other than first base, and even there, he is a liability. Interested American League GMs need to proceed with caution when it comes to Big Papi, because if you're going to pay him close to $15 million to hit the ball and nothing more, then he needs to own that DH spot, which means that there is no partial rest for any veteran players on the club.
Is a pure hitter worth that kind of money? I tend to say no, but that's a call that GMs will have to make when considering Ortiz as an option.
OF Josh Hamilton (TEX)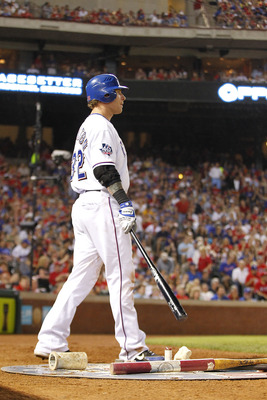 Rick Yeatts/Getty Images
Josh Hamilton has looked like an AL MVP candidate so far in 2012. After big-name players like Albert Pujols and Prince Fielder came over from the NL, a lot of people probably expected Hamilton to fade into the background, but he has done just the opposite, stealing the spotlight while the new guys struggle. Hamilton is right up there with Ryan Braun, Jose Bautista, Curtis Granderson and Matt Kemp as one of the best outfielders in the game, and he will without a doubt be paid as such if he makes it to the end of the season without signing an extension with the Rangers.
While there is no denying Hamilton's abilities, the downside of signing him to a major contract lies in his off-field issues. Hamilton has a well-known history with alcohol abuse and has even suffered a relapse as recent as this offseason. He could realistically fall of the wagon at any time and cease to be the elite player he is today, making whatever contract he signs this coming offseason a colossal mistake.
Unfortunately, GMs will have to weigh the risks against the potential gains when looking at Hamilton. One of them will take that big risk, that's a guarantee; we'll just have to wait to see whether it is a risk worth taking.
RF Andre Ethier (LAD)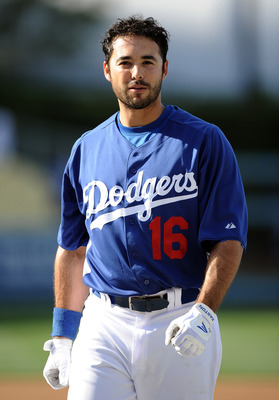 Harry How/Getty Images
Andre Ethier is without a doubt one of the more interesting options for those GMs looking for an upgrade in their outfields. A free agent at season's end, Ethier has been a confusing case for the Dodgers during his tenure in LA. While his batting average has remained high throughout most of his career, his production numbers have fluctuated over the years, and Ethier has also experienced his fair share of injuries the past two seasons, missing north of 20 games in both 2010 and 2011.
However, when healthy, Ethier is a fine right fielder. He has the ability to hit 30 home runs and drive in 100, as he showed in 2009, so perhaps a change in scenery would do him good, like it did for Nick Swisher.
Ethier has the capability to be an elite outfielder in the MLB, but he needs to remain consistent before he can be regarded as in the same class as his teammate, Matt Kemp. He might get bigger offers, but a reasonable deal for Ethier would be somewhere in the five-year, $60 million range. Anything higher than that, and GMs would be wise to let him go elsewhere.
Keep Reading