Buffalo Bills 2012 NFL Draft: The Bills Get What They Haven't Had in 10 Years
April 30, 2012

Joe Robbins/Getty Images
Let me preface this article by saying, with all due respect to Stephon Gilmore, TJ Graham, Nigel "Tarzan" Bradham, Ron Brooks, Tank Carder and John Potter (kickers are people too)—the real class of this year's draft has to be the trench warriors. For the first time in arguably 10 years, the Bills have (on paper anyway) a respectable offensive line.
The decline in the offense may have been attributed to Ryan Fitzpatrick's rib/chest injury—but anybody who watched the nine-game slide last year saw that the offense truly took the nose dive as the offensive line deteriorated. Almost overnight, pillars of a once strong offensive line like Jerry Ostroski and Ruben Brown have been replaced by scabs like Colin Brown, Cordaro Howard, Ed Wang, Jason Watkins, Jonathan Scott—and this is just the last three years.
For years the Bills Brass almost comically neglected adding notable free agent talent, or spending first-day draft picks to rectify the glaring holes along the offensive line. If there is one thing I have learned in the last two years, it's to take the front office more literally:
"We need tackles," --Buddy Nix, April 2012, days before drafting two early grade offensive tackles (and a guard) in the draft

"The guys that are coming out now, there's a bunch of those 5'9 180 pound or 190 pound, quick-as-a-cat water bugs that are running backs-slash-receivers that might give you a little bit of a punch on the field, maybe make a big play." --Chan Gailey, March 2010, a month before drafting 5'11 190lb CJ Spiller
Well played sirs...
Here's a quick breakdown of the players taken, so you can get a feel for just how successful Bills brass was this weekend: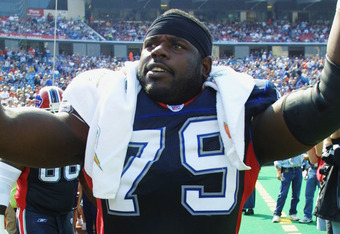 Rick Stewart/Getty Images
Round 2, Pick 9 (41) Cordy Glenn, 6'5 345lbs OT/Georgia 
Another tendency Buddy Nix has shown is that he likes to try to find newer versions of his old success stories. Best case, Nix is hoping Glenn can emulate the success of Marcus McNeil and be the franchise left tackle Buffalo has lacked since arguably Jason Peters (and that's pushing it). Glenn has a huge frame, long arms and can bury lineman on run blocks—but unfortunately with great size comes great responsibility. Glenn had an iffy Senior Bowl, and showed a tendency to get beat by speed rushers— especially on double moves inside (see Senior Bowl 1v1 tape.)
Personally, I think with a little weight loss and an introduction into a professional strength and conditioning program, Glenn could be what the Bills covet. Worst case, Glenn's feet never fully become nimble enough to protect Fitzpatrick's blindside and he gets bumped to the right side guard or tackle and Erik Pears or Kraig Urbik become depth—either way still a successful pick by Buddy and Co.
Round 5, Pick 9 (145) Zebrie Sanders 6'5 320lbs OT/Florida State
While I like all the picks in this year's draft, Sanders is far and away my favorite—and most underrated. Sanders is a big, rangy tackle with prototypical 'dancing bear' feet. He's long enough to play on the left, and excels at pass blocking. Probably most importantly in my mind, is that he has been on the field a long time.
Having started an ACC and FSU most 50 career starts (36 consecutive) he's demonstrated not only durability—but having played both right and left sides—versatility. Best case, Sanders becomes a starting tackle opposite Glenn and both Hairston and Pears become quality depth. Worst case, Sanders was a third-round grade who was taken in the fifth—even if Sanders becomes the quality depth Buffalo has sorely lacked, this is still a huge win.
Round 6, Pick 8 (178) Mark Asper 6'6 319lbs G/C Oregon
Asper is a big, physical road grading interior lineman who has experience working a similar zone blocking scheme as what Buffalo uses. Asper provides much needed toughness and strength, whether he is able to crack the starting lineup or as depth. While admittedly I had my doubts about Kraig Urbik, he was sorely missed, and the lack of depth only exasperated the problem. Asper provides flexibility along the interior, providing insurance should Eric Wood or Urbik get injured.  
Best case, Asper takes the starting role from Urbik, who then becomes the desperately needed backup guard and center. Worst case, same as Sanders—he was a sixth-round pick, even if he makes the team as depth—there's nothing lost. Fun fact, Asper is also 27 years old.
NFL fans, and Bills fans especially, have been rightfully cynical about what their GMs have said about addressing needs in the offseason—and the reality of what actually happens. Given Buddy Nix's solid draft last year, and his commitment to addressing the defense and offensive line in free agency and the draft this year, have Bills fans finally found a GM they can trust?