New York Giants 2012 Draft: Why RB David Wilson Was Right for the G-Men
April 30, 2012

It isn't often that the defending Super Bowl champions can be harshly criticized, but the Giants certainly had a major imperfection this past season.  
It can all be summed up in one number.
89.2.
The number is the Giants' total rushing yards per game in 2011, which was good for last in the league.
So going into the draft, how could a running back not be on GM Jerry Reese's radar?
In addition to having the least efficient running game in the NFL last year, they also parted ways with Brandon Jacobs, the franchise's all-time leader in rushing touchdowns, during the offseason.
Furthermore, much concern has been expressed regarding Ahmad Bradshaw's lingering foot problems, so a fresh runner would have certainly been a major boost for the reeling unit.
Enter David Wilson. 
Closing out the first round of the 2012 NFL draft, the Giants selected the explosive Virginia Tech product.  
The selection came as a bit of a surprise to many around the league, but Reese clearly knew the situation better than anyone else and certainly considered all options before handing in the card Thursday night.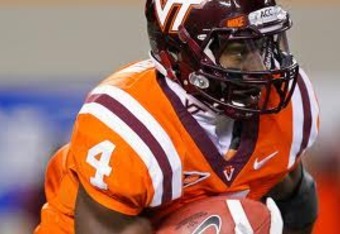 Wilson was the second-ranked running back on the board, and Reese is surely more knowledgeable than any "Draft Expert" in regard to what his team truly needed.  Reese explained that the selection was the perfect mix of filling a need and acquiring significant value.
The Giants were very impressed with the 20-year-old phenom.  They admired his good upbringing and character, and his extreme athleticism must've surely helped his cause.
Jayron Hosley, his teammate at Virginia Tech and now on the Giants, said Wilson once chased down a rabbit and touched it as it was running at full speed.  It should be exciting to see what that rare speed and agility translates to on the field.  
Perhaps even more impressive, Wilson put out this video two days before the draft in which he successfully completed 21 back flips in succession.  He even gave a shout out to All-Pro defensive end Jason Pierre-Paul, who landed 14 straight back flips before being drafted by Big Blue in 2010.
It is almost impossible to question Jerry Reese's draft picks after his immense success as of late.  
With a primarily homegrown roster, Reese was the architect of two championship teams in the last five years.  
Reese's first-round selections Kenny Phillips, Hakeem Nicks and Jason Pierre-Paul have all been extremely productive, and the Giants have surely made the most of picks that are usually towards the end of the round due to constant success.  
It is easy to see Wilson stepping in and achieving similar success rather early in his rookie campaign. Although Reese suggested Bradshaw is still the "lead dog," multiple backs tend to receive significant carries in the Giants' offense.  
In fact, Wilson will have a large role for a mere rookie.
In addition to significant carries, his impact will also be apparent on special teams from Week 1. His superb kick returning ability must be mouth watering for Giants coaches, as the return game has been pathetic at best as of late.
Wilson will see a lot of action on third downs, particularly due to his ability to make big plays off of the screen.  If his pass protection ability improves, Wilson's contributions will accent along with his development.  Hopefully, Wilson will continue to develop into a weapon defenses must adjust their schemes to defend, as he has the capability to be a constant home-run threat.
Giants fans have learned to trust Jerry Reese over the last few years, so this pick surely doesn't need to be justified by any means.  In fact, it seems plausible that when reflecting upon Reese's most impressive first-round picks, Wilson will join the conversation along with Nicks and Pierre-Paul.  
Wilson is an impact player with enormous potential.  He can torment defenses in many ways, as indicated by his astonishing 2,253 yards in 2011, which set a record for an ACC junior.  
Whose record did he break?
None other than Tiki Barber, the New York Giants' all-time leading rusher.
Is that David Wilson's next goal?