20 Surprise MLB Players of April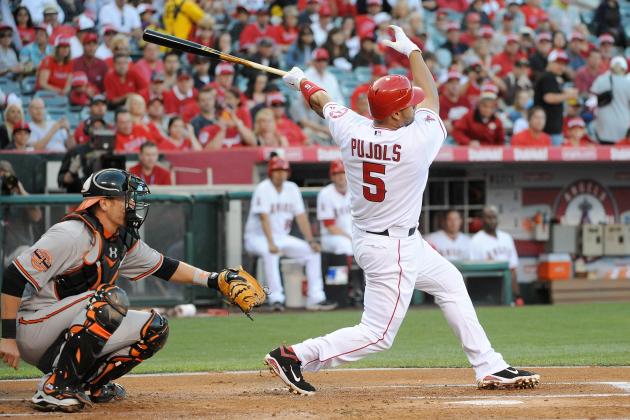 Lisa Blumenfeld/Getty Images

You've got to love the month of April. It's the heart of spring, the weather is just right, students are preparing for the final weeks of school...
And of course, it also means baseball is back and teams are hoping to start the season off on the right foot.
Even though it's only been one month into the season, a number of players—both star and low-key—have performed both beyond and below most peoples' expectations. It will be interesting to see which players will be able to continue either performing or underachieving throughout the rest of the regular season.
With that said, let's take a look at 20 players who have been surprising over the month of April—for better or for worse.
Begin Slideshow

»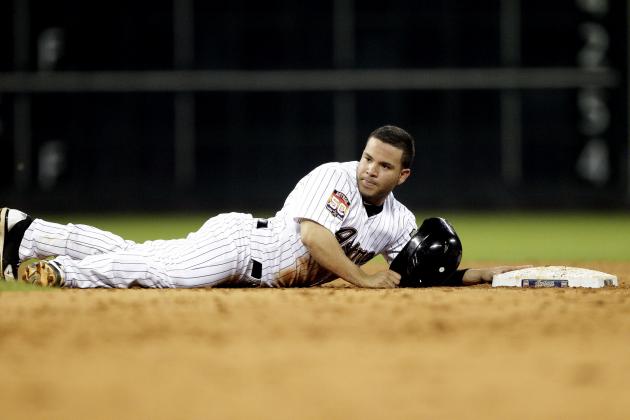 Bob Levey/Getty Images

In 2011, Jose Altuve did a decent job with the Houston Astros. In 57 games, he hit .276 with two home runs, 12 RBI, seven stolen bases and reached home 57 times. In parts of five seasons in the minors, Altuve had 117 stolen bases.
He's seemed like an average hitter with base-stealing capabilities, right?
Well, in April, he hit .360 with a home run, 10 RBI, four stolen bases and has reached home 15 times.
Not bad for a soon-to-be 22-year-old on a rebuilding Houston Astros team.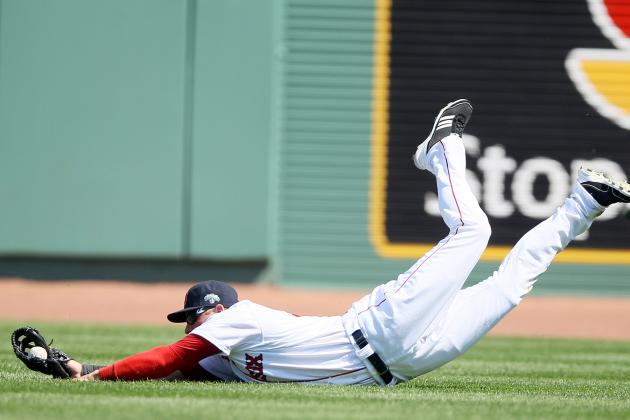 Elsa/Getty Images

You should have seen my Boston Red Sox-loving roommate during the offseason.
As a Red Sox fan, he was banging his head against the wall in confusion and disgust.
"Aggggggh," he would shout from his room. "Ryan Sweeney? Why not re-sign J.D. Drew while you're at it?"
I guess I can't blame him. When you think of a team with a large payroll like Boston, a guy like Sweeney as a star outfielder doesn't immediately come to mind. Sweeney had run-driving potential when he was a part of the Oakland Athletics in 2008 and 2009, but he never was able to get the playing time to truly showcase his skills.
But so far he's been doing very well in Boston. Though he has yet to hit a home run, he does have 8 RBI and hit for .373 in April.
However, what I think is most impressive is his ability to hit for extra bases—he leads the league in doubles (11) and has an OPS of .962.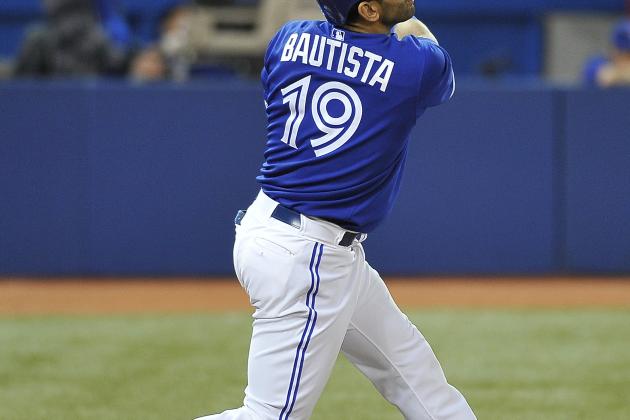 Brad White/Getty Images

Well, I have good news and bad news about Jose Bautista.
The good news is that his power and ability to drive runs still seems to be there. He did have three home runs and 10 RBI last month.
The bad news is that he's hitting .181 while doing it.
Now, Bautista has, throughout his career, been an average hitter at best (his career average currently sits at .252), but mind you that he hit .302 last year.
Hopefully for him and the Toronto Blue Jays, he'll return to form soon.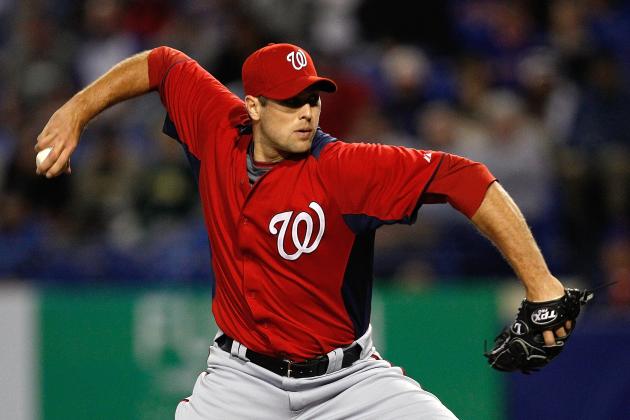 Sarah Glenn/Getty Images

Craig Stammen has a career ERA of 4.77 in 61 games (38 starts), so it came to a surprise to me that this season, in nine games, he has an ERA of just 0.71.
Although he has not started a game this season, I still think he has done a surprisingly impressive job so far as he definitely has had a part in making the Washington Nationals as successful as they are right now. With some continued success, Stammen might get a spot start or two, or be the first in line to start if someone in the rotation suffers an injury.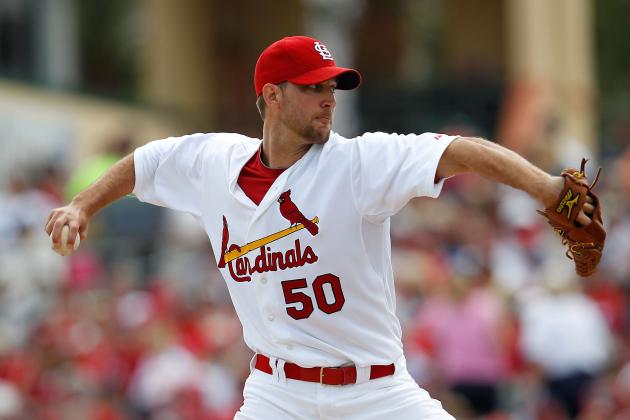 Sarah Glenn/Getty Images

A year removed from Tommy John surgery, many expected to see Adam Wainwright return to his 2010 form, when he won 20 games and had an ERA of 2.42.
So far, that hasn't happened. Not even close.
In four starts, he had an ERA of 7.32, and has allowed 24 hits in 19.2 innings.
The rest of the Cardinals rotation has done a fantastic job, and thanks to them, they're leading in the NL Central standings. But it would be a lot better if their ace was performing like them too.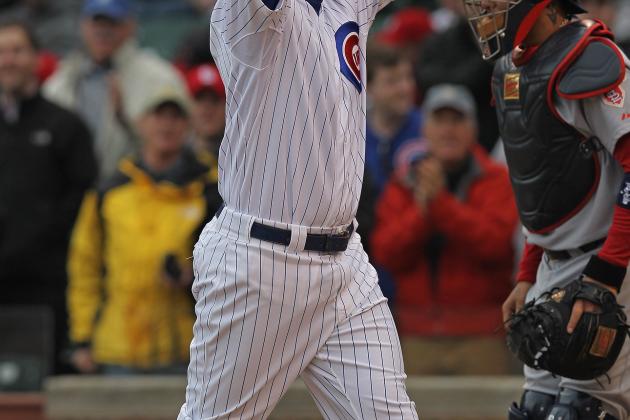 Jonathan Daniel/Getty Images

It's unknown how long Bryan LaHair will last as the Chicago Cubs' first baseman.
He got his first taste of major league playing time in 2008 with the Seattle Mariners, but wouldn't get called up, until last September for the Cubs.
In addition, the supposed future, Anthony Rizzo, is waiting in Triple-A Iowa.
But for now, LaHair has done an excellent job. No one on the Cubs team, not even Starlin Castro, is hitting better than he is, as LaHair hit for .390 in the month of April.
However, what's really impressive is LaHair's ability to hit for extra bases. Out of his 23 hits, he's hit five home runs and eight doubles, for an OPS of 1.251.
It will be interesting to see what happens with LaHair, especially if he can keep this pace up. Will they keep him or trade him to a team in need of a first baseman/designated hitter, and let Rizzo take over? We'll see what happens...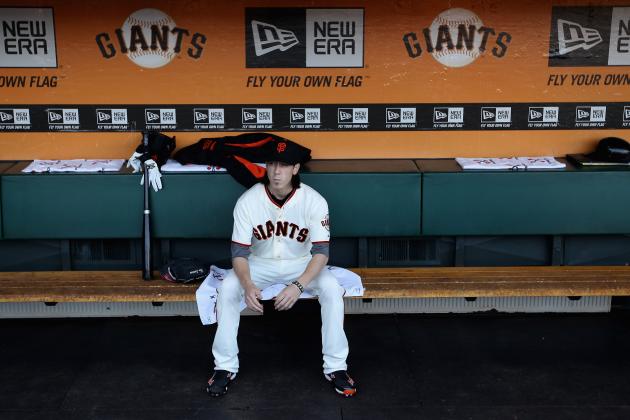 Ezra Shaw/Getty Images

It's quite shocking to see Tim Lincecum perform so poorly. I mean, this is a two-time Cy Young Award winner who's just about to enter the prime of his career.
Maybe Giants general manager Brian Sabean is smart for not re-signing him—at least for the moment.
In his five starts, he's lasted about 5.1 innings on average.
Ouch.
What's worse is his 5.74 ERA and 29 hits he's given up during that time.
Fortunately for him, he went 2-2 in April, but he's going to need improve significantly. He may have started to turn the corner on Saturday, pitching eight innings of shutout baseball, allowing just three hits. As the ace of the Giants, he's a key component for the team to contend in the NL West.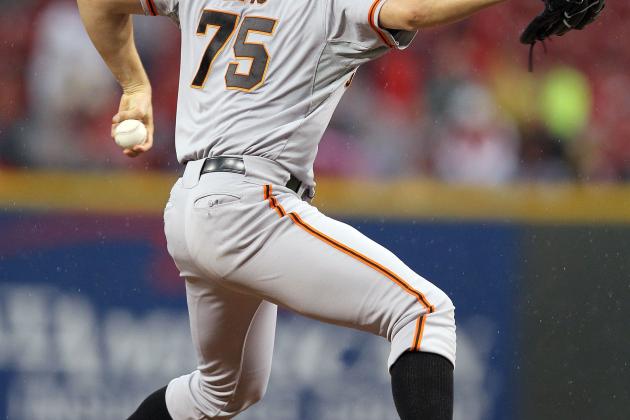 Andy Lyons/Getty Images

Speaking of San Francisco Giants pitchers, how about Barry Zito, huh?
Wait, wait, wait...Barry Zito? The same Barry Zito who's been struggling ever since he signed that seven-year, $126 million deal? The same Barry Zito who hasn't posted double digits in wins since 2009? The same Barry Zito who suffered a foot injury last year, was used as a spot starter, finished 3-4 and had an ERA that was nearly six?
Yes, that's right. Guess he just needed six years to finally perform well for the Giants.
Though he only has one win in four starts, he's done exceptionally well. In his first game, he pitched a complete game shutout, allowing just four hits against the Colorado Rockies. Since then, he's allowed two runs or less in each of his starts, and has an ERA of 1.67.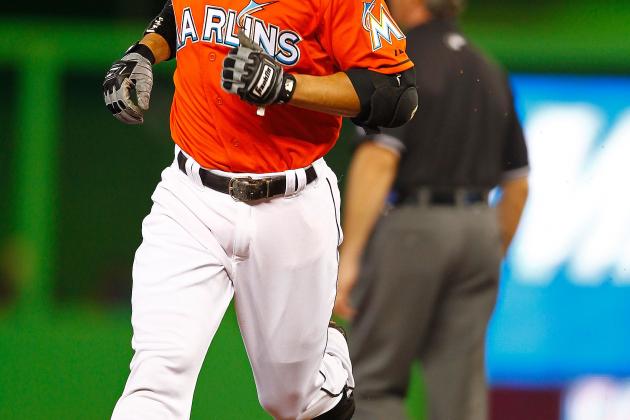 Mike Ehrmann/Getty Images

Omar Infante is known more for his high batting average than his power. The most home runs he's hit in one season was 16 (2004) when he was part of the Detroit Tigers. Since then, he's only had at least half of that just once (2005).
So, it comes as a surprise that Infante has already mashed five homers this season. Now, mind you, that four of these five home runs were on the road. However, to be able to have this much power early, coupled with a .323 batting average is certainly very nice to see.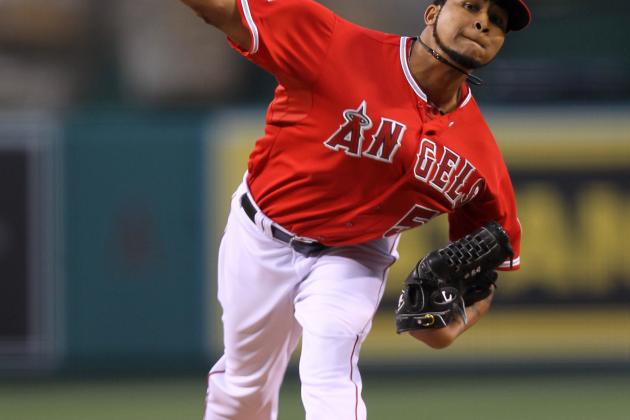 Stephen Dunn/Getty Images

Ervin Santana has given up 20-25 home runs each season since 2006, so it shouldn't come as too much of a surprise that he would do it again in 2012.
But to give up 10 in the month of April alone, the most of any pitcher in the major leagues?
And with a 6.16 ERA and no wins through five starts, you have to wonder if his spot in the rotation is in danger, especially considering this is the final year of his four-year, $30 million contract (there is a club option for 2013).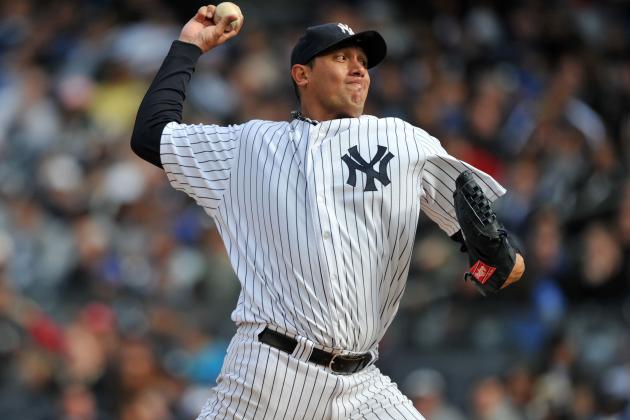 Christopher Pasatieri/Getty Images

Freddy Garcia was supposed to man the back end of the rotation, at least until Andy Pettitte returned. Garcia was going to do fine, right? He was 12-8, with a 3.62 ERA last year. Surely he could provide until Pettitte was ready, right?
Nope, he couldn't get the job done, not even close. The worst thing was that each of his starts got incrementally worse. He couldn't even get past the second inning in his last two starts.
And that 12.51 ERA is just atrocious to look at.
Garcia is now relegated to the bullpen, which was definitely necessary. No starting pitcher has performed worse than he has.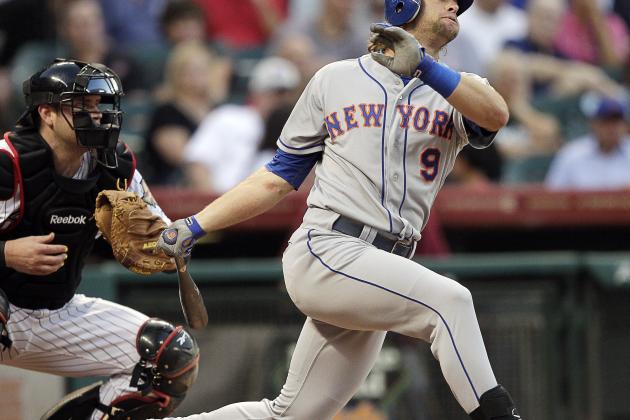 Bob Levey/Getty Images

When Andres Torres injured his calf on April 5, Kirk Nieuwenheis was called up from Triple-A Buffalo.
So far, this rookie has shown a lot of potential to play in the outfield for long time.
He hit .325 in April, with two home runs and eight RBI.
Torres has returned, but Nieuwenheis has done a good enough job to stay on the roster. How much he'll be used, considering you have Jason Bay in left field and Lucas Duda in right field, remains to be seen. But so far, he's shown promise.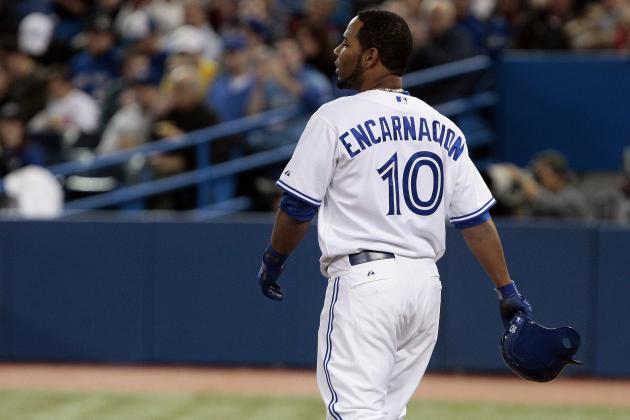 Abelimages/Getty Images

When you consider some of the other offensive fire starters the Toronto Blue Jays have (Jose Bautista, Brett Lawire, Adam Lind etc.), Edwin Encarnacion gets a bit lost in the shuffle.
He's a pretty decent hitter, and does possess power, hitting 17 home runs last season.
However, I don't think anyone was expecting him to perform so well in April. He hit eight home runs—third most in the league—and drove in 21 RBI, good for fifth most.
In addition, he hit .322 in that month.
Though the two main positions he plays, third base and first base, are already filled by Lawrie and Lind, respectively, you should still see him on the lineup, mostly as a designated hitter.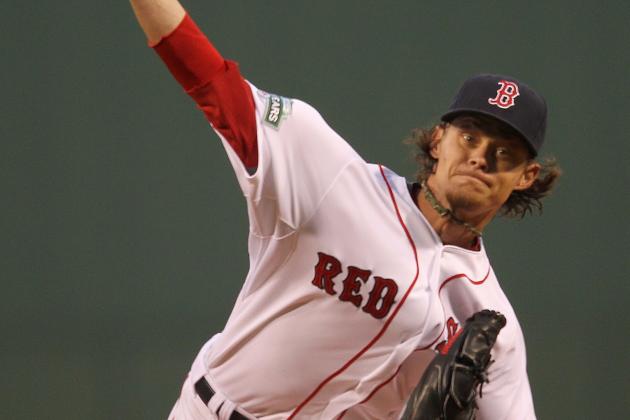 Jim Rogash/Getty Images

Sure, Clay Buchholz is 3-1, but with an ERA of 8.69, you really think that record will last long?
He's given up more earned runs than any other pitcher in the league, with 28. Next on the list are John Danks, Max Scherzer and Ervin Santana, with 21.
In addition, he's given up 15 walks, the fifth-most in the league.
The Boston Red Sox need Buchholz to improve, considering how poor the back end of the rotation is. Jon Lester and Josh Beckett can't do it alone.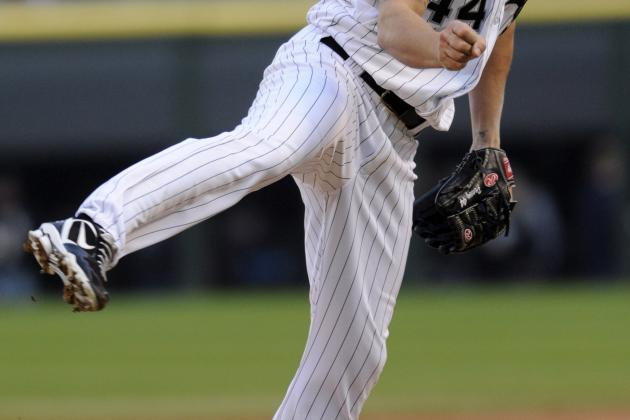 David Banks/Getty Images

Peavy has been a talented individual throughout his career, but a history of injuries and poor performances have plagued him over the last couple years.
He hasn't posted an ERA below four since 2009, nor has he reached double digits in wins since 2008.
So, it's nice to see Jake Peavy performing well in April—three wins in five starts, with a 1.67 ERA over the the course of 37.2 innings.
In addition, he's eighth in the league in strikeouts, with 33, while allowing just five walks, which means he's showing good command of the strike zone.
However, I think what's really great about Peavy's April performance is that his last two starts were complete games, including a three-hit shutout against Oakland, which not only shows that he can be effective, but has the stamina to go the distance.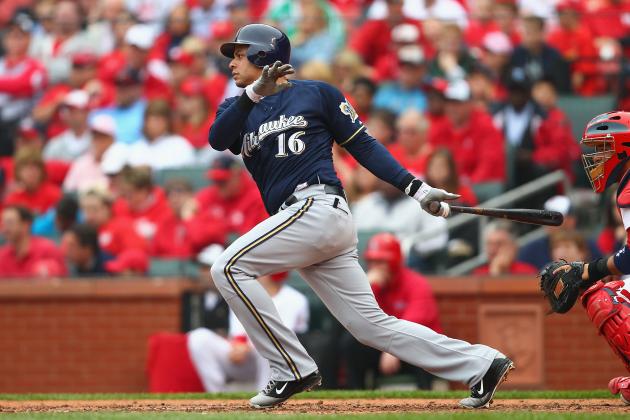 Dilip Vishwanat/Getty Images

April has not been kind to Aramis Ramirez, who's playing in his first season as a member of the Milwaukee Brewers.
For a guy who has been hitting between .290 and .310 and 25-30 home runs on an annual basis for the past decade, it's odd to see him lacking in both contact and power.
He was only able to hit .207 and knock in one home run last month.
He has been doing well over the past week, though, so hopefully May will be a much kinder month for him and the Brewers organization.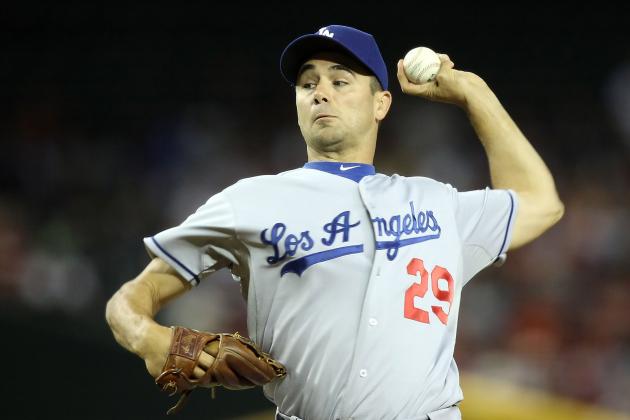 Christian Petersen/Getty Images

Ted Lilly has always been a decent southpaw pitcher. The problem with him is that he's prone to giving up a lot of home runs each season. Over the past two seasons, he's allowed a combined 60 home runs.
So, how surprising is it to see him have the lowest ERA of any starting pitcher with at least more than one start in the league?
Neither of the two earned runs he allowed in his three starts were home runs, and he allowed nine hits over 20 innings.
My only concern is that he's struck out only 15 batters, which is odd, considering he's a 160-180 strikeout per season pitcher.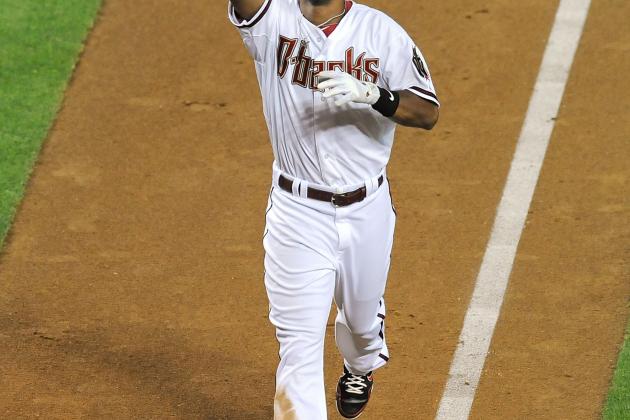 Norm Hall/Getty Images

Chris Young has always been known by Diamondbacks fans as a power hitter and base stealer. Just look at this 2007 season, when he hit 32 homers and had 27 stolen bases. Last season, he hit 20 home runs and recorded 22 stolen bases, helping the Arizona Diamondbacks win the NL West division.
But Young has never been known as a good contact hitter. Since playing in 2006, his best season was in 2010, when he hit .257.
So, naturally, it comes as a surprise to see him hitting .410 last month. What's even more impressive is that if you also take his six walks into account, he has a .500 on-base percentage. Half the time he came up to the plate, he was able to make it to first base!
Don't think that his power or speed is gone though. He recorded five home runs, 13 RBI and two stolen bases in April as well.
The only player performing better than him in the division right now is Matt Kemp. With numbers such as this, Young will be a key component to the Diamondbacks' chances of winning a second-straight division title.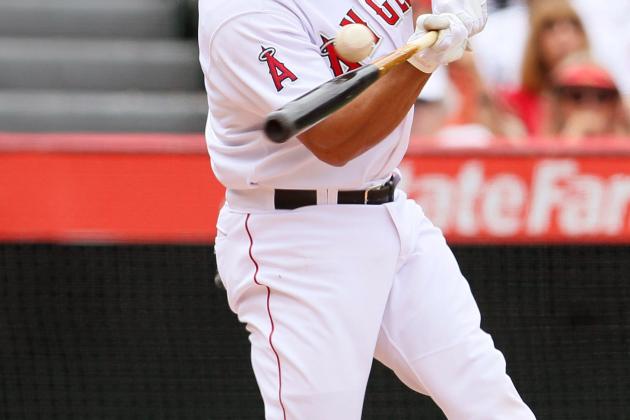 Victor Decolongon/Getty Images

You knew this was coming.
Many were expecting Albert Pujols to post big numbers right out of the gate in his first season with the Los Angeles Angels.
But a .217 batting average? He's struck out 14 times already (the most he's had in one season was 76 in 2010)?
The biggest issue, though: zero home runs and just five RBI.
Who would have thought that "The Machine," a player who posts 30 and 40-plus home run seasons as if they were nothing, has been unable to not only hit the long ball, but has had difficulty driving runs?
Maybe he still needs time to adjust playing in Angel Stadium and the American League after spending the past decade with the St. Louis Cardinals.
But the Angels are in last place in the AL West, and if they want a shot at the postseason, they need Pujols to perform.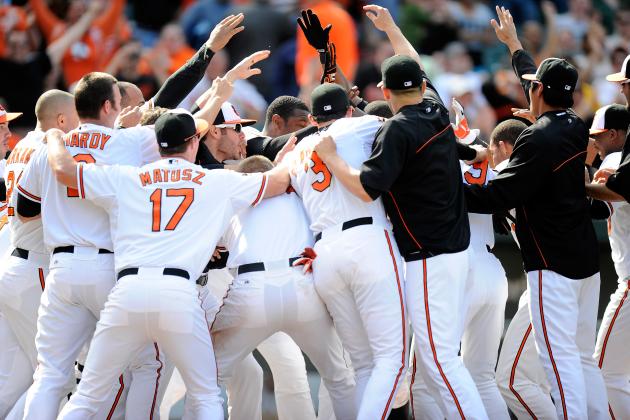 Greg Fiume/Getty Images

Yes, I suppose it's cheating, but then again, I don't even think Orioles fans were expecting them to do so well right out of the gate.
They went 14-9 in April, good for second in the AL East. The Baltimore Orioles, a team that has experienced futility for the past 15 years, is currently doing better in the standings than both the Boston Red Sox and the New York Yankees.
However, their success is not only because of a specific hitter or pitcher, but rather a collective effort.
Adam Jones is showing his All-Star abilities, posting six home runs and four stolen bases, with a .333 batting average.
Nolan Reimold has five home runs and a .313 batting average.
Robert Andino hit .311. Chris Davis hit .310. Matt Wieters recorded six home runs.
But it hasn't just been the offense that's been getting it done; their pitching has just been effective.
Jason Hammel is 3-1 in five starts, with a 1.97 ERA and 30 strikeouts.
Rookie Wei-Yin Chen is 2-0 in four starts, with a 2.22 ERA
Luis Ayala, Matt Lindstrom and Jim Johnson have yet to allow an earned run, while Johnson has been perfect in seven save opportunities.
So far, the only players that have truly been disappointing are Mark Reynolds (who is expendable, especially with Wilson Betemit covering third base) and Kevin Gregg.
The Orioles are playing great baseball. Maybe they'll be this year's Arizona Diamondbacks, shocking everyone by winning the division. Or maybe they'll be like the Pittsburgh Pirates were last season, contending for much of the season, before eventually dropping. Or maybe they'll just fall flat and experience another year of futility.
No matter what the outcome will be in September, Orioles fans should be happy that their team has gotten off to a great start, and hopefully for the organization, this will result in an increase in attendance.