Fantasy Baseball Waiver Wire 2012: 5 Under-the-Radar Hitters You Can't Ignore
April 30, 2012

Stephen Dunn/Getty Images
We are now well into the MLB season and fantasy baseball is in full swing (pun intended).
Now that we are entering into the second month of the season, we are also starting to see which players are becoming the real deal after hot starts to the season.  
Here are some hitters that should be on your watch-list if you are looking for some offensive help in your lineup.
Bryce Harper, OF, Washington Nationals
By now, most people have heard about the young phenom working his way up to the pros even though he's still at the ripe age of 19.  
Harper made is debut this past weekend and had hits in both of his games so far. This pickup advice is based on his potential to become a very dangerous hitter in the league, though he is sure to go through some struggles as a young player.
As the season progresses, however, don't be surprised to see Harper's power numbers on the rise as he has shown the ability to hit for power on every level he's played at.
If you really need an outfielder, I would recommend saving a spot for Harper who could develop into a fine hitter at a rapid pace.
Harper has also seen an increase of 77 percent in his owned percentage in ESPN fantasy leagues and he is a trendy pick that you should look to before it's too late.
Cody Ross, OF, Boston Red Sox
With injuries to Boston outfielders Carl Crawford and Jacoby Ellsbury, Ross is sure to see a big increase in his playing time and he is the kind of hitter that can make the most of it.
Ross currently has five homers and 18 RBIs on the season, and now he could see those numbers go up since he is in the middle of a Red Sox lineup littered with dangerous hitters who can get on base.
He has had some injury problems of his own but it shouldn't hinder him or cause him to miss too many games.
Assuming that Crawford and Ellsbury will both be out for an extended period into the summer time, Ross will have plenty of opportunities to prove himself worthy of a spot in your fantasy team's outfield.
Ross is owned in just 74 percent of ESPN fantasy leagues and is likely to be available on the waiver wire.
Adam LaRoche, 1B, Washington Nationals
LaRoche was on a tear last week going four straight games with multiple hits.  
After missing time early in the season to recover from injuries to both his shoulder and foot, he has shown that he is feeling a lot better and has four home runs with 17 RBIs in just 22 games this year.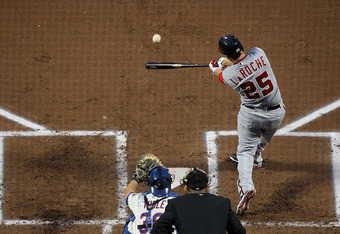 Jim McIsaac/Getty Images
In ESPN Fantasy Baseball leagues, LaRoche is ranked third amongst all first basemen in terms of point production in ESPN's head-to-head scoring system.
He is currently owned by 88 percent of fantasy players in ESPN Fantasy Baseball so you should check your waiver wire and see you could snag him now.
Jose Altuve, 2B, Houston Astros
Here's a classic example of a non-household name making an impact in the realm of fantasy baseball.
Altuve has been on a hot streak for the Astros and has had multi-hit games in five of his last six starts.
He is hitting .400 and has scored 15 runs which makes him a valuable asset to your team if you need to pick up your batting average.
Additionally, Altuve is currently ranked as the second-most productive second baseman in ESPN's fantasy scoring system, only behind Ian Kinsler.
His owned percentage has jumped to 46 percent and he is flying off the shelves of waiver wires, so you should definitely look to pick him up while he is still hot.
AJ Pierzynski, C, Chicago White Sox
This controversial catcher has proven so far this season that he can still hit and be an everyday catcher too.
Pierzynski is hitting .309 with four homers and 17 RBIs, which is good for the third-most productive catcher based on ESPN's fantasy baseball point system.
Another appealing aspect to Pierzynski is his low strikeout total (5)—the lowest for any catcher in the MLB with at least 40 at-bats.
Pierzynski has become a hot commodity in the fantasy baseball world and has jumped up to being owned on 84 percent of the teams in ESPN Fantasy Baseball. Definitely look for this veteran to stay consistently solid all year and if you need some help from the catching slot on your team, look to pick him up.