MLB Trade Scenarios: Every MLB Team's Biggest 'Buy Low' Prospect Right Now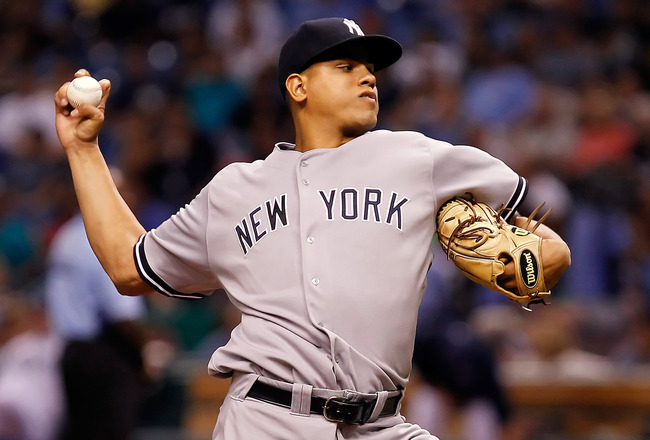 J. Meric/Getty Images
Major league teams know that they will likely be wheeling and dealing within a few months, and they have scouts out watching minor leaguers that they will potentially be interested in.
There are a number of prospects who have gotten off to slow starts this year, and opposing scouts might consider them to be "buy low" players who they can get in a deal.
Some of these guys could turn things around quickly and become almost untouchable, but others may continue to struggle.
For a prospect to be considered for this list, they needed to be ranked in a preseason top 20 for their team. The players also need to be eligible to be traded, so no one who was drafted last year made this list.
Arizona Diamondbacks, Bobby Borchering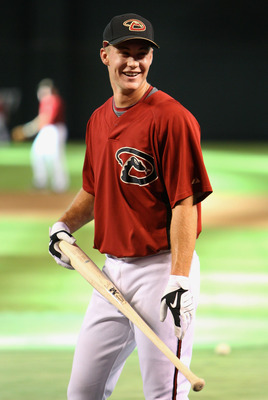 Christian Petersen/Getty Images
Strikeouts have always been a concern for the Arizona Diamondbacks with Bobby Borchering. Through his first 101 plate appearances of the year in High-A, Borchering has struck out 31 times.
He is repeating that level this year and Borchering is trying to learn to play the outfield this season. This means that a team could come in an scoop up Borchering in the right deal.
Atlanta Braves, Carlos Perez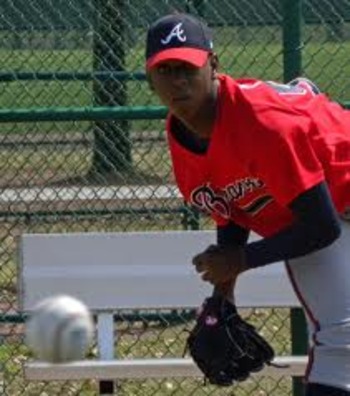 Photo Credit: Talking Chop
Throughout his minor league career in the Atlanta Braves organization, Carlos Perez has shown flashes of brilliance. The issue is that they have come between prolonged struggles.
Four starts into the 2012 season and the erratic Perez has done nothing but struggle. He has a 12.38 ERA and has walked more batters than he has struck out.
Baltimore Orioles: Ryan Adams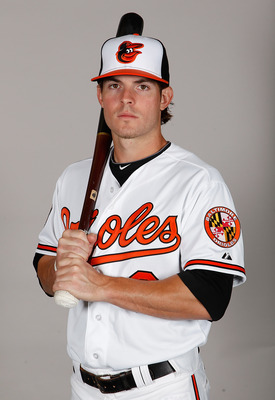 J. Meric/Getty Images
At 25 years old, Ryan Adams is a bit old for a prospect, but he still has the potential to reach the major leagues soon. He had a short stint with the Orioles in 2011.
Adams has gotten off to a slow start at Triple-A this year, hitting just .195 through his first 89 plate appearances. Given his age and his early season struggles, the Orioles may be willing to trade him for whatever they can get.
Boston Red Sox, Bryce Brentz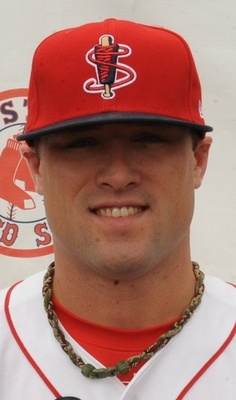 Photo Credit: The Portland Press Herald
Even though Bryce Brentz struggled in Low-A during his first year at the professional level, the Boston Red Sox decided to push him. He exploded for a huge year in 2011 and hit 30 home runs between Single-A and High-A.
So far in 2012, Brentz has looked more like he did in 2010. Brentz has hit .216 through his first 23 games with one home run and 29 strikeouts. Since Brentz has some issues to figure out at the plate, he could be a good "buy low" player.
Chicago Cubs, Josh Vitters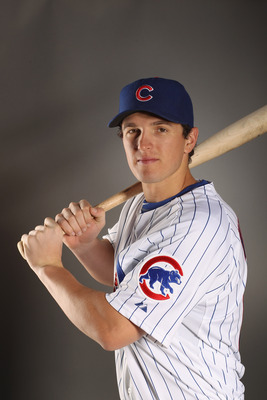 Ezra Shaw/Getty Images
It is hard to believe that Josh Vitters is just 22 years old since this season is his sixth in the Chicago Cubs' farm system.
Vitters is off to a rough start in 2012. His triple slash line is below his career averages and the Cubs might be starting to grow frustrated with Vitters' inability to live up to his potential.
Chicago White Sox, Jake Petricka
Photo Credit: MiLB
Jake Petricka has the potential to be a major league pitcher, but he needs to show what he can do very soon, as he is 24 years old and in High-A.
Petricka has struggled as a starter this year and has a 5.50 ERA in four starts. If Petricka is going to amount to anything, he might need to move back to the bullpen.
Cincinnati Reds, Yorman Rodriguez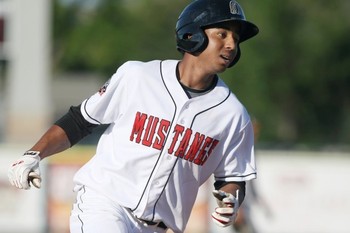 Photo Credit: Billings Gazette
Playing in Rookie Ball as a 16-year-old is an incredibly impressive feat, and Yorman Rodriguez was able to hold his own at that level.
Rodriguez has the potential to develop into a player who can put up 20/20 seasons, but his development has not been as quick as the Reds were hoping for. Through his first 19 games at High-A Rodriguez is batting just .187 with a .205 on-base percentage.
Cleveland Indians, Ronny Rodriguez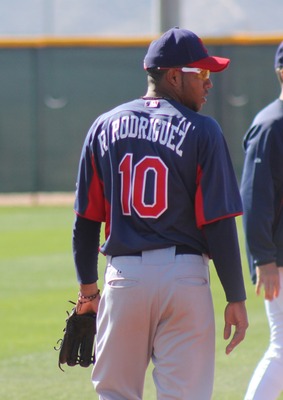 Photo Credit: Cleveland Tribe Blog
Ronny Rodriguez is a toolsy shortstop out of the Dominican Republic who is currently playing in High-A.
This level has challenged Rodriguez so far this year. He is barely hitting over .200 during his first month of the season, and while he has the talent to become a good player, he is not there yet.
Colorado Rockies, Christian Friedrich
Christian Petersen/Getty Images
Even a strong start to the 2012 season does not keep Christian Friedrich off the list of buy low candidates in the minor leagues. A team could acquire him for much less than he would have cost just a few years ago.
Friedrich posted an ERA above 5.00 in 2010 and 2011, so he has a lot to prove this year. If Freidrich continues to pitch well for another month or so, then he will no longer be a buy low candidate.
Detroit Tigers, Andrew Oliver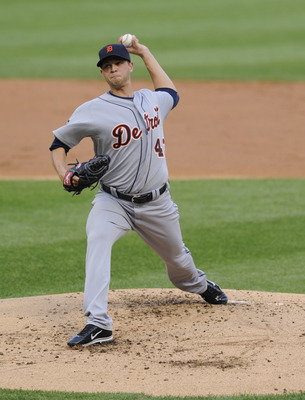 David Banks/Getty Images
Andrew Oliver impressed the Detroit Tigers enough that they called him up to the major leagues for five starts during his first year as a professional.
Oliver struggled in those appearances and has had issues with his consistency since then. He is basically major league ready, but the Tigers do not seem to have a spot for him in their starting rotation.
Houston Astros, Domingo Santana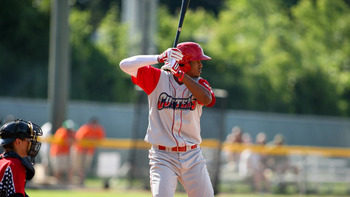 Photo Credit: MiLB
When the Houston Astros sent Hunter Pence to the Philadelphia Phillies in 2011, one of the players that the received in the deal was Domingo Santana.
Santana is still very young and has loads of potential, but he has a number of issues he needs to correct. Contact has been a big problem for Santana, and he has already struck out 22 times in 52 at-bats this year.
Kansas City Royals: Chris Dwyer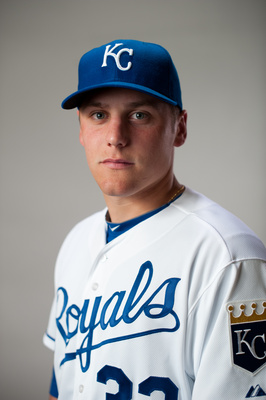 Rob Tringali/Getty Images
Just a few years ago it looked like Chris Dwyer would be on the fast track to the major leagues. He had a ton of talent and was pitching well in the minors.
While the potential is still there for Dwyer, the production is not. He has stalled out in Double-A over the past year-plus. Dwyer currently sports a 5.64 ERA through five starts and is certainly a buy low candidate.
Los Angeles Angels: C.J. Cron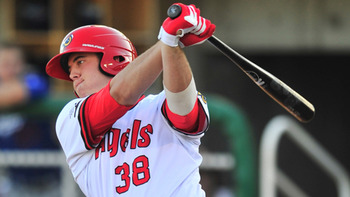 Photo Credit: MiLB
C.J. Cron drew a lot of attention last year after his outstanding stint in Rookie Ball. He hit .308 with 13 home runs in just 34 games.
The Los Angeles Angels moved Cron up to High-A this year, and he has looked overmatched. Cron is hitting just .202 with a .250 on-base percentage through 24 games, causing his stock to cool off a little bit.
Los Angeles Dodgers, Jonathan Garcia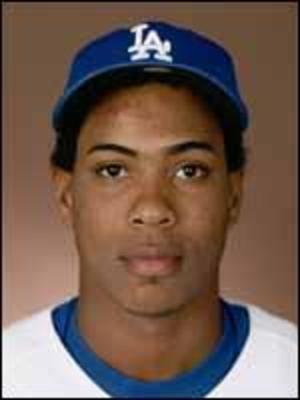 Photo Credit: Scout
Hitting for power has not been a problem for Jonathan Garcia in the past, as he slugged 19 home runs in Single-A last season as a 19-year-old.
However, Garcia has not been able to get on base at a high clip. He hit .228 last season and has posted the same batting average through 15 games this year. Garcia needs to work on making contact, as he has also struck out 22 times this year.
Miami Marlins: Marcell Ozuna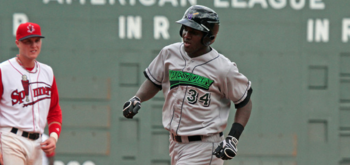 Photo Credit: Baseball News Hound
The Miami Marlins have a pair of young sluggers at High-A Jupiter this season. Christian Yelich has put up good numbers so far this year, while Marcell Ozuna has struggled.
Ozuna has the potential to be a 20/20 player, but he has some contact issues. He is batting just .226 through 22 games, and Ozuna also has 21 strikeouts.
Milwaukee Brewers, Caleb Gindl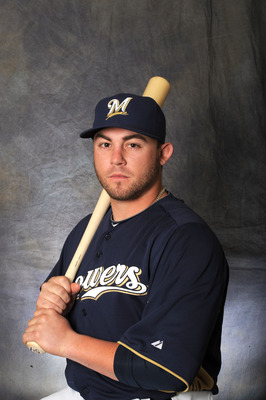 Rich Pilling/Getty Images
Caleb Gindl has worked his way through the Milwaukee Brewers minor league system, and he reached Triple-A this year.
Gindl has hit just .203 through his first 19 games of the season, and he will have to perform much better to find a spot in the Brewers outfield, which makes him a trade target.
Minnesota Twins, Aaron Hicks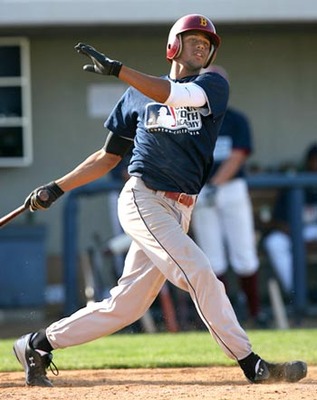 Photo Credit: Yahoo
One of the reasons that Aaron Hicks has been ranked so highly during his career is because he is oozing with potential.
The issue is that Hicks has not been able to live up to that potential for an extended period of time in the Minnesota Twins' system. He is certainly a buy low candidate who could pay off big time for a team.
New York Mets, Reese Havens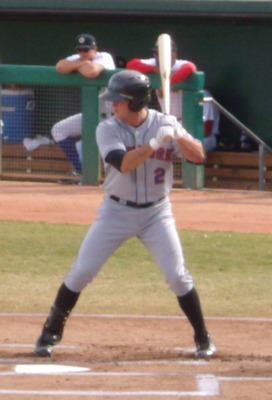 Photo Credit: Mets Minor League Blog
The New York Mets saw enough potential from Reese Havens to make him a first-round pick in the 2008 MLB draft.
However, Havens has yet to play more than 97 games in the minor leagues due to various injuries. Havens' health issues make him a buy low candidate.
New York Yankees, Dellin Betances
J. Meric/Getty Images
The Killer B's have really struggled thus far in the season. Andrew Brackman was released by the New York Yankees and has struggled in Triple-A for Cincinnati. Manny Banuelos has had a very rough start to the year.
Dellin Betances, the third Killer B, has also had a tough time this year. Control has been an issue for Betances in the past, and this year he has walked 21 batters in 22.1 innings. The Yankees certainly are not ready to give up on Betances, but another team has a chance to buy him low.
Oakland Athletics, Grant Green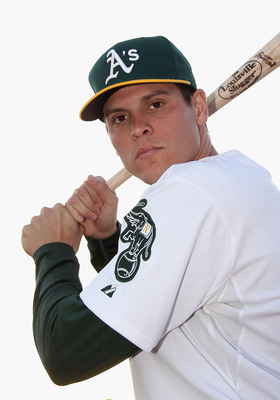 Christian Petersen/Getty Images
The Oakland Athletics were hoping that Grant Green could reach the major leagues as a middle infielder. That did not work out and he transitioned to the outfield.
Green has seen his average drop during each of the past two years and is hitting .267 through his first 21 games. He has less value as an outfielder, which certainly makes him a buy low candidate.
Philadelphia Phillies, Phillippe Aumout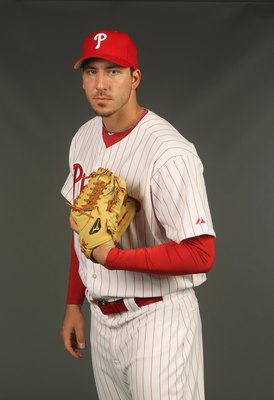 Nick Laham/Getty Images
Phillippe Aumont came to the Philadelphia Phillies in 2009 when they sent Cliff Lee to the Seattle Mariners.
Aumont has the potential to be a major league closer but needs to work on his control, as he has a 6.7 BB/9 rate since moving to Triple-A last season. This year has been rough for Aumont through his first nine appearances.
Pittsburgh Pirates, Stetson Allie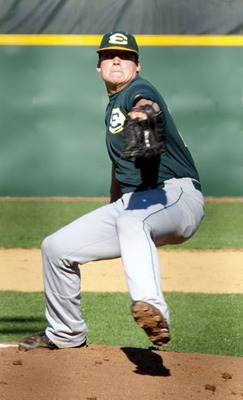 Photo Credit: Max Preps
Stetson Allie has a lot of potential, which is the reason why the Pittsburgh Pirates took him in the second round of the 2010 MLB draft.
The Pirates have yet to really see any positive production from Allie. He posted a 6.58 ERA last year and in two appearances this year he has given up four runs in two-thirds of an inning.
San Diego Padres, Jaff Decker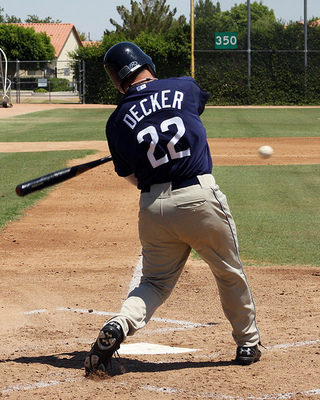 Photo Credit: MLB Reports
After putting up some solid numbers in the low minors, Jaff Decker finally hit his first bit of trouble in Double-A. He is repeating that level this season.
Decker has performed worse so far in his second go-around at Double-A. He is batting just .164 through 19 games, but he has shown off his power. The Padres have a number of prospects ahead of Decker, and some opposing team could buy low on him.
San Francisco Giants, Gary Brown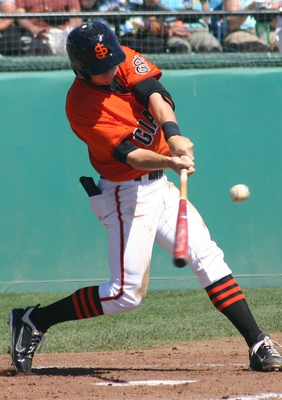 Photo Credit: Baseball Instinct
An outstanding 2011 season shot Gary Brown up prospect lists and landed him a spot as the 32nd best prospect in the game according to Baseball America.
Brown earned himself a promotion to Double-A and the higher level has challenged him. He has hit .224 through 24 games, and he has looked overmatched at times. Some team may be able to grab Brown at a bit of a discount if he continues to struggle.
Seattle Mariners, Vinnie Catricala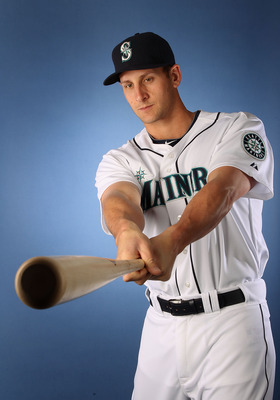 Christian Petersen/Getty Images
Vinnie Catricala has done nothing but hit in the minor leagues until this season. He entered the year as a career .321 hitter in the minor leagues.
Through the first 23 games of the 2012 season Catricala has hit only .182. With the number of options that the Seattle Mariners have at third base, Catricala could be a buy low candidate.
St. Louis Cardinals, Zack Cox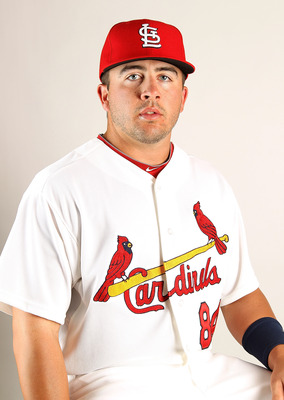 Mike Ehrmann/Getty Images
The move up to Triple-A this season has really challenged Zack Cox. He has hit .203 with 19 strikeouts in his first 74 at-bats.
One of the reasons that Cox is a buy low candidate is that David Freese seemingly has third base locked up for a long time, so Cox will need to learn a new position to play in St. Louis with the Cardinals.
Tampa Bay Rays, Chris Archer
Elsa/Getty Images
The Tampa Bay Rays are absolutely loaded with pitching, which makes it very difficult for any of their prospects to break into the major leagues as a starter.
Chris Archer has struggled mighty this year and has a 6.75 ERA through his first five starts. He may eventually become a bullpen arm or trade bait.
Texas Rangers, Roman Mendez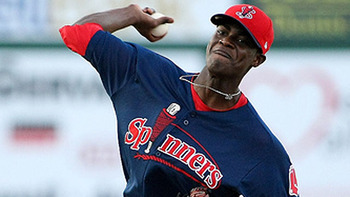 Photo Credit: Texas Rangers
Over the past few seasons the Texas Rangers have been able to develop a number of prospects. They currently have a great group of prospects in the minor leagues.
Mendez has good stuff, but the results have not always been great for him. He sports a 6.04 ERA through his first five starts of the season. With the number of other arms in the Rangers farm system, Mendez could become trade bait.
Toronto Blue Jays, Chad Jenkins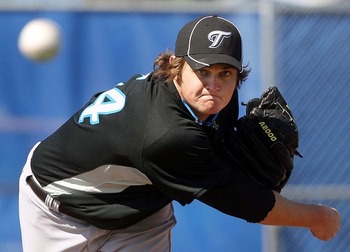 Photo Credit: The Star
The Toronto Blue Jays have one of the best farm systems in the major leagues, and Chad Jenkins finds himself between a number of the Blue Jays' other arms on the prospect list.
Jenkins projects to be an innings eater and has put up decent numbers in the minor leagues. This year has been a bit rough for Jenkins, as he has posted a 5.53 ERA through five starts.
Washington Nationals, Jason Martinson
Photo Credit: Hagerstown Suns Fan Club
Impatience is a major flaw in Jason Martinson's game. He has averaged 1.12 strikeouts per game during his career in the minor leagues.
Martinson has already struck out 30 times in his first 88 at-bats of the year. He has put up some incredible numbers thus far this season, such as scoring 30 runs and driving in 24. Teams have a chance to buy low on Martinson before he breaks out.
Keep Reading