St. Louis Rams: Monday's Rams News and Notes at Noon
April 30, 2012

Welcome to Monday's St. Louis Rams "News and Notes at Noon," your one stop location for all major Rams headlines and other information of interest to members of Rams Nation.  
Rams Reportedly View Isaiah Pead as Steven Jackson's Future Successor
According to Adam Schefter on ESPN's SportsCenter (as reported here by profootballtalk.nbcsports.com), the Rams view second-round pick Isaiah Pead as more than just a change of pace back—they also view him as an eventual replacement for three-time Pro Bowl running back Steven Jackson.  
For much more on Pead, please read this from cbssports.com. 
St. Louis Rams 2012 NFL Draft Grades 
As each of you probably know, the 2012 NFL Draft came to a close Saturday evening.  
The Rams entered the draft with needs at wide receiver, running back, left guard, outside linebacker, cornerback, defensive tackle and punter.  
By the end of the draft, St. Louis had selected at least one player at each of those positions, minus the punter.  With the draft in the books, the initial evaluations have arrived. 
Jeff Gordon of the St. Louis Post-Dispatch shared a collection of Rams draft reviews in this piece.  Turf Show Times shared a separate collaboration of St. Louis draft grades here.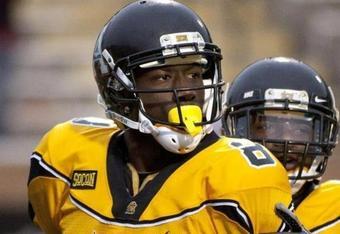 I will be sharing my detailed draft review piece tomorrow; however, I will briefly let you know that I have high hopes for this draft class and will be grading it favorably.   
More Draft Reaction 
Bob Ramsey of 101sports.com offers an interesting assessment while offering some thoughtful perspective on the Rams draft here.  
Ramsey feels good about several picks, including first-round selection Michael Brockers and second-round pick Janoris Jenkins. 
Yet another article regarding the Rams 2012 draft came via 101sports.com and Randy Karraker. Karraker shares his thoughts regarding the recent St. Louis draft decisions in this submission. 
Finally, Mike Sando of ESPN offers his first impressions on the Rams draft in this piece. Sando shared what he liked about the Rams moves and also what choices he has questions about. 
Rams Adding a Plethora of Undrafted Free Agents
The St. Louis Rams are bringing in a multitude of undrafted free agents.  
You can catch up on all the guys coming in who failed to garner selections in last week's draft in these updates from Ron Clements of CBS Sports.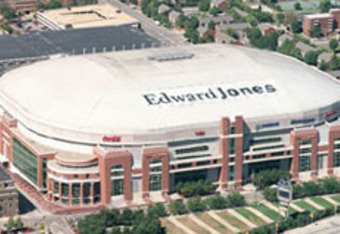 Will the Rams Edward Jones Dome Counteroffer Go Public? 
According to this report via Matthew Hathaway for stltoday.com, the St. Louis Convention and Visitors Commission cannot go public with Tuesday's Rams counteroffer regarding the details of what the Rams will ask for to enhance and upgrade the Edward Jones Dome, the team's home venue since 1995.
The above-linked report, however, did not make it clear if the Rams will or will not grant permission to share those details with the public.
Obviously, a great many people are interested in seeing what the Rams counteroffer consists of. It will be interesting to see if the specifics of the proposal are eventually released, or somehow leaked.  
Although various factors could impact the total dollar amount of the Rams' aforementioned counter proposal, I would expect the total figure to fall in the $295 million to $445 million dollar range, with the vast majority of the cost (if not all) going towards the CVC.
However, I would expect whatever the Rams counteroffer is to be negotiated before an eventual pro St. Louis resolution is reached.
Although I am confident in the end result, there could be some anxious moments along the way.  I believe wholeheartedly, based on all information available, that the Rams will stay in St. Louis for a very long time, as shared in this piece. 
Join Ron Clements of CBS Sports Tonight on STL Rams Central Radio
Finally, Ron Clements of CBS Sports will join STL Rams Central Radio to help review the Rams draft, take listener calls and discuss tomorrow's Rams counteroffer regarding prospective upgrades to the Edward Jones Dome. 
To listen to tonight's 7PM central time broadcast, please click here. 
Shane Gray covers the St. Louis Rams daily as a Featured Columnist for Bleacher Report. You are encouraged to check out the rest of his work here. Gray also owns and operates stlramscentral.com.