Cleveland Browns 2012 NFL Draft Report Card: Grades for Every Pick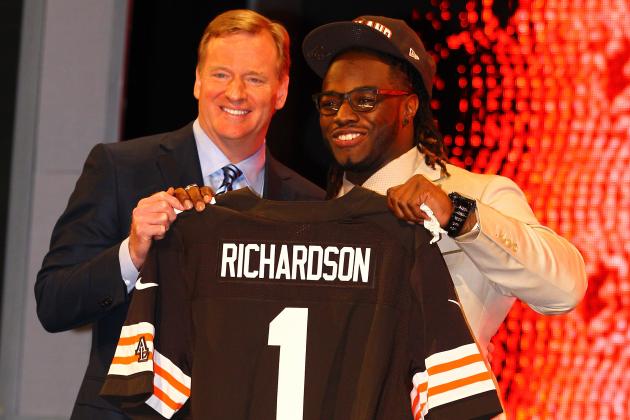 Al Bello/Getty Images

Check here for 2012 NFL draft grades for every Cleveland Browns draft pick.
The Browns exponentially improved their team following the 2012 NFL draft. At least it appears that way on paper.
Coming into the draft the Browns had a league-high 13 draft picks. After sacrificing two of them in order to move up to ensure they didn't lose out on the rights to Trent Richardson, they still ended up with a solid group of prospects to add into the mix in 2012.
If there is one thing Tom Heckert has demonstrated in his tenure as the Browns' general manager, it's that he is uncompromising from his plan.
While it may not be what you want to hear or see, the reality struck once again in the third round of the draft. Heckert picked a lesser known defensive tackle after trading down from the 67th overall selection.
Defensive tackle?
What about the wide receivers, linebackers and cornerbacks?
Heckert had his plan and he executed it.
While the true grades for these picks will not be completely evident until after they've had time to play some football, I think there's more than enough information to take a stab at judging this draft in its infancy.
Take a look at my initial reaction and grades for Heckert's moves in the 2012 NFL draft.
Begin Slideshow

»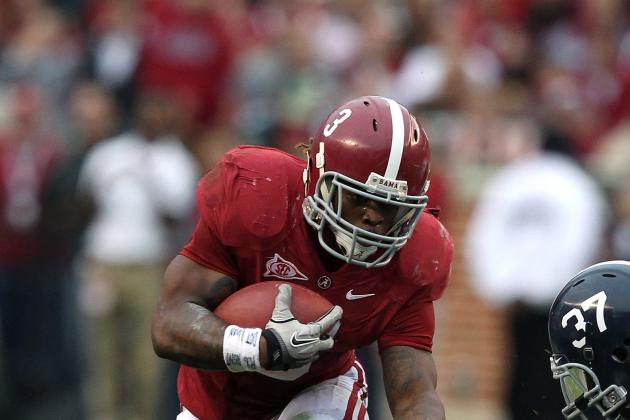 Mike Zarrilli/Getty Images

The Cleveland Browns traded up to select Trent Richardson with the third pick of the 2012 NFL draft.
With Richardson, the Browns return to their roots of smash-mouth football. The glaring hole left in the backfield is instantly filled with the best prospect in this year's draft.
Heckert has been criticized of being "duped" into moving up for Richardson. That is irrelevant. The Browns had 13 picks and made the move they needed to to ensure they didn't lose out on their guy.
Grade: A
Where he fits: Richardson will immediately step in and become the every-down running back for a struggling Cleveland Browns offense. His role in the passing game, both in blocking and passing, will keep him on the field for longer than most backs.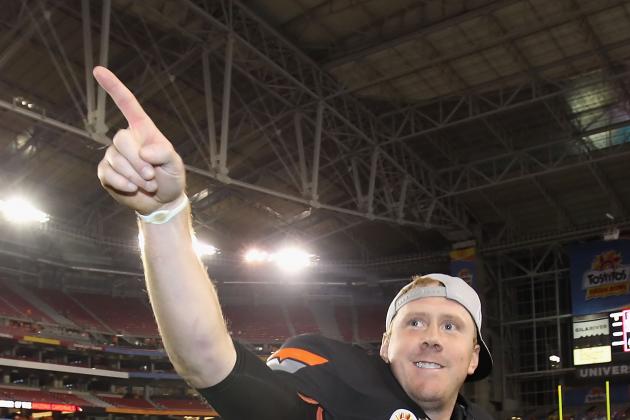 Christian Petersen/Getty Images

The Cleveland Browns have signaled the end of Colt McCoy's brief reign as the team's starting quarterback.
The quarterback position has been a revolving door for the Browns since their re-incarnation into the NFL in 1999. With Weeden, the Browns hope to have solidified the position for the future.
Well, at least the next seven to 10 years.
Don't criticize GM Tom Heckert for taking Weeden with pick No. 22. If you have to do so, criticize him for taking a rookie quarterback who will be 29 years old during his rookie season.
Weeden will have little margin for error from the get-go.
However, his size, arm strength and velocity will add a new dimension to the Browns offense.
Would you rather watch Colt McCoy limp to 8-8 seasons for 12 years or watch Brandon Weeden, potentially, throw the Browns franchise into the playoffs for five to 10 years?
Grade: B
Where he fits: Brandon Weeden will most likely become the Cleveland Browns starting quarterback in 2012. It will happen if he beats out Colt McCoy outright in training camp, McCoy is traded or he replaces McCoy during the season.
The Cleveland Browns improved their offensive line by drafting OT Mitchell Schwartz with the 37th pick in the 2012 NFL draft.
Schwartz is an excellent prospect that can hopefully bolster the weak right side of the Browns offensive line. His technique in run blocking will be much appreciated by fellow rookie running back Trent Richardson.
Do not criticize this selection due to the availability of other offensive linemen such as Cordy Glenn and Jonathon Martin when Schwartz was selected. He was picked at this position for his run-blocking ability. He fits the bill in what the Browns were looking for in their right tackle. There will be little transition needed for Schwartz; he will be ready to go from day one.
Also keep in mind that the Browns had visits from both Glenn and Martin and decided Schwartz was the best option. Would he have been available in the third round? Maybe. But like the Weeden pick, Heckert wanted this player and position filled and took no chances of him not being around in the next round.
Grade: B+
Where he fits: Schwartz will come in and immediately fill a huge void at the right tackle position. Competition may be scarce, but the Browns also picked Ryan Miller in the fifth round.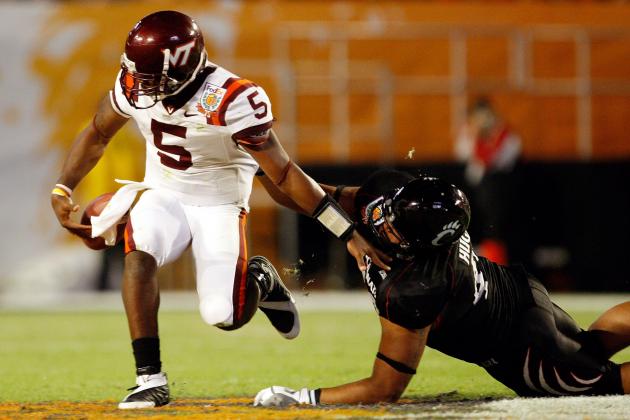 Streeter Lecka/Getty Images

The Cleveland Browns shook the draft landscape when they selected John Hughes in the third round of the draft.
Hughes, projected as a seventh-round selection if at all, was a perfect example of Tom Heckert's thought process. Though Hughes may not have been valued this highly by many draft analysts, Heckert saw something in him that not many others did.
Cleveland's rush defense was horrid in 2011 and Hughes has the size and strength to plug some holes in the middle for the Browns defensive front.
He will not likely be asked to be much more than a rotational player but he could contribute more effectively after a year or two of NFL strength and conditioning programs.
Although I see potential in Hughes, I disagree with the value his selection here and for the use a third round pick on a rotational player when there are concerns about STARTERS on the roster.
Grade: D+
Where he fits: The best case scenario for Hughes will be that he contributes as a part of a rotation at the DT position. He is not an every-down player, but could fill in adequately for Ahtyba Rubin and Phil Taylor.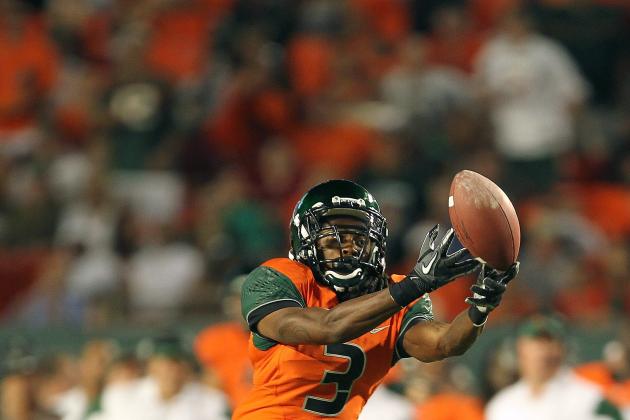 Mike Ehrmann/Getty Images

The Cleveland Browns may have found their wide receiver to stretch the field with the 100th pick in the 2012 NFL draft.
GM Tom Heckert kept everyone waiting, but he may have delivered a home run on Day 2 of the draft. Benjamin was a little known prospect and was slightly overshadowed by his massive teammate Tommy Streeter.
Benjamin, though, may end up having the better NFL career of the two. As seen with DeSean Jackson in Philadelphia, blazing speed and athletic ability can make up for a lack of size.
Am I comparing Travis Benjamin and DeSean Jackson?
Not yet.
Benjamin has a long way to go, but I do see that potential in him.
His speed and athleticism will have to be refined by the Browns coaching staff. If his ability can be properly developed, the Browns may have found the home-run hitter they have been looking for.
Grade: B+
Where he fits: Benjamin's ceiling is certainly very high. He could potentially earn a starting flanker position across from Greg Little given his ability to stretch the field. Realistically, he may not break the starting line-up quickly because of his size.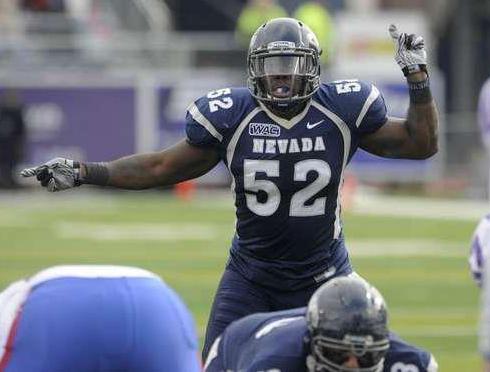 The Cleveland Browns selected James-Michael Johnson with the 120th selection of the 2012 NFL draft.
Johnson will not be mistaken for a superstar but is no slouch either.
One scouting report on Johnson included poor pursuit angles and lacking coverage skills across the middle of the field. This concerns me due to that being a large weakness in the Browns' current linebacker group.
This pick makes sense, though, as Johnson could improve after being coached up and developed behind standout LB D'Qwell Jackson.
Grade: C+
Where he fits: Johnson will provide solid depth to a linebacker group that has none. With a possible suspension looming for linebacker Scott Fujita, Johnson may see more than special-teams duty for the Browns in 2012.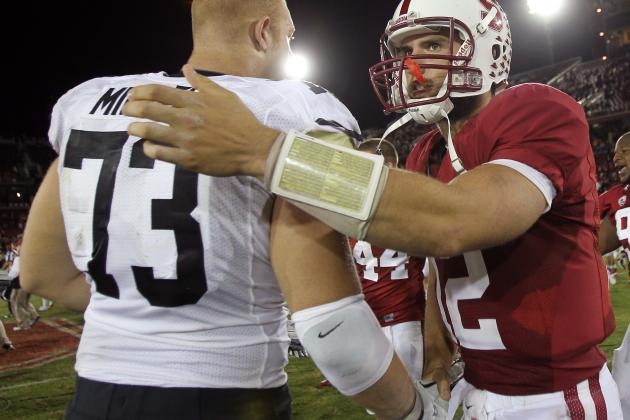 Ezra Shaw/Getty Images

The Cleveland Browns selected Ryan Miller with the 156th pick of the 2012 NFL draft.
Miller, known for his imposing size and strength, is not believed to be ready to start anytime soon. Though, he does look the part on paper.
Somewhat of an oddity because of his size, Miller is an offensive guard in the body of a tackle. His speed and agility may allow him to transition to a right tackle in the NFL, but he can provide depth all along the offensive line.
Lack of motor and a strong initial punch on defenders hampers his pass-blocking ability. This will need to be improved immediately if he is going to make any impact for the Browns in 2012.
Grade: C
Where he fits: The Browns nabbed Miller here in the fifth round for depth. Whether he provides depth for Mitchell Schwartz or pushes Shawn Lauvao into performing better or supplants him, Miller will definitely add physicality and size to the trenches.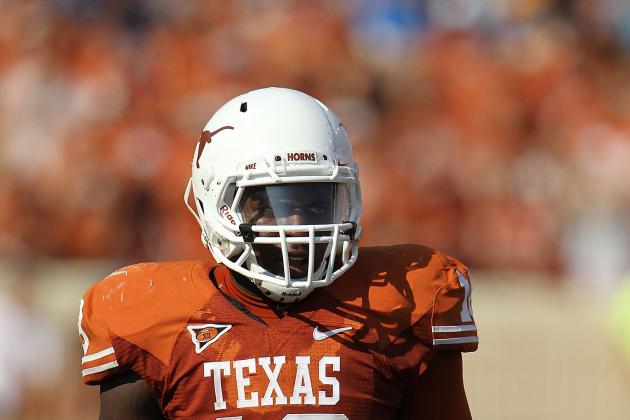 Ronald Martinez/Getty Images

The Cleveland Browns added solid depth at linebacker with the selection of Emmanuel Acho at the end of the sixth round.
Acho, who was outperformed by friend and teammate Keenan Robinson, is good at everything but not a master of any one dimension of his craft.
He has the size, speed and look of a successful NFL player; but he will have to improve technique in order to make an impact at the outside linebacker position at the NFL level.
His pick at this point in the draft is about on-par with his predicted value, and he is a solid addition to a needing Browns linebacker group.
Grade: B-
Where he fits: Acho at least looks the part to eventually become a contributor to the Browns defense. Initially, he may be asked to play because of the severe lack of competent depth at linebacker for the Browns.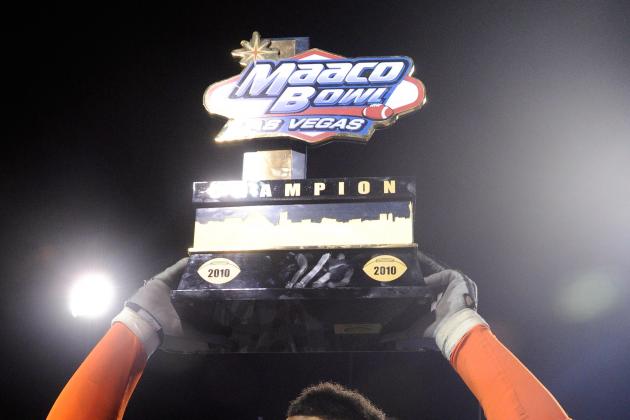 Ethan Miller/Getty Images

Billy Winn slid all the way until the end of the sixth round of the 2012 NFL draft, where he was finally drafted by the Cleveland Browns.
After questioning the earlier selection of John Hughes, I have to commend Tom Heckert for his landing of Winn this late in the draft. Winn can immediately step in and provide depth along the entire Browns defensive front.
Pegged as an excellent fill as a 3-4 defensive end, Winn can translate his strong points in rushing the passer into a rotational role along an improving Browns defensive front.
Winn was projected as a possible second- to third-round selection by at least one draft analyst (Rob Rang, Nfldraftscout.com).
Grade: B
Where he fits: Winn's versatility will allow him some opportunities to be moved anywhere along the Browns 4-3 front. He does not scream starter, but will not likely be a liability on the field when subbing for starters.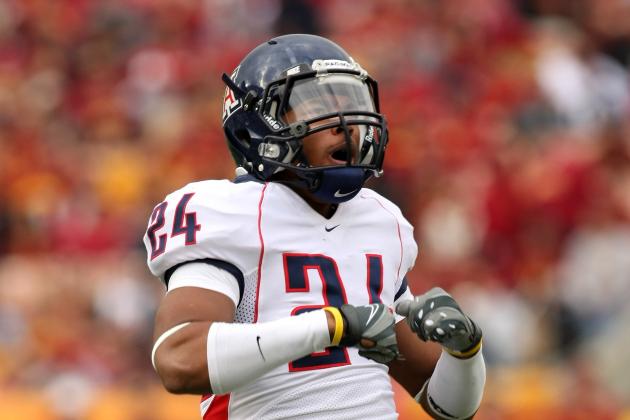 Stephen Dunn/Getty Images

The Cleveland Browns finally addressed their secondary with a compensatory selection at the end of the seventh round of the 2012 NFL draft.
Trevin Wade may not have been the most well-known prospect, but he could be one of the best mid-late round picks the Browns made. He was rated as a possible third-round prospect by at least one NFL draft evaluator (Rob Rang, Nfldraftscout.com).
Wade's speed was a question mark after he clocked in at 4.59 at the scouting combine. However, he performed very well in positional and other drills that demonstrated his game speed.
Grade: B+
Where he fits: Wade will compete for a roster spot. If he makes the team, he will likely contribute on special teams and add depth to an improving Browns secondary. His ceiling is the second corner position across from No. 1 cornerback Joe Haden.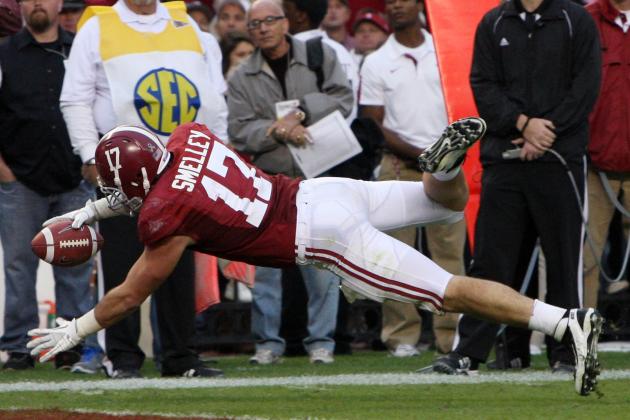 Mike Zarrilli/Getty Images

The Cleveland Browns picked Alabama tight end/fullback Brad Smelley with their final pick in the 2012 NFL draft.
Smelley, who paved the way for Trent Richardson in college, is an adequate selection this far into the draft. He may not "wow" you in any one category, but he does have some very soft and able hands in the passing game.
His chemistry with Richardson may have prompted his selection. The Browns could have found a solid replacement for the struggling Owen Marecic. Smelley might have been brought in to pave the way for their new stud running back.
Grade: C
Where he fits: Smelley has the versatility to challenge Owen Marecic at the fullback position. The worst-case scenario is that he provides depth at tight end.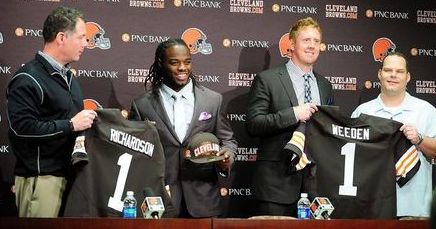 The Cleveland Browns could not address all of their needs in the 2012 NFL draft alone. However, a good class of prospects have been added to the mix for the 2012 NFL season.
Additions at several key offensive positions will greatly bolster an unimpressive offense.
Defensive depth has been added at key positions of need except for the safety position. After the departure of Mike Adams, I felt they would surely address the position at some point.
This may signal Sheldon Brown's transition from cornerback to safety, something that has been predicted to be on the horizon since last offseason.
Overall, the Browns have gotten better as a result of this draft.
If one or two of the mid- to late-round picks can contribute immediately, the tides may begin to turn on the shores of Lake Erie.
Overall grade: B+
Follow Mike on Twitter @BigHoagowski