If They Can Play, They Can Play: Productive Picks of the NFL Draft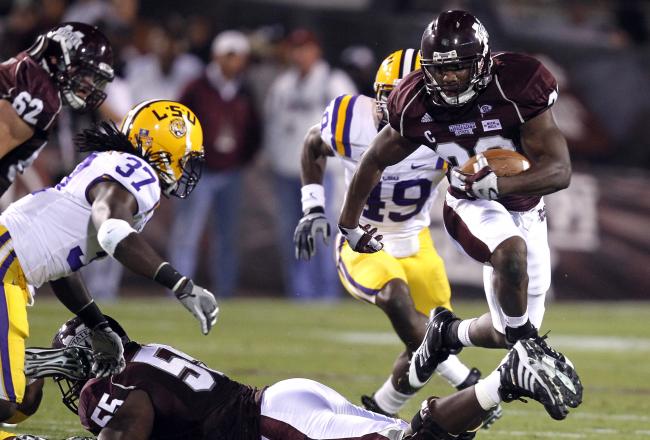 Butch Dill/Getty Images
By now you've probably read through more than a dozen "Winners and Losers of the NFL Draft" columns and been smashed over the head with assessments that won't be proven correct or incorrect for three or four years.
Predicting which teams had the most success is a lot like playing roulette at this point, and it's impossible to know which players will translate well to the next level. Depth charts, systems, injuries and a massive increase in overall talent makes drafting college football players a challenge to say the least. The Combine, while wonderfully entertaining, also gets away from the one thing that matters most in all of this.
Playing football.
Measurables don't tell the whole story (see: Terrell Suggs), and good football players will remain good football players if they get a chance at the next level, despite what scouts have dissected. Well, unless you draft a quarterback. Then good luck to ya.
Here are some of the picks I liked during the NFL Draft, not because of 40 times or bench presses, but instead because these guys really know how to play football. Yes, Andrew Luck knows how to play football; so does that Trent Richardson individual.
Forget Round 1, that's the easy part. These are picks and players outside the first round that might not have some of the physical ability that those in front of them have but still get the job done with the pads on.
Isaiah Pead (RB, Cincinnati), 2nd Round, St. Louis: There weren't many skill players in the Big East that were must-see every time they touched the ball, but this guy certainly was an exception. Although Pead's size is a concern, he plays bigger than his frame and also does just about everything out of the backfield.
He can certainly run (1,259 yards and 12 touchdowns in 2011), and he can also catch. Pead caught the ball 65 times over the past few seasons while also showing that he can block when necessary. He will need to playing for the Rams, as he'll likely fill in on 3rd downs or when Steven Jackson needs air. He should be a perfect compliment to his bulldozing running style and should continue to be a nuisance in the NFC South.
T.Y Hilton (WR, FIU), 3rd Round, Indianapolis: There was no wideout in 2011 that was more fun to watch in the open field. Although T.Y didn't get the national recognition that he deserved, many outside of the FIU circles started to catch on to Hilton's ability with each game-breaking highlight.
He's only 5'10" and still well under 200 pounds, but he can fly. The term "football speed" is not something I throw around loosely, because, well, it's used far too often. This guy has that, however, and Andrew Luck has a home-run option that he never had while at Stanford. Hilton is also a massive return threat, and Colts fans are going to love this guy out of the gate.
Brandon Boykin (CB, Georgia), 4th Round, Philadelphia: He's not going to be a shutdown corner in the NFL (another term that many seem to toss around with ease), but that doesn't mean he won't be a great player at the next level.
Boykin played defensive back primarily in 2011, but he also ran the ball (seven attempts for 103 yards and a touchdown), caught passes (six attempts for 99 yards and two touchdowns) and returned both punts and kicks. His lack of overall size seems to be the scouts' major concern, but he should contribute in a variety of ways for a team that already has talented defensive backs in place.
Vick Ballard (RB, Mississippi State), 5th Round, Indianapolis: Productive running backs in the SEC are rarely overlooked, but Mississippi State hasn't exactly been in the college football spotlight, either. Ballard, who stumbled out of the gate at the NFL Combine (literally), has been a very productive offensive player over the past two years.
He has found the end zone 31 times since 2010, and this past season he averaged more than six yards per carry while also showing his ability catch the ball. He's a bigger back that can move well for his size, and he should receive ample carries at Indy early on in his career. This is one of my favorite picks of the 2012 Draft.
Marvin McNutt (WR, Iowa), 6th Round, Philadelphia: I was shocked to see McNutt fall as far as he did, and the Eagles might have found a perfect compliment to their already impressive stable of talented wideouts.
McNutt isn't a speedster, but his production and consistency for Iowa over the past three seasons somehow goes under-appreciated. He has 28 touchdowns since 2009, and he's a big target at 6'4". Although faster corners might have a leg up on Nutt at the next level, he should have some success in the NFL if he can use his strength to get off of press coverages. The hands are certainly already there.
Brad Smelley (TE/FB, Alabama), 7th Round, Cleveland: Although Smelley didn't put up staggering numbers for Nick Saban's crew en route to their BCS Championship, he's a versatile big man, which is a rarity. His skills don't compare to the new breed of freakishly athletic NFL tight ends, but he lined up in plenty of places and will do more of that for the Browns going forward.
He'll never be a star, but he will be productive and find his way onto the field because of his versatility. Cleveland made huge strides in upgrading their offense in three days. While Smelley won't provide the same instant jolt as Trent Richardson or have the potential long-term impact of Brandon Weeden, he's a solid player and certainly worthy of a roster spot.
This article is
What is the duplicate article?
Why is this article offensive?
Where is this article plagiarized from?
Why is this article poorly edited?