Pittsburgh Steelers 2012 NFL Draft: Pick-by-Pick Analysis with Grades
Sam Greenwood/Getty Images
The Steelers tapped the University of Florida in the draft for the third straight year.
The 2012 NFL draft is in the books.
With the Rockettes back on the stage at Radio City Music Hall, it's time to grade the Pittsburgh Steelers' 2012 draft.
Is it more like 1974, when the Steelers landed Hall of Famers Lynn Swann, Jack Lambert, John Stallworth and Mike Webster?
Or is it more like 2008, from which the only contributors remaining are Rashard Mendenhall and Ryan Mundy?
Today's grade won't be set in stone. It will change when we see what the nine men the Steelers drafted can do on the field.
There will be a lot of things written in this article that will be laughed at in the years to come.
I might have asked what the Steelers were doing picking Antonio Brown in the sixth round of the 2010 draft when they already chose Emmanuel Sanders in the third round.
I couldn't wait to watch fullback Frank "The Tank" Summers bust open holes for Rashard Mendenhall after the Steelers chose him in the fifth round in 2009.
I figured David Johnson was a throwaway pick in the seventh round of that draft. The Steelers didn't need a tight end. He'll never see the field.
I thought red zone problems would be a thing of the past with Limas Sweed towering over defenders to pluck down Ben Roethlisberger passes in the end zone.
Before any of the players have put on a uniform, it's silly to grade a draft.
With that in mind, let's grade this Steelers draft.
Follow me @Steel_Tweets.
Begin Slideshow

»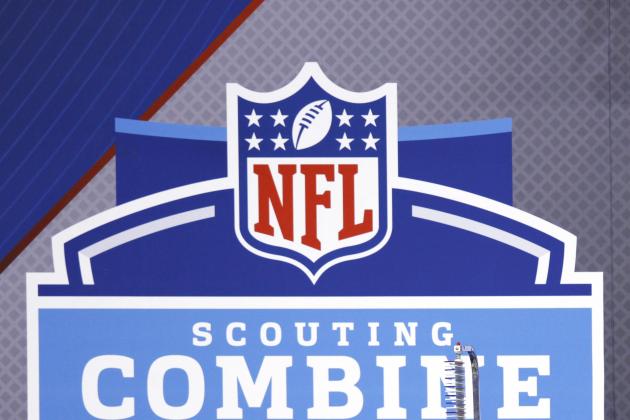 Joe Robbins/Getty Images

The only reason I don't give the David DeCastro pick an "A+" is because that would imply he's bust-proof, and no player is bust-proof.
That said, the Steelers' choice of DeCastro in Round 1 gets a solid "A."
According to the Pittsburgh Post-Gazette, DeCastro's blocking consistency grade of 96.88 in 2011 is the best for any lineman since the Pac-10 established that statistic in 1987.
DeCastro figured to go somewhere in the top 15, maybe to the Kansas City Chiefs at No. 11 or the Arizona Cardinals at 13. Both teams passed on him, and the late rise of Bruce Irvin (Seahawks at No. 15), Shea McClellin (Bears at No. 19) and Chandler Jones (Patriots at No. 21) pushed DeCastro further down the board.
Then at 22, instead of going with DeCastro, the best player available, the Browns took 28-year-old quarterback Brandon Weeden, who they probably could have had at No. 37 if they just waited.
Unlike the Browns, the Steelers looked at the big picture and went with the best player available, who also happened to fill a glaring need.
DeCastro is likely to start at right guard in Week 1, according to the Post-Gazette. He should make the Steelers' offensive line instantly better.
Grade: A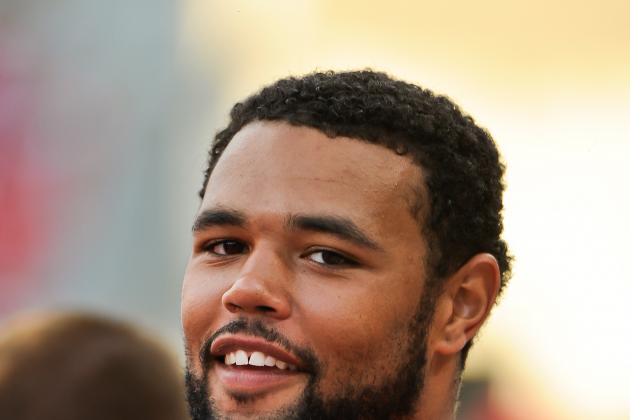 Jamie Sabau/Getty Images

It's hard to believe, but there once was a time when Ben Roethlisberger didn't live his life on the run.
Roethlisberger was sacked just 23 times in 2005, the year the Steelers won their fifth Super Bowl. Since then, his yearly sack totals have jumped to 46, 47, 46, 50, 32 (in 2010, when he was suspended for the first four games) and 40.
It didn't help last year that the Steelers used 25 offensive line combinations, the most in the NFL.
By picking offensive linemen in the first two rounds of the draft for the first time since 1968, the Steelers hopefully took a big step toward returning to their tradition of having a bedrock offensive line.
That said, I'm not going to change my original grade for the Adams pick.
If a Blind Side-type movie was made out of Adams driving to Pittsburgh and begging the Steelers to put him back on their draft board, we know Omar Epps would play Mike Tomlin.
I'm not worried about the reason Adams made that drive. I'm more concerned about his on-the-field issues.
NFL.com says he needs to play with more fire and that "He is more of a catch-and-react blocker than one who delivers blows."
Steelers offensive line coach Sean Kugler will have to coach him up before he's ready to take over at right tackle or compete with Marcus Gilbert at left tackle.
Still, if the draft were in January, Adams would have been a first-round pick, and the Steelers got him in the second round. That's a sound draft strategy.
Grade: C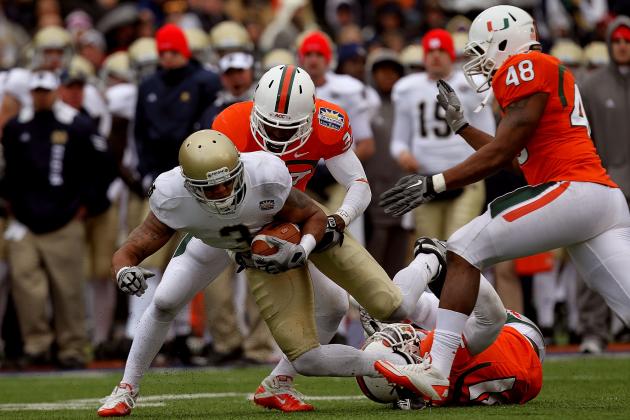 Ronald Martinez/Getty Images

Inside linebacker was not as big a need for the Steelers as offensive line and nose tackle, and the Steelers addressed it accordingly by waiting until the third round to pick a linebacker.
Even though Spence is listed as an outside linebacker, the Steelers plan to use him on the inside, according to the Pittsburgh Post-Gazette.
James-Michael Johnson of Nevada, a more natural inside linebacker, was still on the board and went to the Browns in the fourth round. He might have been a reach in the third round, however, and Spence has more speed than Johnson.
The 5'11", 231-pound Spence will need to get bigger, but draft guru Mike Mayock says Spence is "One of my favorite football players on tape."
Spence is a dynamic addition to a defense that needs an influx of youth.
Grade: B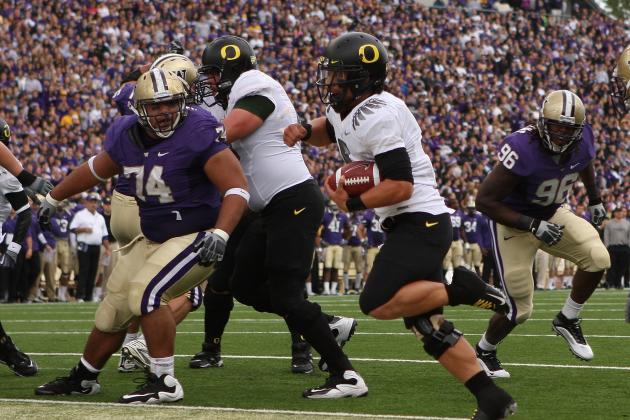 Otto Greule Jr/Getty Images

Kevin Colbert played the draft board like a maestro with this pick.
The Steelers need a massive nose tackle in the middle of their defense to occupy two blockers and free up defensive ends, linebackers and defensive backs to do their thing. Casey Hampton's been doing that for the past decade, but he's nearing the end of his career.
Nose tackle was the Steelers' most glaring need in this draft, so glaring that I would have been fine with it if the Steelers reached for Ta'amu in the second round. If not then, I thought they'd have to trade up in the third round to get him.
Unlike me, the Steelers maintained a level-headed approach in this draft. They went to bed (if the Steelers front office actually does sleep during the draft) Friday night without a nose tackle in the first three rounds.
No problem. They Steelers just moved up 10 spots in the fourth round to get Ta'amu at No. 109, trading their sixth-round pick to the Washington Redskins.
That made it three of the four rounds in the draft in which the Steelers took a player who easily could have been drafted higher.
Here's a nice little nugget on Ta'amu from NFL Draft Scout:
has such great strength that he often is able to grab the ballcarrier with one arm, slow his momentum and grab on with his other arm to pull the ballcarrier to the ground.
However, there's no guarantee Ta'amu will be the next Hampton. Then again, there's no guarantee Dontari Poe would be, either.
There were smaller nose tackles the Steelers could have picked, but every nose tackle that matched Hampton's girth came with some kind of risk.
If the 348-pound Ta'amu is a bust, at least the Steelers didn't spend a second- or third-round pick on him.
Grade: A-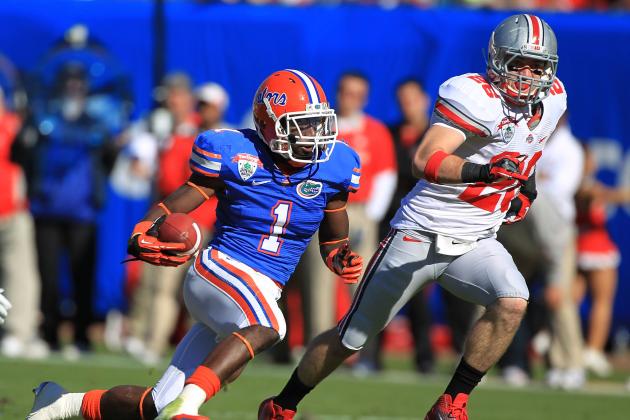 Scott Halleran/Getty Images

It's not at all surprising that the Steelers drafted a running back.
Who knows when Rashard Mendenhall will return from ACL surgery. And while Isaac Redman has earned a shot as the Steelers' starting running back, he hasn't been tested in that role for a full season.
Rainey is an explosive player and an exciting pick, but the 5'8", 180-pounder isn't built to handle the pounding as a starting running back and he can't block. If Redman doesn't prove to be a true starter, the Steelers' backfield will be full of role players. Maybe that's OK in today's pass-first NFL.
Speaking of passes, Rainey knows how to catch them. That could make him a much faster version of Mewelde Moore as a safety valve to prevent sacks. He also knows how to block punts. He did it an SEC-record six times at Florida.
In Rainey, the Steelers could be getting a Darren Sproles type who can help them in a lot of ways.
The problem is, with the Steelers trading away their sixth-round pick, this became their last pick before the seventh round. So it wasn't a pick they could waste.
I would have liked to see the Steelers address their aging defense with such a crucial pick.
Safety is the biggest need the Steelers didn't address in this draft. Ryan Clark and Troy Polamalu are both north of 30.
Still on the board at No. 159 were George Iloka of Boise State, Trenton Robinson of Michigan State and Markelle Martin of Oklahoma State.
I really wanted Iloka. Some mock drafts had him going in the second or third round. The Bengals picked him up later in the fifth round. In taking a closer look at Iloka, he might not be physical enough for the Steelers, and Mel Kiper said he wasn't a great tackler.
Robinson and Martin were gone in the sixth round.
Safety could be a major need for the Steelers in a future draft. For now, they drafted something they don't have, a burner at running back.
Grade: B-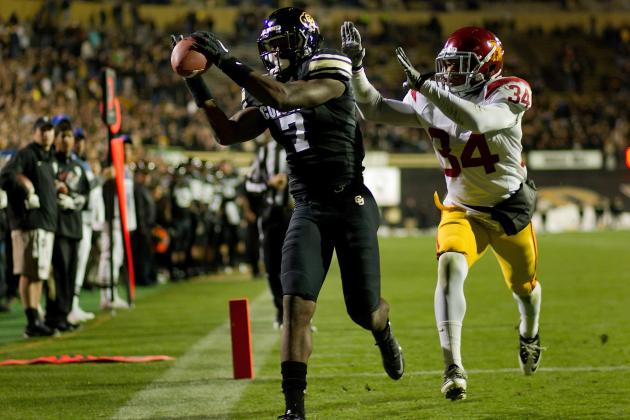 Justin Edmonds/Getty Images

No. 231: Toney Clemons, WR, Colorado
With Mike Wallace threatening to hold out, wide receiver could become a sudden need for the Steelers. Unlike Wallace, the 6'2", 210-pound Clemons isn't afraid to catch passes over the middle. He adds some size at wide receiver and can block, according to NFL.com. Grade: B
No. 240 (compensatory): David Paulson, TE, Oregon
The Steelers take a crack at finding a big tight end who can be a weapon in the short passing game, which is in vogue in the NFL. At 6'3", Paulson might not be tall enough for that role, even though he is a good pass-catching tight end. But he's a seventh-round compensatory pick, so anything they get from him will be gravy. Grade: B-
No. 246 (compensatory): Terrence Frederick, CB, Texas A&M
Frederick is small at 5'10", 187 pounds and according to NFL.com is slow. That's kind of a bad combination. Besides, cornerback might be the Steelers' least needy position on defense, with Ike Taylor on one side and Keenan Lewis, Cortez Allen and Curtis Brown battling it out on the other side. Grade: C
No. 248 (compensatory): Kelvin Beachum, T, SMU
You'd like to think of Beachum as Mike Adams bust insurance, but he might end up moving to guard, which is how he's listed on NFL Draft Scout. Grade: B-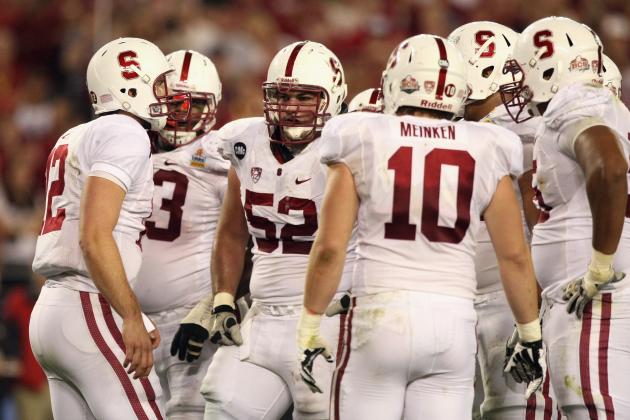 Donald Miralle/Getty Images

The Steelers addressed their top three needs in the first four rounds of the draft, and with their last five picks turned their attention to some under-the-radar needs, especially on offense.
The Steelers picked a running back, a wide receiver and a tight end. Considering their needs on defense, however, they could have taken someone at one or two of those positions, but not all three.
My only bone to pick with this draft is that of the nine players chosen, only three were defensive players. This needed to be a defense-heavy draft considering the age of the Steelers' defense.
Sean Spence and Alameda Ta'amu are the only defensive players in this draft class likely to see significant playing time.
Therefore, it's time for the 2010 and 2011 drafts to start paying dividends on defense.
Linebackers Stevenson Sylvester, Jason Worilds and Chris Carter need to emerge in 2012. And Cam Heyward needs to continue to progress.
Perhaps the Steelers feel they're ready to do that.
MY FINAL PITTSBURGH STEELERS 2012 DRAFT GRADE: B+