Chicago Bears 2012 Draft: Grading All 6 Picks, Undrafted Free Agents Signed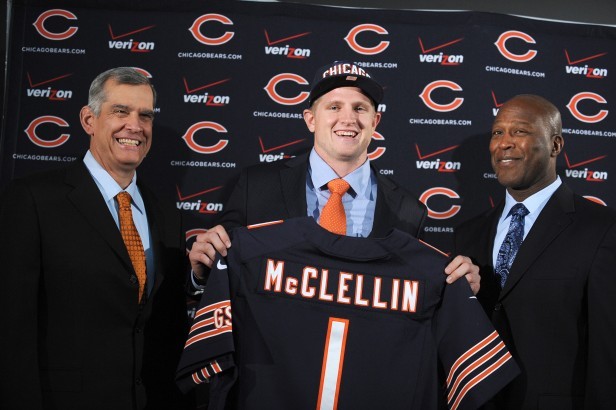 The 2012 NFL draft has concluded for Phil Emery and the Chicago Bears after three days, seven rounds and 253 picks.
The Bears addressed a few needs known only to them, as they drafted a few players experts had not anticipated at positions that were not thought to be lacking in talent.
After six picks though, the defensive and offensive line remain untouched raising concerns for Bears fans being as there are only four defensive tackles on the roster.
Let's take a round-by-round look at who the Bears drafted as well as a grade for the pick.
Begin Slideshow

»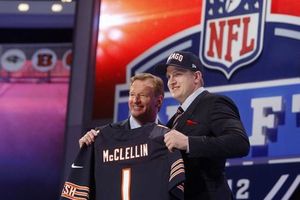 The Bears shocked the NFL world with this pick and I must admit that at first, I was furious.
With talent on the board such as Riley Reiff, Whitney Mercilus, and Chandler Jones, it was an unprecedented move by Phil Emery and the Bears to draft McClellin, a player thought to be best suited as a 3-4 linebacker.
The more I consider the pick though, the more I like it.
McClellin had a solid career at Boise State (130 tackles, 20.5 sacks, 4 interceptions, 2 touchdowns) having played defensive end as well as linebacker.
Couple that with his speed (4.63 40-yard dash) and you have a potentially dominant edge rusher to pair alongside Julius Peppers.
Grade: B
This was my favorite pick of the draft for the Chicago Bears.
Alshon Jeffery is a receiver with first-round talent, though questions about his weight, work ethic along with a lackluster senior season caused his stock to drop to the second.
In order to secure the services of Jeffery, Emery and the Bears moved up five spots (sacrificing a fifth-round pick) at a time when receivers were appearing to come off the board in rapid fashion.
Jeffery is an absolute beast who should instantly upgrade the Bears receiving corps across from Pro-Bowler Brandon Marshall.
Jay, you asked for bigger targets, now you have two.
Grade: A+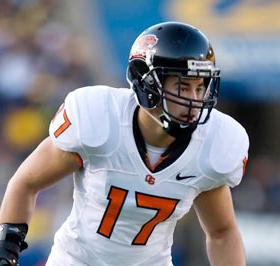 Here's where the picks started to get a little weird.
In the third round, Hardin was selected by the Bears as a free safety out of Oregon State University.
Hardin has excellent speed and size (6'3, with a 4.38 40-yard dash time at his pro day) but has concerns in regards to injuries.
Over his career at OSU, Hardin had multiple injuries as well as shoulder surgery that caused him to miss the entire 2011 season.
Despite the surgery, Hardin has seemed to have recovered since when he put up 24 reps on the bench press, a higher total than prior to the injury.
Though safety wasn't a huge area of need, the Bears seem to have a lot of faith in Hardin causing me to think Emery sees something I don't.
Plus, it wouldn't be a Chicago Bears draft without selecting a safety.
Grade: B-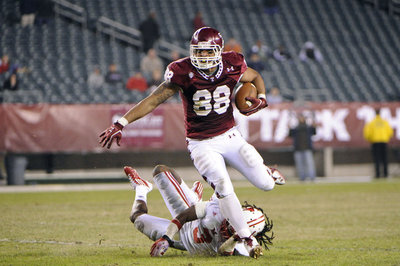 This grade has been reviewed after talking with a few of my readers.
Evan Rodriguez was invited to the NFL combine as an H back where he actually managed to impress scouts with his ability to catch the ball.
At 6'1.5'', 242 lbs, Rodriguez was clocked at 4.58 in the 40-yard dash sparking speculation that he will be asked to fill a role similar to that of Aaron Hernandez of the New England Patriots whom he is also closely compared to.
Tight end was never thought to be a need of the Bears going into the draft with Kellen Davis and Matt Spaeth already on the roster, so this pick is questionable at first glance, but when you take a look at Tice's history with tight ends in his system, it really does make sense.
Rodriguez, though not the tallest tight end, has great speed for someone who can also stick a good block down the line and should also be able to use that speed in the play-action to easily get separation from the defense.
Grade: C+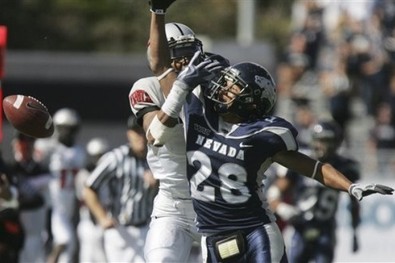 Not even going to lie, I had no idea who he was prior to seeing the selection on the TV, though I was relieved to see the Bears finally draft a cornerback.
Frey played college football at Nevada where he managed five interceptions his final year to go along with 21 pass deflections.
Not bad.
Granted, he did go to Nevada where the competition isn't anything to lose sleep over, but add that to his decent size and speed (5'11, with a 4.45 40-yard dash time) and you have an interesting prospect.
Though I kept holding out hope they would take a risk on Alfonzo Dennard, they could have done something worse.
Grade: B
In the final round of the draft, I was hoping the Bears would select Dajohn Harris, a defensive tackle out of USC but instead saw the name of another unknown player flash across the screen.
Mccoy started his final two seasons at TCU where he was considered the fastest player on the team (4.42 40-yard dash), though never really recorded eye popping stats though being pretty consistent.
Over the final two seasons Mccoy played cornerback as well as taking over kick off duties in his senior year where he was a first team All-American.
Though another unexpected pick, it does add depth and competition at corner as well as a potential kick off returner (as if we didn't have enough).
Grade: C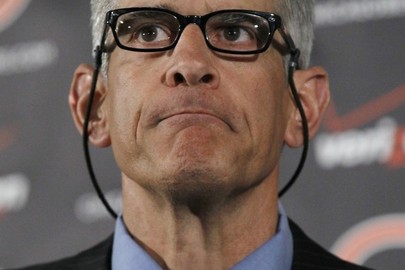 Though only time will tell how a few of these questionable picks will pan out, Phil Emery's first draft as general manager was one Jerry Angelo could take a few notes from.
We leaned that the coaches really are comfortable with our offensive line, we still are not sold on Major Wright, and that Kellen Davis may not be as awesome as the coaches have been touting.
The only area that I have a major complaint in is that we failed to draft any offensive or defensive lineman (aside from McClellin).
On a roster that has only four defensive tackles, you would have thought that the Bears would have addressed that with some young talent, though they are almost ensured to add some undrafted free agents (please be calling Dajohn Harris!).
Overall Grade: B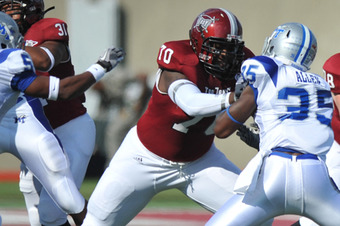 List of undrafted free agents the Bears have brought in thus far.
Ronnie Cameron, DT, Old Dominion
James Brown, OL, Troy
Trevor Coston, S, Maine
Chris Summers, WR, Liberty
Jake Anderson, OT, Akron
Ronnie Thornton, LB, Southern Miss
Adrien Cole, LB, LA Tech
Tyler Holmes, LB, UMass
Kyle Wojta, LS, Wisconsin
Alvester Alexander, RB, Wyoming