Mr. Irrelevant 2012: Big-Name Players Colts Can Draft with Last Pick
April 28, 2012

Steve Dykes/Getty Images
Whoever the Indianapolis Colts choose with their seventh-round compensatory selection is going to be called Mr. Irrelevant, but we may already know them well.
The Indianapolis Colts selected a superstar Andrew Luck with the first overall pick in the 2012 NFL draft. There is definitely a chance they could get another big-time college player with the last pick in the draft.
Let's take a look at some interesting candidates the Colts will likely have a shot at with the 253rd pick.
Vontaze Burfict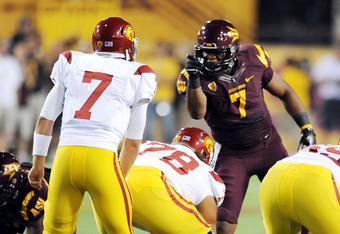 Norm Hall/Getty Images
It would be a steal if the Colts were able to get this fallen Sun Devil so late in the draft.
He was a first-round prospect before the combine—a disastrous event where he interviewed poorly, looked awful in workouts and even failed a drug test.
However, if you watch the tape on this kid, you can clearly see he's got talent and a ton of potential if you look past the character issues.
If Indianapolis wants to roll the dice to try and land a future superstar, Burfict is their man.
Luck is clearly the No. 1 guy in Indy, but they need to get a backup in case of an injury. No one was capable of doing that job last year when Peyton Manning went down, which is why the season went so awfully.
Moore has all the talent in the world when throwing the ball, he's just undersized and unathletic.
If Kellen were to be on the field after an unfortunate Luck injury, the Colts would still have a chance to win the game.
For all his perceived faults, the Boise State product is definitely a winner.
Cliff Harris
Harris was another potential first-round pick that had character issues derail his draft stock.
The Oregon corner starred on the national championship runner-up team two years ago but missed the entire 2011 season due to suspension for numerous off-the-field issues.
He's supremely athletic and talented, meaning the Colts would have a hell of a Mr. Irrelevant on their hands if they could get him to focus and clean up his act.