Green Bay Packers Draft: Trading Up for Worthy, Hayward Should Payoff for Pack
April 28, 2012

Gregory Shamus/Getty Images
The Packers rarely make big splashes in the draft. General Manager Ted Thompson is more than content to just sit where he is at and take the best player available at that time.  
It's a strategy that he has been criticized for, but it is safe to say that the Packers have been pretty successful with Thompson at the helm.
Imagine, then, my disbelief as I checked my phone and saw that the Packers traded up for somebody.
I was equally stunned when I saw they did it again.
After doing my research on the guys the Pack picked up, I think it was the right move for Thompson to make.
The Packers were also gashed up the middle in the run game last season and the move for Jerel Worthy just makes sense. He was a fantastic run stopper in college at Michigan State. They could also transition Worthy over to defensive end in their 3-4 scheme and help the Packers pass rush. His sack totals were not particularly high in college, but he was still a force that offenses had to account for on every down or face the consequences.     
Worthy was projected to go late in the first or early in the second rounds. The fact that the Packers were able to grab him at 51st overall means that they got a great value for Worthy. Worthy and first round pick up Nick Perry should help the Packers get to the quarterback early and often. 
Then, the Packers decided to go after Casey Hayward of Vanderbilt, moving up 28 spots in the draft to grab him at 62nd overall. I nearly had a heart attack. Has Ted Thompson lost his mind?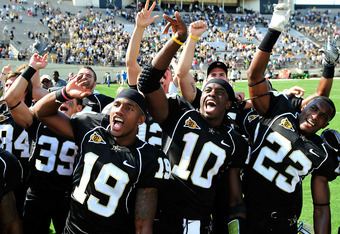 Grant Halverson/Getty Images
Reading about Hayward a bit, it looks like Thompson knows exactly what he is doing.
Hayward's skills translate to the Don Capers style of defense perfectly. He may not be the best in man coverage, but he is the definition of ball hawk. He has recorded 13 interceptions in the last two seasons with Vandy. The Packers live off of creating turnovers, so having a man in the secondary with balls skills was a must for them.
It also looks like that Hayward is a solid tackler at the position as well.  With the release of Pro Bowler Nick Collins, I could see the Packers moving him to free safety to allow him to use his intelligence and instincts to disrupt the pass.  He could also use his tackling skills to have an impact on the run. 
Even though we haven't seen these guys play a down in the NFL yet, based on scouting reports, these guys fill definite holes in the Packers' defense.  This injection of youth could make the Packers' D closer to the dominating unit that helped the Pack take home a Lombardi Trophy in Super Bowl XLV.