Seattle Seahawks Draft Bobby Wagner, Didn't 'Lose' Mychal Kendricks
April 28, 2012

Ezra Shaw/Getty Images
The Seattle Seahawks surprised everyone in Round 1 with their selection of Bruce Irvin. The only surprise with their second-round pick of Bobby Wagner...he was the player many were expecting them to take.
Wagner is a fast, athletic linebacker that doesn't miss many tackles. I had him in a tug-of-war with Lavonte David as the pick in Round 2.
I like David's instincts, but saw Utah State's Wagner as a better pass defender and a good mesh for the gap assignment approach to the Seahawk run defense. Wagner was also the Senior Bowl MVP, which helps tip the scales his direction.
CBS Sports described Wagner as an:
Instinctive defender who is aggressive to slip through cracks and stop the running back in the hole. Good patience. Doesn't commit too soon showing the ability to break down in space, wait for the ball carrier to commit and closing quickly for the reliable stop.

Shows good patience and then closes quickly in the hole. Looks to slip blocks with quick hands rather than forcefully taking them on and shedding with violence. Wraps his arms on most tackles to bring ball carriers to a quick stop. Good lateral and downfield pursuit.

Possesses a thick build with impressive overall musculature. Intelligent and dedicated. Capable of contributing early in his career. Voted a team captain in 2010-11.
Some analysts and bloggers are taking issue with the trade that "allowed" the Eagles to draft Mychal Kendricks out from under Pete Carroll and John Schneider.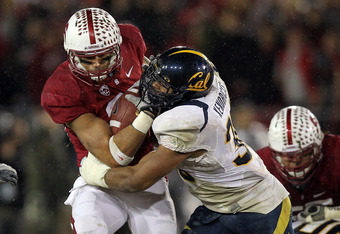 Ezra Shaw/Getty Images
Anyone that has watched the Seahawks draft tendencies should know that the Seahawks don't risk losing the players they want. When they trade down, they are confident the player they want will still be there.
The trade with the Jets netted a fifth- and seventh-round pick for Seattle. In exchange, they moved down four spots in Round 2.
Looking at the teams that would select before Seattle, it wasn't hard to predict the Eagles would be looking at a linebacker...and Kendricks was the most logical selection there.
Kendricks certainly has the speed Seattle is looking for in their defense, as he set a new 40-yard dash record at the combine for linebackers (4.47). However, he has a tendency to attempt to tackle via big hits instead of using fundamentals. Not wrapping opponents up properly has led to him sliding off ball-carriers and missing tackles.
Wagner was expected to challenge Kendricks for the fastest 40 time at the combine. He was not able to participate, though, as he was out with pneumonia. 
Wagner made up for his combine absence with a solid pro day. He turned in a 40 time of 4.45 seconds. Sports Illustrated offered a summary of his performance:
During position drills, Wagner looked incredibly smooth and quick in all his movements. Most importantly, he showed well in coverage drills, as Wagner got depth on pass drops and made several nice plays down the field.

He also displayed good hands catching the ball, which impressed scouts, many who branded him as a two-down, run defender. The versatility and completeness shown in his pro day workout will push Wagner into the top half of the second round.
No, Seahawks fans, the trade didn't lead to Seattle losing the player they wanted. Wagner is just as fast as Kendricks and is more fluid when changing directions.
Most important, Wagner will offer the team what they need in passing situations and is a better fit in Seattle's run defense.
The Seahawks added two strong weapons to their defense, and they are likely the two players Pete Carroll and Co. had penciled into those slots when the draft began. Their defense should be scary-good in 2012.