2012 NFL Draft Grades: Analyzing Every St. Louis Rams Pick
May 1, 2012

Sam Greenwood/Getty Images
For the last several months, the St. Louis Rams' No. 6 overall pick was thought of as the perfect landing spot for wide receiver Justin Blackmon. 
When the Jacksonville Jaguars jumped ahead of the Rams to No. 5 overall, though, it was obvious securing the top receiver of the draft was no longer a possibility. 
In order to react to the unfortunate situation, coach Jeff Fisher and general manager Les Snead traded down with Dallas and picked up the No. 14 pick as well as the No. 45 pick in the second round. 
The Rams then used their top pick on defensive tackle Michael Brockers. It was a pick that initiated a mixed reaction from the fanbase. 
However, whether you loved or hated the Brockers pick, there was no denying that the Rams had a shot at redemption due to their surplus of second-day picks (No. 33, No. 39, No. 45, No. 65), as well as their picks in Rounds 4 through 7. 
So, let's take a look at each pick the Rams made through the 2012 NFL draft and grade them on their efforts.
Round 1 (14): Michel Brocker, DT, LSU
The Rams needed offense in the first round, but they failed to secure either of the top receivers in the draft (Justin Blackmon, Michael Floyd). 
As a consolation prize, the Rams picked up Michael Brockers as the final piece to a defensive line that features Chris Long, Robert Quinn and Kendall Langford. The potential of all four players is limitless.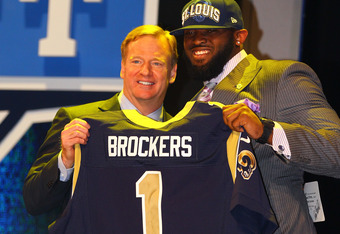 Al Bello/Getty Images
Brockers is a scary pick because he only started one full season in college. Also, it will take time before he completely develops as a pass rusher. 
On the bright side, however, he'll immediately help a St. Louis run defense that finished second to last in 2011. Also, he has a shot at ultimately becoming the best defensive tackle of the draft due to his raw potential. 
Grade: B
Round 2 (33): Brain Quick, WR, Appalachian State
After failing to draft either of the top two receivers, the Rams knew drafting a wide receiver in Round 2 was a necessity. The Rams wasted no time and immediately addressed their need at receiver by drafting Brian Quick at No. 33 overall. 
Quick was thought of as a third-round pick, or a late second-rounder at best, so the pick may have been a slight reach. 
Stephen Hill and Alshon Jeffery were two wide receiver options who would've been less shocking, but the Rams felt Quick was the top remaining receiver. 
However, while Quick was not the winner of the popularity contest, he offers a lot of upside for the St. Louis offense. 
At 6'4" and 220 pounds, Quick can use his size and his 4.55-second 40-yard dash speed to get downfield and make big plays. He's a large target capable of overpowering cornerbacks, and that's exactly what the Rams were looking for. 
Grade: B+
Round 2 (39): Janoris Jenkins, CB, North Alabama
If you're a Rams fan, chances are your heart skipped a beat when Torry Holt announced Janoris Jenkins as the team's pick at No. 39 overall. 
Just before going into cardiac arrest, though, you suddenly realized that Jenkins is an extraordinary talent, regardless his past. 
Jenkins is a shutdown corner who is every bit as talented as No. 6 overall pick Morris Claiborne. And he can also help the Rams on special teams as a dynamic punt returner. 
It's not every year when a team is lucky enough to land an elite talent in the second round. If he can straighten up, he'll team up with Cortland Finnegan and form an extremely dangerous duo at cornerback. 
If Jenkins has truly progressed beyond his childish behavior, there's a good chance he'll be the Rams' best pick of the draft.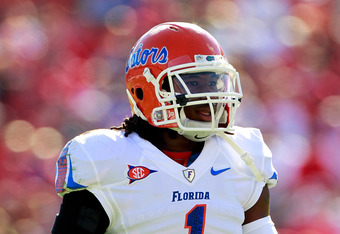 Sam Greenwood/Getty Images
Grade: A+
Round 2 (50): Isaiah Pead, RB, Cincinnati
The Rams were in need of another running back besides Steven Jackson. More importantly, however, they needed a dynamic player capable adding some pop to the offense. 
Isaiah Pead was thought of as a late second-round selection, so he was maybe a slight reach at No. 50 overall (the Rams traded their No. 45 pick to Chicago and dropped to No. 50), but there's no doubt he's capable of adding some speed to the backfield. 
At 5'10" and 197 pounds, Pead is too small to become an every-down runner, but he still has a lot to offer as a situational back. He'll provide the Rams with a legitimate big-play threat both out of the backfield and in the receiving game. 
The problem with Pead, other than being a slight reach, is the Rams need someone capable of carrying the entire workload in case Jackson goes down with an injury. Unfortunately, Pead is not that guy. 
Grade: B-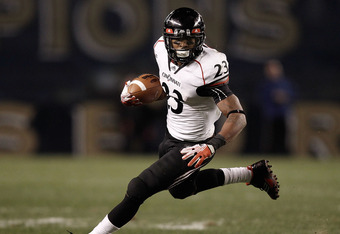 Jared Wickerham/Getty Images
Round 3 (65): Trumaine Johnson, CB, Montana
The Rams already had a pair of solid starting cornerbacks in Cortland Finnegan and Bradley Fletcher, and they only improved at the position with the addition of Janoris Jenkins in the second round. 
However, Fletcher has been on injured reserve two out of his three seasons, so the depth at the position is paper thin considering the team lost 10 cornerbacks to injuries last season. On top of that, the Rams cut starter Ron Bartell towards the beginning of free agency.
Maybe the Rams would've been better off pursuing a different position with their third-round pick, such as an outside linebacker or offensive guard, but the addition of Trumaine Johnson assures the Rams are set at cornerback for years to come. 
Johnson is a second-round talent, so the Rams are getting a lot of value with this pick. Johnson, along with Fletcher, will provide solid depth behind Finnegan and Jenkins. 
Grade: A-
Round 4 (96): Chris Givens, WR, Wake Forest
The Rams were desperate for offensive reinforcements after a disastrous 2011 campaign that resulted in only 12.1 points per game.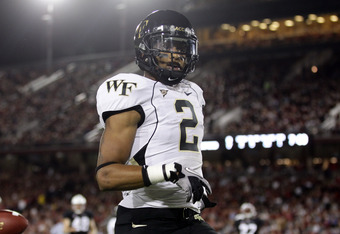 Ezra Shaw/Getty Images
They picked up Sam Bradford's No. 1 target with the No. 33 overall pick (Brian Quick), but that wasn't enough. On top of a sizable primary target, they were also in need of a burner capable of stretching the field. 
Chris Givens ran the 40-yard dash in 4.41 seconds at the combine. He's capable of scaring teams with his speed, which will make opposing safeties think twice before focusing on the run. 
Givens could have gone as early as the late second round, so the value is there. Don't be surprised if Givens and Quick are both Week 1 starters. 
Grade: A
Round 5 (150): Rokevious Watkins, OL, South Carolina

It's good to see that the Rams selected three players from the SEC during the draft (including Janoris Jenkins). As a team severely lacking in talent, the Rams were smart to scout players from the toughest conference in college football. 
Rokevious Watkins is not a name-brand player, but he's a beastly human being (6'4", 338 pounds) who faced elite competition at the college level. 
Watkins fills a position of need, but he'll likely take several years to develop. In the meantime, he will provide some much0needed depth. 
Although, while it's hard to criticize a fifth-round pick, the Rams sure could have used a linebacker at this spot. 
Grade: B
Round 6 (171): Greg Zuerlein, K, Missouri Western
Greg Zuerlein is a highly touted kicker from a small school. He will start immediately for the Rams, and finding a starter in the sixth round is harder than it sounds. 
Also, Zuerlein allowed the Rams to release veteran kicker Josh Brown, which saves the team from his $3.5 million cap hit. 
However, Zuerlein was playing in front of 5,000 parents and semi-interested fans at Missouri Western. He'll now have to perform in front of 65,000 loud fans in a packed dome, which is quite a transition. 
Trusting the kicking duties to a rookie with no crowd experience is a somewhat risky move. 
Grade: C+
Round 7 (209): Aaron Brown, OLB, Hawaii
While Lavonte David (Nebraska) and Mychal Kendricks (California) were tempting options in the second round, the Rams did the right thing by holding out and drafting a linebacker in a later round. 
Outside linebackers are not very important in a 4-3 defense. If the defensive line and middle linebacker can get the job done, a 4-3 team can get by with mediocrity at the outside linebacker positions. 
Aaron Brown could have been drafted several rounds earlier, but there were character concerns stemming from a bar fight he was involved in. Brown has the potential to eventually earn a job as a starter, but he'll likely stick to special teams as a rookie. 
And while it's good the Rams waited to draft a linebacker, perhaps the seventh round was pushing it considering they still need another starter opposite Jo-Lonn Dunbar. 
Grade: B+
Round 7 (252): Daryl Richardson, RB, Abilene Christian
The Rams drafted Isaiah Pead in the second round, and he will provide the Rams with a speedy change-of-pace back behind Steven Jackson. Just to add a little training camp competition, though, the Rams used their final pick of the draft on another speedster running back: Daryl Richardson. 
The small school star is the brother of Bengals running back Bernard Scott, so hopefully the genes will help Richardson perform at the NFL level. 
Richardson is a long shot to make the team. He'll probably contribute solely on special teams in a best-case scenario, but hopefully his presence will motivate Pead and force him to elevate his game.
The only problem with this pick is that the Rams needed some depth at other positions, such as linebacker and offensive tackle.  
Grade: B-
Overall
If someone were to propose a mock draft a month ago where the Rams used their top pick on Michael Brockers, and two second-round picks on Brian Quick and Isaiah Pead, the readers would've laughed hysterically.
On paper, if you take the mock drafts as gospel, it seems as though the Rams made a few reaches throughout the draft.
However, if the true experts feel Quick is worthy of a No. 33 overall pick, I'm inclined to believe them.  
If you trust the grading system Jeff Fisher and Les Snead stuck to, it's clear the Rams were able to significantly upgrade both sides of the ball. 
Quick, Pead and Chris Givens will immediately improve the offensive arsenal, which was the team's primary objective. 
On top of that, the team grabbed arguably the best defensive tackle of the draft (Michael Brockers), as well as the most talented cornerback (Janoris Jenkins). 
Combine that with a kicker (Greg Zuerlein) and three players capable of returning kicks (Jenkins, Pead, Givens), and the team also improved on special teams. 
Add in a few depth players (Rokevious Watkins, Aaron Brown, Daryl Richardson), and it's clear the Rams truly had a phenomenal draft. 
Grade: A-