2012 NFL Draft: Grading the Chicago Bears' 1st Round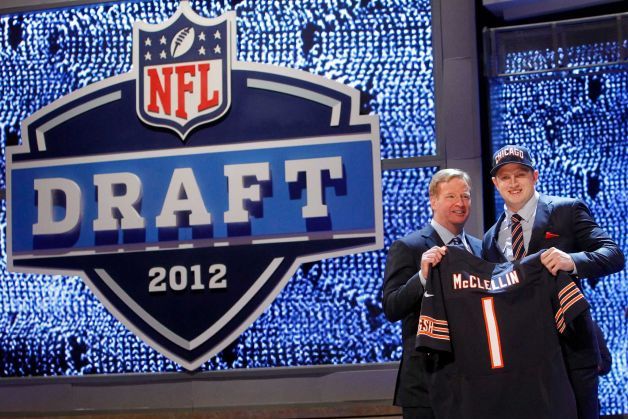 Day 1 of the NFL draft was absolutely nuts.
In a first round that was riddled with trades, the Bears decided to remain put with their 19th pick. With Michael Floyd, Quinton Coples and Melvin Ingram off the board, I watched the television preparing to say "told you so" when Whitney Mercilus' name was called.
Wow.
The Bears surprised the NFL nation when they selected Shea McClellin. While many argue that the Bears should have gone with Mercilus, Chandler Jones or Nick Perry, let's take an educated look at the kid from Boise State.
Begin Slideshow

»
Shea McClellin was widely considered a late first-round selection who many believed would be best suited for a 3-4 scheme, so the Bears' pick left many people scratching their heads.
At Boise State, McClellin racked up impressive stats as a defensive end and outside linebacker. He had 130 tackles, 20.5 sacks and four interceptions.
Beyond that, McClellin impressed many teams at the NFL combine where he ran the 40-yard dash in 4.63 seconds despite his 6'3", 260-pound frame.
The most enthralling part of McClellin's game, though, is the way he plays.
At Boise State, McClellin was an animal who played to the whistle. He had great instincts to go along with stellar character off the field, which is always a good thing.
So, was picking someone like that really the wrong way to go?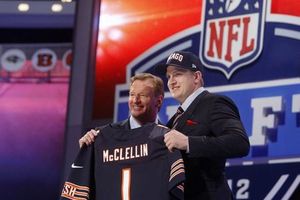 Sure, Bears general manager Phil Emery may have been able to trade back a bit, secure an additional pick in a later round and still nab McClellin. But would that really be worth the risk of losing him?
For Emery, the risk obviously was not worth it.
Our new general manager has spent the entire offseason preparing for his first draft. So when he makes this pick, I trust it.
In the end, we secured the services of a young and talented linebacker/defensive end who has a passion for the game. Plus, he's a player many experts had as one of their fastest risers.
The more I look at the pick, the more I like it.
Grade: B+