How Media Made Ryan Tannehill Biggest Reach In NFL Draft History
Al Bello/Getty Images
So the Miami Dolphins got their potential franchise quarterback in Ryan Tannehill at No. 8 overall. This obviously is quite a reach of a pick, because Tannehill had played roughly 1.5 years at quarterback in a non-pro style offense.
That said, how did a quarterback that began his college career as a receiver, end up as a top-10 pick? Well, let's blame the media because by comparison to other quarterbacks in this draft (namely Oklahoma State's Brandon Weeden), Tannehill shouldn't have been a first-round selection.
We won't go back too far, but Tannehill to Miami almost seemed like a foregone conclusion before the NFL combine even began.
The ESPN NFL draft expert certainly knows his stuff, after all; Todd McShay is one of the more well-known draft analysts in the NFL world.
So, his input on all things regarding the draft will be taken into high consideration.
Well, in an article by Nate Ulrich of the Akron Beacon-Journal in late March, McShay spoke well of Tannehill:
"I would have a very difficult time passing on him at that No. 4 pick," McShay said. "I just think that he has everything that you look for in a future franchise quarterback if you develop him properly and if you're willing to be patient.
Obviously every franchise has to be patient with the development of a quarterback, but Tannehill's not nearly as polished as Weeden, Kirk Cousins or Russell Wilson.
In just 19 games at the helm for Texas A&M, Tannehill threw 21 interceptions and Wilson threw only 30 during his entire college career.
Yes, Tannehill has the size, mobility and arm strength, but there's a lot more than just physical capabilities to become a legit NFL quarterback.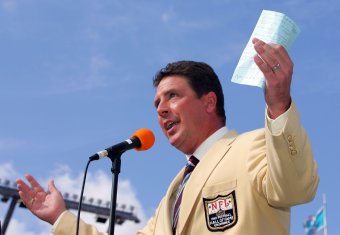 Paul Spinelli/Getty Images
Dan Marino
Easily one of the best quarterbacks to ever step on a football field, Dan Marino wowed fans and opponents alike when under center for the Miami Dolphins.
Therefore, it's no surprise that anything Marino says about what the Dolphins need to do—especially at quarterback—can get interpreted as being influential. Earlier this week in an article by Gregg Rosenthal of NFL.com, Marino gave his two cents:
"If they feel good about Tannehill and he's there at eight, it's worth taking a little bit of a stretch to take a quarterback," Marino said. "If it's a guy that you think can be your future quarterback for a long time, then you got to take him.
Well, this may have just ended Matt Moore's chances at remaining Miami's long-term solution under center. And it's quite unfortunate, because Moore had a respectable season with 16 touchdowns to only nine picks and an 87.1 rating.
For Tannehill's sake, Miami better hope he turns out great because Moore proved to deserve another shot to start in the NFL.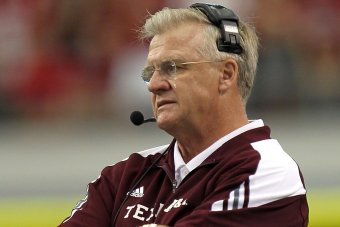 Ronald Martinez/Getty Images
Mike Sherman
Okay, technically not media, but just arguably along the same lines. As we know, Mike Sherman was Tannehill's head coach at Texas A&M and is now the Dolphins' offensive coordinator. So, Tannehill and Miami already had this connection well before the draft commenced.
In an article by Omar Kelly of the Sun-Sentinel, Sherman praised Tannehill for his time with the Aggies:
"Like all good quarterbacks he had great poise. Very confident in any system, west coast or not," Sherman said. "Any quarterback has to be confident in his own skin and believe in himself. They always say a great quarterback makes those around him better. I thought [Brett] Favre did that. I think Aaron Rodgers does that. I think Tannehill does that as well."
Now, Kelly goes on to disagree with Sherman and rightfully so, because Tannehill has limited experience at the position and didn't put up any wowing numbers.
Summary
If you're still perplexed by the Dolphins taking Tannehill at No. 8 overall, well, you're in good company. In the technological age of fast information (namely Twitter), tons of analyses from experts the NFL over can disperse opinions and potentially turn out as an indirect influence.
Not to mention, there's also the intense draft process that begins with a prospects final college season, the Senior Bowl/East-West Shrine game, combine, pro days and finally the actual draft.
Where is a realistic draft spot for Ryan Tannehill?
Therefore, constant upkeep of evaluation remains and there's almost too much information to wrap one's brain around.
Impatience is at the core, because if the Dolphins were to think about what's in front of them, why not give Moore a chance and draft a more needy area like the offensive line or receiver?
Miami allowed 52 sacks in 2011 and are without a true No. 1 receiver. Surely a guy like David DeCastro or Michael Floyd would have spruced up the Dolphins' offense.
But, because Moore isn't a gunslinger and Tannehill's connection with Sherman, it's no surprise Miami rolled the dice.
Then include a well-respected expert in Todd McShay and the pride of Miami with Dan Marino and that's some strong opinion about Tannehill being a top prospect.
We obviously won't know how this turns out until the pads go on, but let's hope the Dolphins made the correct move for their fans' sake.
John Rozum on Twitter.
This article is
What is the duplicate article?
Why is this article offensive?
Where is this article plagiarized from?
Why is this article poorly edited?