NFL Draft: The Best Running Back Pick Might Be Oregon Star LaMichael James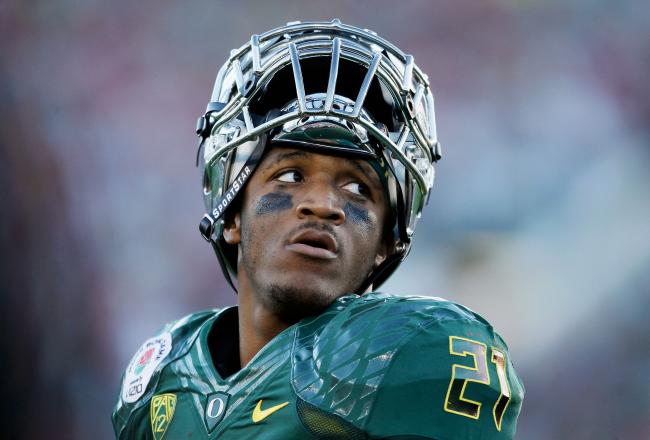 Jeff Gross/Getty Images
The NFL draft is clearly an inexact science. Talent evaluators for every team watch countless hours of game film and combine pro day measurables to determine who is the best fit for their roster—the newest faces of their franchise.
It seems every year some great talent falls past the first round, or second round, or third or fourth or fifth rounds, and still manages to become a great NFL player. The fun of the second and third days of the NFL draft is trying to guess­ (because all we can do is guess) which players it might be.
What about LaMichael James?
James helped lead the Oregon Ducks to three consecutive BCS games, including the 2011 national title game, finishing this past season with 1,807 rushing yards and 18 touchdowns despite missing two games with a dislocated elbow.
James averaged 7.3 yards per carry in 2011, besting his averages of 6.7 as a freshman and 5.9 when he finished third in the Heisman Trophy race as a sophomore. James finished 2011 as one of just four players with more than 2,000 yards from scrimmage (Trent Richardson was another).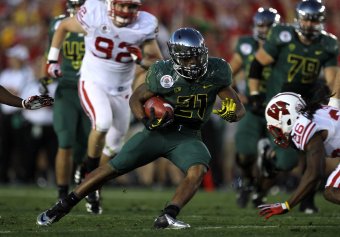 Stephen Dunn/Getty Images
You want countless hours of game film? For three years, the kid was one of the most dynamic college players on the planet.
Critics can point to the gimmicky offense Oregon ran, which spread defenses and allowed James to find a lot more space running against an expanded front seven. His two toughest games were against LSU (where he still managed over 100 yards from scrimmage) and USC, the two most pro-caliber defenses he faced.
James wasn't just a speed guy, showing toughness running inside the tackles, especially for a player at his size.
Right. Right, right, right—he's small. James is listed at 5'8", 194 pounds, which is minuscule by NFL standards. Yet James is an inch taller than Maurice Jones-Drew, who admittedly was heavier coming out of college (listed near 207 pounds). James is the same height as Ray Rice, who was listed at 199 pounds out of Rutgers. Rice is now listed at 212 pounds.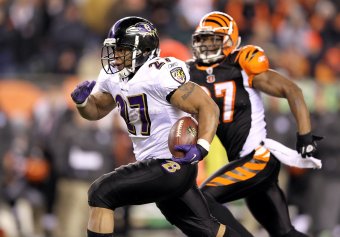 Andy Lyons/Getty Images
Coming out of college, there were a few flags on Rice that sound rather similar to James.
First, people questioned if he was big enough to take the beating in the NFL. People wondered if he could pass protect or catch the ball out of the backfield. Rice caught just 37 balls in his college career, though 25 in his final season. James averaged just 17 receptions per season in Oregon's spread offense.
Rice also had a few fumbles in his final season at Rutgers, leading people to wonder if he would be able to hold onto the ball in the NFL. That may be the biggest flag on James, who had fumbling issues in his college career.
Look, this comparison is not presented to suggest James will be the next Ray Rice, or the next Maurice Jones-Drew. It is, however, introduced to remind fans that both Rice and Jones-Drew were not first-round picks.
Rice and Jones-Drew were selected in second round, the leading members of a deep fraternity of star running backs who were passed over by the entire league at least once before being selected.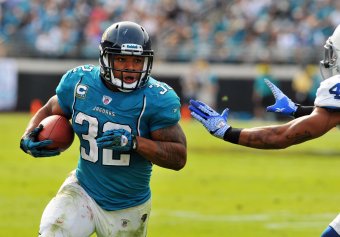 Al Messerschmidt/Getty Images
There were seven running backs in the top 10 in yards from scrimmage last season and just one (San Diego's Ryan Mathews) was a first-round pick.
Rice, MJD, Arian Foster (undrafted out of Tennessee), LeSean McCoy (a second-round pick), Michael Turner (a fifth-round pick of the Chargers) and Matt Forte (a second-round pick for the Bears) were the other running backs on the list.
Last season, the top six running backs in rushing yards were drafted in the second round or later.
That's not to suggest there aren't some fantastic running backs who were drafted in the first round. Eight of the next nine backs on the list were first-round selections.
Of course, four of them are no longer playing for the team that drafted them. Only Turner is on his second team of the players in the top six last season.
There are some fantastic running backs below the top 15 in rushing, too. Players like Darren McFadden, who was fourth in the league in yards per carry last year, was a first-rounder.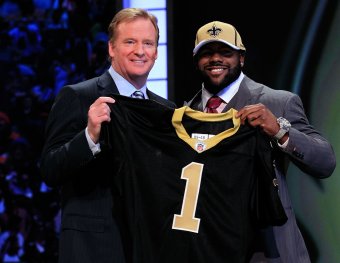 Chris Trotman/Getty Images
It's amazing that Chris Johnson or Adrian Peterson, both first-rounders, haven't come up yet. Two years ago, they would be in the first paragraph of any running back conversation.
Mark Ingram was the only first-round running back in last year's draft and looks like he's already on pace to be a promising NFL player. Jahvid Best and Rashard Mendenhall are feature backs that were both taken in the first round.
C.J. Spiller looked like a stretch for Buffalo in 2010, but he did become a productive piece of the Bills offense last year. He could still develop into a top-flight talent worthy of the ninth overall pick. Really, he could.
I'm actually not even trying to suggest James will be an every-down back in the NFL. In fact, James is most closely compared to Darren Sproles, who has never truly been a featured back in his entire career.
That said, Sproles did lead the NFL in all-purpose yards in 2011. Not a terrible guy for James to be compared to.
The numbers for Sproles were bolstered by more than 1,000 yards in kick returns and nearly 300 yards in punt returns. But the NFL is a field-position league, so having a solid and dependable kick returner is immensely important.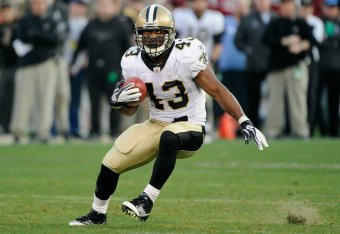 Thearon W. Henderson/Getty Images
Let's not ignore that Sproles flourished after moving to New Orleans, rushing for more than 600 yards on 87 carries (6.9 ypr) while catching 86 balls for 710 yards (8.3 ypc) last season.
When you get dynamic players on the field and give them the ball, good things can happen. When you get a player in the right offensive system, great things can happen.
If James can find the right fit in the NFL and be even half as productive as Sproles, Rice or MJD, he will be a great second-day draft selection. If he falls to the third day, someone will have an absolute steal in the fourth round.
There were three running backs selected in the first round of draft this year. The Browns gave up fourth-, fifth- and seventh-round picks to move up one spot to get Trent Richardson.
I know it's not this simple, but Cleveland potentially traded the fourth overall pick, the next Michael Bush (taken in the fourth round), the next Michael Turner (a fifth-rounder) and a seventh-round pick for Richardson.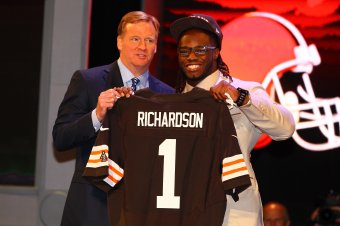 Al Bello/Getty Images
He better be worth it.
Tampa Bay, who reportedly coveted Richardson (per the Tampa Bay Times' Rick Stroud), traded back into the first round to pick Boise State's Doug Martin. Tampa admittedly didn't give up much, swapping the 36th pick for the 31st and giving up the 101st pick for the 126th.
Martin now has the pressure of being a first-round running back who will be expected to carry the load for the Buccaneers. The Giants had the luxury of drafting for depth after winning the Super Bowl with very few needs, taking David Wilson of Virginia Tech with the last pick of the first round.
Will either of them be better than a third-round sleeper or some undrafted stud nobody ever thought would make a team, let alone lead the league in yards? Who knows?
That's the fun of the NFL draft, where we can say "who knew" and "told you so" at the same exact time and flip-flop the answers in another three years.
For James, where he gets drafted will determine who is saying, "told you so" when. Nobody should be saying, "who knew?"
This article is
What is the duplicate article?
Why is this article offensive?
Where is this article plagiarized from?
Why is this article poorly edited?