Philadelphia Phillies: Is Trevor May a Trade Chip or a Building Block?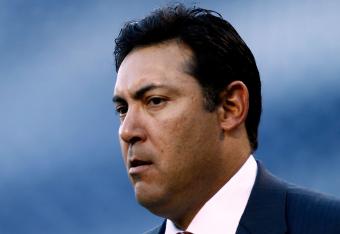 Jeff Zelevansky/Getty Images
Buyers or sellers? It's an interesting subplot through the early summer months of every baseball season—finding out which teams will be close enough to contention, in their eyes or in reality, to trade off some young pieces in order to get the over the top, and which teams must trade off some aging stars to reload for the future.
In recent years, the idea of rebuilding in Philadelphia wouldn't even be considered. Every July, Ruben Amaro Jr. and company would aggressively pursue upgrades before the trading deadline, whether the need was an outfield bat, a bullpen arm, or depth in the rotation.
And every year, he would find a guy who fit his need and effectively dismantle the farm system to keep the window open a little longer.
In the process, the Phillies have lost prospects like Jonathan Singleton, Carlos Carrasco, Lou Marson, Jarred Cosart and Jason Donald, to name a few, in the acquisitions of immediate-impact players like Hunter Pence and Cliff Lee.
Trevor May might be better than all of them. Heck, he might be the best pitching prospect in Double-A baseball today. The choice on whether or not to include him in trade discussions this year will have a great impact on the future of this club.
If the Phillies find themselves in contention, with a chance at a deep playoff run, and the front office feels they are just a piece away, they will make calls. When those calls are made, whether it's to talk to the Mets about David Wright, the Red Sox about Kevin Youkilis, or anyone else who could help this club, opposing general managers will inquire about the blue-chippers.
You can bet that Domonic Brown, Brody Colvin and Jesse Biddle will all among the names discussed. Amaro's response when they ask about May might be the difference between extending the window one more year and ensuring that the future of the club is in good hands.
Who is the best pitcher in the Phillies' minor league system?
No other pitching prospect in the Phils' system has shown the consistent improvement and genuine promise that May has. The 6'5" Washington native was promoted to Double-A ball to start the season, after dominating Lakewood in High-A in 2011.
Baseball Prospectus' No. 51 prospect before the year, May's stock has skyrocketed in four starts (all wins) with the Reading Phils. His WHIP (0.870) and ERA (2.35) are both the best he has shown at any level.
In April, his arrival with the big club couldn't have seemed closer than 2014. Now, Opening Day next year doesn't seem impossible, especially if the loss of Cole Hamels creates a hole in the rotation.
Amaro has to know what he has in this kid, and not ship him off on a whim. As important as it is to get the most out of this core group of players, it's not worth sending a star-in-the-making like May out for a three-month rental like Youkilis.
Now, if the Phillies were to fall out of contention between now and then, all of this would be moot, and rebuilding the system around May, Brown, Sebastian Valle, Tyson Gillies and company, most likely by trading Hamels, would become the top priority.
But it's too early now to talk about the white flag. And frankly, it's depressing to think about.
This article is
What is the duplicate article?
Why is this article offensive?
Where is this article plagiarized from?
Why is this article poorly edited?

Philadelphia Phillies: Like this team?