Chicago Bears Mock Draft: Rounds 2-7 with Shea McClellin in the Books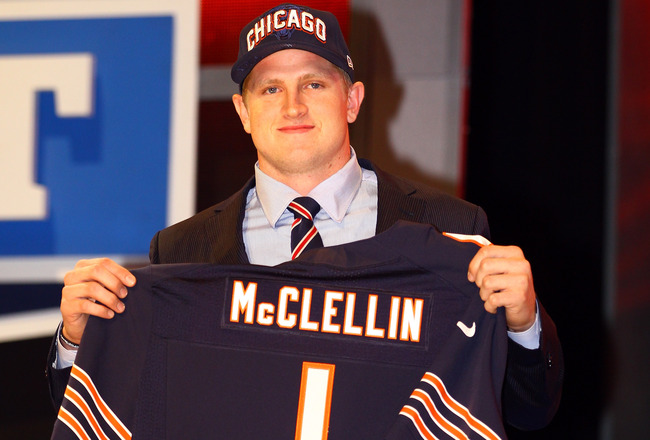 Shea McClellin
Al Bello/Getty Images
The Chicago Bears did not surprise anybody when they took a defensive lineman in the first round. They did raise some eyebrows when they passed up names like Whitney Mercilus and Chandler Jones to draft Shea McClellin.
After Day 1, new GM Phil Emery has proven one thing to you. He will stick to whoever he evaluates as the best person on the board even if it means going away from the popular pick. Now, where do the Bears go from here?
First-round selections are important but winning-football teams are built through the later rounds. Emery has proven to be a wild card thus far so it will be hard to predict where he goes, but Rounds 2-7 might look a little like the following:
Round 2: No. 50 Jeff Allen, OT, Illinois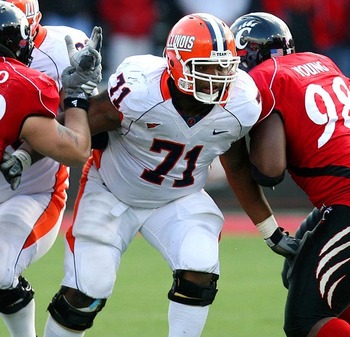 Jeff Allen
Round 3: No. 79 Juron Criner, WR, Arizona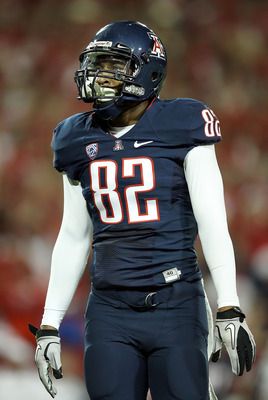 Juron Criner
Christian Petersen/Getty Images
Make no bones about it. Even with the addition of Brandon Marshall, the Bears are still in the market for a wide receiver. They have enough sub-6'0'' guys so they would love another tall target for Jay Cutler.
Juron Criner fits the mold in the third round. At 6'3'', 224 lbs, he has the size the Bears are looking for. He does not have great speed but has tremendous leaping ability in jump-ball situations.
With over 80 catches, 1,233 yards and 11 touchdowns, he proved to be very productive in a West Coast offense at Arizona.
Round 4: No. 111 Dwight Bentley, CB, Louisiana-Lafayette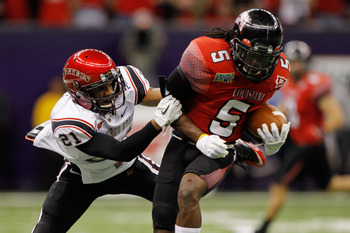 Dwight Bentley
Chris Graythen/Getty Images
The Bears went to the free-agency market for some depth at the corner position but they do not have many long-term answers on the roster. Lovie Smith has given no indication of changing his Cover 2 style defense, allowing the team to look at smaller corners.
Dwight Bentley is a player that fits the Bears' system and needs.
At 5'10'', 182 lbs, he does not have great size but has the speed and cover skills to make an impact. Bentley ran a 40 time in 4.43 seconds. He has a sneaky ability to drive on the football, making him a quality ball-hawking option.
Round 5: No. 150: Kheeston Randall, DT/DE, Texas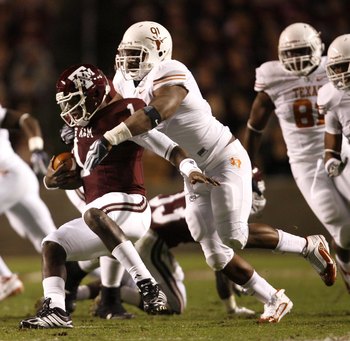 Kheeston Randall
Aaron M. Sprecher/Getty Images
When you get to this point in the draft, you are looking for versatility and rotation-type players. Even with their first-round pick, the Bears could still use help on the defensive line. Kheeston Randall fits the need.
Randall is a player who can play inside and out. At 6'5'', 293 lbs, he has the size to move all around the defensive line.
He is a high-character guy off the field, whose mean streak only shows up in uniform. He has a great ability to get off the line of scrimmage and could prove to be a valuable commodity as a backup or injury replacement.
Round 6: No.184 Christian Thompson FS, South Carolina State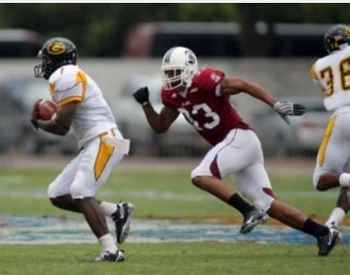 Christian Thompson
Players who can improve depth, play multiple positions and contribute in special teams are the kinds of guys you look for this late in the draft. Christian Thompson provides all of that.
Thompson is out of the little-known MEAC conference but could prove to have a long-lasting career. He is listed as a free safety but at 6'0'', 211 lbs, Thompson can play some strong safety, linebacker and will be a standout on special teams. He has a high motor and physical presence on the field.
Round 7: No. 220 Adrien Robinson, TE, Cincinnati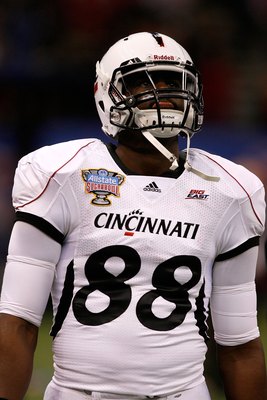 Adrien Robinson
Matthew Stockman/Getty Images
The league has shifted towards the big-play tight ends. Guys like Adrien Robinson don't get much play anymore. He is a blocking tight end, who was not even invited to the combine. That didn't stop the Bears from having a visit with him.
He comes in at 6'4'', 264 lbs. He's not going to wow you with soft hands or great playmaking ability. What he is going to do is provide blocking protection and sneak out on the occasional short-yardage play for a rare catch or two.
Keep Reading

Chicago Bears: Like this team?