2012 NFL Draft Grades: Why Michael Floyd Is an A for the Arizona Cardinals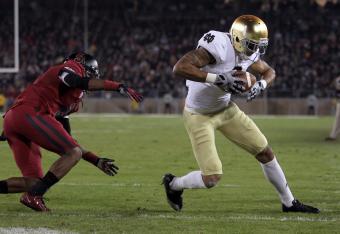 Ezra Shaw/Getty Images
The Arizona Cardinals may still have plenty of questions regarding their situation at quarterback, but going into the 2012 season they will at least have an answer at wide receiver opposite Larry Fitzgerald.
With the 13th overall selection in the 2012 NFL draft, wide receiver Michael Floyd has been selected as the newest Arizona Cardinal.
It should come as no surprise that Floyd was brought aboard for the Cardinals. Recent history has proved that when Larry Fitzgerald wants something, he tends to get it.
For the 2011 season it was the guarantee of a franchise quarterback in Kevin Kolb. This season, Fitzgerald wanted a true No. 2 wide receiver. In particular, he wanted Floyd—and Floyd is what he got.
We all know what happened last season with Kolb in his quest to become the franchise quarterback he was brought in to be. Let us all hope that Floyd is able to live up to expectations much better than Kolb has.
So was he worth the 13th draft pick? Here is a breakdown of some of the qualities that Floyd brings to the table for the Cardinals:
Size
A growing commodity in the NFL (pun intended), big size has become a quality that dominant wide receivers need to have and wield to the best possible effect.
At 6'3" and 220 lbs and a big arm span to go along with his height, Floyd has the size necessary to become a success in the NFL. Even more importantly, he wears that size well in the field of play.
His big size will keep him from going down easily after the catch, too. Between Floyd and Fitzgerald, there will almost always be a matchup where an undersized defender will be forced to match up against one of the two physically dominant players.
Speed
Floyd isn't just big, he's also surprisingly quick. He ran the 40-yard sprint at the NFL scouting combine in February in just 4.42 seconds, which really helped to set him apart from the rest of the larger wide receivers.
That's not to say that he will be a game-changer as a deep threat, but the Cardinals don't necessarily need him to play that role. What they need is a good route-runner who will outpace the defense right off the line of scrimmage. Floyd will bring that to the table.
Blocking
One thing that Floyd has demonstrated is that he is excellent at blocking up front when the need arises. This is critical to the success of the Cardinals running game, which was a positive surprise last season in the hands of Beanie Wells.
Now that the Cardinals will have promising rookie running back Ryan Williams to back Wells up, their running game is poised to break out in a big way. Blocking by the team's top wide receivers will be crucial to that success.
Character
At last we get to an area of moderate concern when it comes to Michael Floyd's success in the NFL. All of the talent in the world isn't worth anything if the person who owns it isn't able to control his bad habits off the field.
Alcohol seems like it could be a problem for Floyd. In fact, it already is: He's been cited twice for underage drinking and once for driving under the influence.
If this continues to be a problem, it could impact Floyd's career quickly and harshly. The Cardinals are on the verge of becoming a playoff contender, and any negative brushes with the law or alcohol issues that Floyd brings to the table must be dealt with as soon as possible.
Fortunately, Floyd will have Larry Fitzgerald to mentor him. There couldn't be a better man to take this young wide receiver under his wing, both on the field and off.
Team Need
The Cardinals are in desperate need of some upgrades on the offensive line, and they also have several positions of need defensively.
Wide receiver may not have been their most pressing position of concern—that honor probably goes to offensive tackle—but it has definitely become a position that needs an upgrade. The Cardinals have been in a long, painful decline at that position with talent like Anquan Boldin and Steve Breaston departing for greener pastures after Kurt Warner retired.
Bringing in Floyd will be a big offensive shot to the arm for the Cards that could help turn things around for a team that struggled to put points on the board for much of the 2011 season.
Overall Assessment
Michael Floyd will be an immediate boost to a Cardinals offense that has a lot of room to grow from where it was at the end of the last season, not only in the short term but hopefully for the long haul.
Lining up across from Larry Fitzgerald, Floyd will have the opportunity to make a difference right away. By relieving the pressure on Fitzgerald as a second powerhouse receiving option, Floyd will open the field up for whoever earns the starting spot at quarterback.
Between the revitalized running game and the new receiving threat, the Cardinals should find themselves in a much more stable position offensively than they have been in for years.
There are other positions of need for the Cardinals to focus on as the draft continues. We must hope that the focus now moves to the offensive line, as that area of need is by far the most pressing one facing the Cards moving forward.
Looking at the present, though, there is little doubt that Floyd was absolutely the right pick for the Cards in this first round.
Final Grade: A
This article is
What is the duplicate article?
Why is this article offensive?
Where is this article plagiarized from?
Why is this article poorly edited?

Arizona Cardinals: Like this team?