Bruce Irvin: Seattle Seahawks Defy Convention and Logic with Bizarre Pick
April 27, 2012
With the 15th pick in the 2012 NFL draft, the Seattle Seahawks select...Bruce Irvin?!
When the Seahawks made their pick on Thursday in the first round of the NFL draft, virtually the whole country responded with, "Who the (heck) is that?"
Irvin, a defensive end/outside linebacker out of West Virginia, was widely considered a second-round pick, at best. Most had him going in the third or fourth round. Not only was he labeled as a one-trick pony, with pass-rushing his defining skill, he also came complete with character concerns. He was arrested in March and was charged with destruction of property and disorderly conduct for breaking a sign at a Jimmy Johns sandwich store. As unhappy as he may have been with the sandwich, it's hard to explain that.
You could say that the Seahawks desperately needed a pass-rusher,so Irvin wasn't that bad a pick, but, despite his blazing speed, there are serious concerns about his knowledge of the game. Most of his pressure came simply from blowing past opponents in college. In the NFL, he won't be as fortunate, and a lot of draft experts have him as a third-down situational player from the get-go. He's a project, to say the least, and people have a right to be confused by the pick.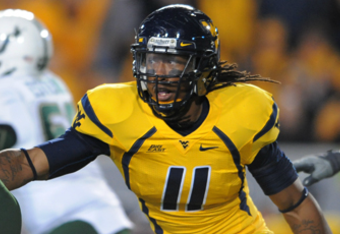 The Seahawks did this last year, if you remember. As in, they reached. They selected Alabama offensive tackle James Carpenter at No. 25 overall, despite Carpenter not being considered anywhere near a first-round pick.
Either the Seahawks are positioned to be geniuses who knew something no one else in the country knew, or they are positioned to be complete failures on draft day the last two years. I'm going with the latter.
There are some picks you can somewhat understand. The Seahawks' first-round selection will have people scratching their heads well beyond the draft. Good luck competing in the NFC West next season, Seattle.
Follow me on Twitter. We can talk about the NFL together.