Pro Bowl
NFL Pro Bowl: League Would Make Right Call to Suspend Meaningless Game

Kent Nishimura/Getty Images
April 26, 2012
The NFL is finally doing something we can all agree is a good thing. Per ESPN's Chris Mortensen via Twitter, they are reportedly looking to suspend the Pro Bowl.
This is absolutely the right call. There is no point in putting on a show that nobody really cares about. 
I could only stomach the 2012 version for about 10 minutes before I flipped the channel and started watching golf—it was pathetic.
Watching players like Jared Allen—known for his non-stop motor and savage pass-rushing prowess—lope around pretending to play football is a complete joke and waste of time. It demeans both the players and the game we love.
The worst part about the fiasco is that they're getting paid to perform, yet their performances don't warrant the money.
Plus, think about all the people who shell out their hard-earned cash to sit in the stands just to watch some of the world's greatest athletes clown around on the sidelines.
There has to be a better way to celebrate the accomplishments of the league's greatest players without making them look like paid actors.
I'll say this: I don't blame the players for the way they approach the game. They are right to protect their bodies—their greatest asset and the reason for their success.
I'm curious to see what the NFL will come up with to replace this antiquated game.
My favorite aspect of the Pro Bowl used to be the competitions they held between the individual players before the actual game.
The 40-yard dash, the quarterback competitions, the offensive and defensive linemen competing in the bench press: These were fun to watch and I made sure to tune in every year to see who would outshine the competition.
It was like watching the scouting combine, except nobody was stressed and everyone involved wore a smile. 
Competition between elite athletes is must-see TV, but only when it's real. The NFL needs to come up with a better way to honor these men. 
I'm in favor of something like a charity event for inner-city underprivileged kids in a different city every year.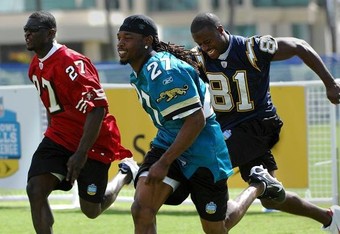 The players could participate in the individual competitions like they used to do on the beach, except this time they'd be doing it in front of kids who would otherwise never get the chance to see their heroes in action.
Then, after the friendly competitions are over, the players would have a chance to sign autographs and mingle with the kids who look up to them perhaps more than anyone else on planet Earth.
That's a Pro Bowl I'd like to see. I'm sure we'd all tune in to watch something like that take place once a year.
For now, at least they are headed in the right direction, and hopefully they do suspend the Pro Bowl this year.
Like the new article format? Send us feedback!