NFL Draft 2012: The Truth About Completion Percentage When Scouting QBs
April 26, 2012

Darren Carroll/Getty Images
Sam Bradford was drafted with the first overall pick of the 2010 draft by the St. Louis Rams. He was limited to just three appearances in 2009 because of an AC joint injury he suffered Week 1 vs. BYU, but he posted huge numbers he first two years as Oklahoma's starting QB, headlined by completing 565 of 824 passes for an impressive completion percentage of 68.6 percent.
This statistic has long been equated with accuracy, so it should be no surprise to see the likes of ESPN's Mel Kiper and Todd McShay take notice. NFL Network's Mike Mayock went a step further and said Bradford's "deep touch and accuracy are phenomenal."
Now I don't pretend to know the methods Mayock used to arrive at his assertion, but hopefully it was not a simple matter of looking at completion percentage. While some make a compelling argument that it is a tool which helps indicate accuracy, I find the statistic to be more than a bit misleading.
Completion percentage is calculated by simply dividing the number of passes by the number of passes attempted. Using this as a measurement of accuracy is flawed because it discounts a number of important variables that affect whether a pass is completed or not.
Most notably, completion percentage penalizes quarterbacks for receiver drops, throwaways and incomplete passes as a result of the receiver running an incorrect route. It also fails to penalize the thrower for catches on off-target passes.
While these are all important variables that the statistic ignores, the most flawed aspect of completion percentage is that it treats all passes equally. A 25-yard seam route to the tight end that must be fit precisely between the chasing linebacker and the closing safety counts just the same as the bailout dump off to the wide open RB in the flat.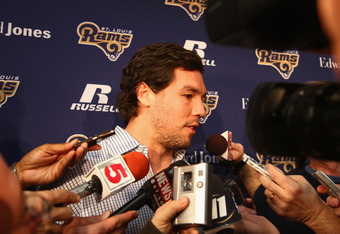 Dilip Vishwanat/Getty Images
So what's a better way to measure accuracy? I've been taught to chart each individual throw on a grid that divides the field first into thirds (left, middle and right) and next into four throwing areas (passes from zero-to-four yards, five-14 yards, 15-24 yards, and 25-plus).
By doing this, I can make my own determination as to whether a pass was accurate or not, as well as decide why a pass may have been off target (i.e. overthrown, behind the target, too low). I also keep a second chart to measure the accuracy of throws made on the run.
This may seem like a painstaking exercise, but it's a great way, over the course of several games, to get a feel not only for a quarterback's general accuracy, but also precisely what throws he can make.
My chart also allows me to discern where a quarterback tends to miss, not just in terms of a certain area of the field but also in terms of placement of his passes. I am able to discover habits the passer may have developed, whether they're throwing balls outside the hashes behind the target or overthrowing deep balls.
Sam Bradford's rookie season with the Rams was by all accounts a surprise success. St. Louis went from the worst team in the league in 2009 to a virtual playoff game in Week 17 vs. the Seattle Seahawks for the 2010 NFC West title. He was named the Associated Press' Offensive Rookie of the Year and completed 60 percent of his passes for 3,512 yards with 18 TDs and 15 INTs, all very impressive for a rookie.
Although his introductory year to the NFL was impressive as a whole, his production took a noticeable drop in December games. While his completion percentage remained respectable for a rookie at 68.8 percent, his TD/INT ratio was a miserable 1/6 his last five games, and the Rams averaged a pedestrian 15.2 points per game.
His struggles continued into his sophomore season, too. Injuries held him to just 10 starts in 2011, and his completion percentage dropped to 53.5 percent, while he compiled a disappointing six TDs and six INTs.
While his nagging high ankle sprain and 36 sacks taken are convenient scapegoats for his regression in 2011, they do not explain his struggles toward the end of the 2010 season. Did he suddenly become a significantly less accurate quarterback as his completion percentage in 2011 suggests, or is this too simplistic an approach?
Using my charting system, I broke down seven of Bradford's games between the 2010 and 2011 seasons, and the resulting statistics tell a much more descriptive story about his strengths, weaknesses and, of course, accuracy as an NFL quarterback.
From a pure accuracy standpoint, he was fantastic on all throws in the zero-to-four yards range, as he was accurate on 86 of 99 charted passes for two TDs with one INT. On throws to his left and to the middle of the field in the five-14 range, he was also stellar, as he threw accurate passes on 55 of 82 attempts with an excellent ratio of four TDs to just one INT.
However, we start to notice a significant drop-off in accuracy and production on throws in the same range to the right side of the field, as he was accurate on only 15 of 32 passes with four INTs! As inaccurate as he was to this part of the field, it's on the intermediate and downfield throws where we see his most drastic dip in accuracy.
In the 15-24 yard range, he was just 12 of 23 on the accuracy chart. While he threw three TDs with no INTs, all three TDs were to the left side of the field.
And that phenomenal deep touch and accuracy that Mike Mayock loved from Bradford's college years and pro day? He was accurate on only six of 22 passes longer than 25 yards, with only one TD and two INTs. Another important point on Bradford's long throws—a whopping 11 of his misses were overthrows.
The chart points out one other glaring weakness of the completion percentage statistic, and that's its inability to weight throws based on difficulty.
Bradford attempted 99 throws less than five yards downfield in the seven games I charted, and only 45 longer than 15 yards. His completion percentage is rewarded significantly by making so many easier throws, but as the chart demonstrates, he has real concerns on intermediate and long passes that significantly limit his effectiveness.
This is just one case study, but rest assured that every NFL team has some form of chart on every starting quarterback in the league, allowing them to assess an opponent's strengths, weaknesses and accuracy much more effectively than the traditional completion percentage statistic.
All this charting and debunking begs the question: What does completion percentage actually calculate?
For me, it's best used as a measurement of passing efficiency and should be considered as much a team statistic as it is a quarterback assessment. Again, completion percentage takes into account drops, throwaways and miscommunication—items key to the effectiveness of the offense but not part of accuracy.
Next time you hear an announcer proclaim a quarterback to be an accurate passer, ask yourself these questions: To what parts of the field is he accurate, and how will an actual assessment of his accuracy affect the offensive and defensive game plans?
Searching for these answers will lead to a much deeper understanding of the quarterback than relying on ambiguous stats like completion percentage.