2012 NFL Draft: Comparing 9 Offensive Tackle Prospects in the Draft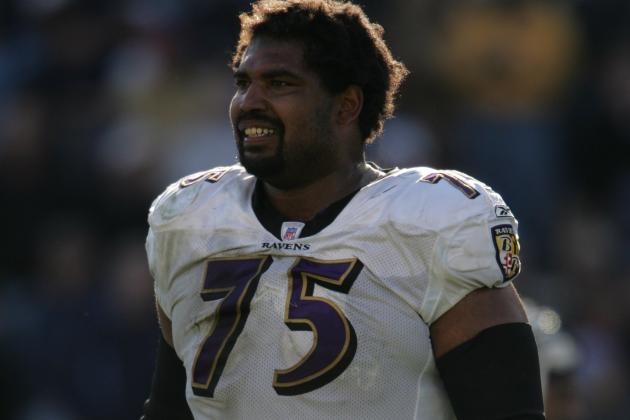 Andy Lyons/Getty Images
Johnathan Ogden-One of the best offensive tackles of all time.
Around this time every year 32 NFL teams look to add the future stars of the league to their rosters. This includes the next generation of passers, runners, hard hitters and even the less glamorous prospects...the offensive linemen. Like it or not, Tom Brady, Adrian Peterson and Calvin Johnson couldn't do what they do without the offensive line. A smart personnel department knows this.
So what do they look for in offensive linemen? Ideally they look for somebody big. They have to have the strength to push around some of the biggest and best athletes in the world. They must have nimble feet and agility to stay in front of the quickest defenders in the league. They have to be smart enough to recognize blitzes and understand blocking schemes. There's a much appreciated bonus if they have the killer instinct to block through the whistle. And hopefully they have the length and athletic ability to play on the edge, as a blindside protector.
There are so many things that go into evaluating offensive linemen. So how do you decide who can play tackle? And how do you decide who fits your scheme?
In the following slides, I will compare nine offensive tackle prospects from the 2012 NFL draft.
Begin Slideshow

»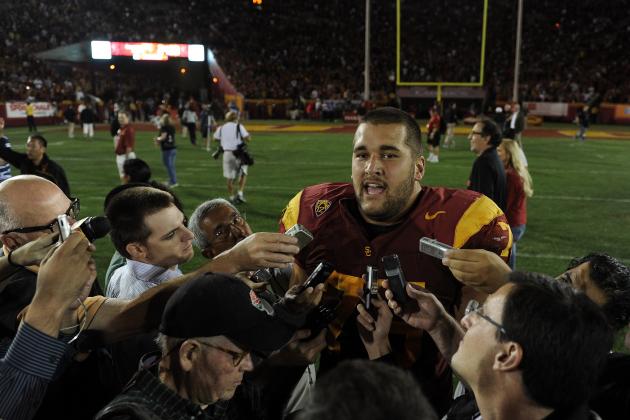 Harry How/Getty Images

Matt Kalil is widely regarded as the best offensive tackle prospect in the draft. He has the skill set to become a franchise left tackle that you can leave isolated on the blindside against the league's best pass rushers. He is light on his feet and slides easily and quickly with speed rushers.
His downside is that he is not very strong and does not block with a killer instinct. He also can be inconsistent with his pad level, allowing defenders to gain a leverage advantage on him. Luckily his pad level is something he can work on.
His ideal fit would be a pass-heavy team that runs a zone blocking scheme. He has the ability to keep DeMarcus Ware away from your quarterback all game long. However you don't want to build a scheme around running iso behind him.
Joe Robbins/Getty Images

Riley Reiff is what you would expect an Iowa offensive lineman to be: hard working and well-coached. Reiff plays with low pads and great footwork. He uses his arms to keep defenders at bay. He is a pretty good overall athlete and has room to get better.
I would compare him to former Iowa tackle Bryan Bulaga. They came from the same system and it shows. Bulaga was a little more polished coming out of college, but Reiff is a better athlete with a higher ceiling. Reiff can start right away at right tackle and maybe compete to move over to the left.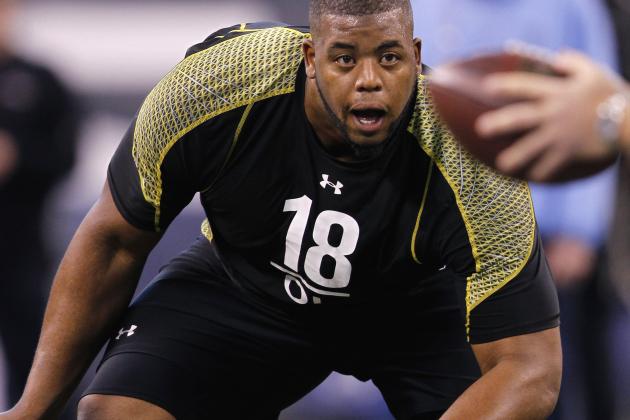 Joe Robbins/Getty Images

Cordy Glenn is a big, powerful lineman who is exceptionally nimble for his size. He has shown strength to consistently create running lanes and overpower defenders. He sets up well in pass protection and has a decent hand punch.
Unfortunately he is probably not quick enough to stay at left tackle in the NFL. Ideally he can play right tackle or guard. He struggles with speed on the edge but inside he will be able to use his size and strength to his complete advantage.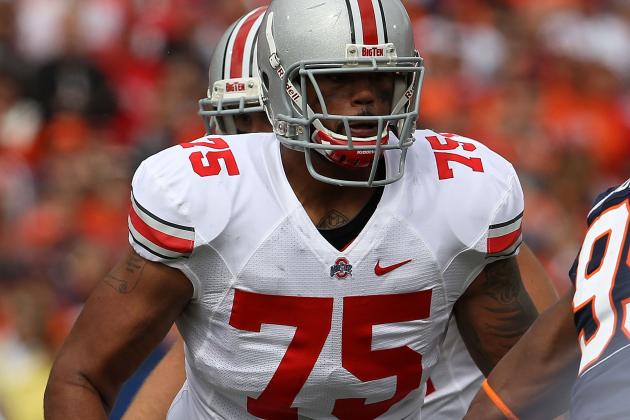 Jonathan Daniel/Getty Images

Mike Adams has the look of a franchise left tackle. He has ideal size to go with the strength to maul defenders into the ground. He sets up well in pass protection and moves fluidly. He can get a little high in his shuffle sometimes but shows the strength to recover even when he loses leverage.
The only real knock on his game is that he seems to lack a killer instinct, but it does not affect his play too much. Off the field is a different story. He was a part of the Ohio State tattoo scandal and tested positive for marijuana at the combine. While these might not be the most serious off-the-field issues in the NFL, it does reflect very poor judgement. Showing up to the biggest job interview of your life with an illegal substance in your system is a huge red flag.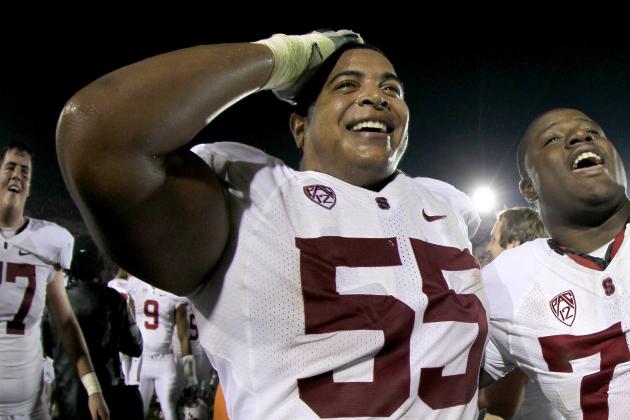 Stephen Dunn/Getty Images

Johnathan Martin anchored the blindside for Andrew Luck and the high-powered Stanford offense this year. He is big and has shown decent strength and agility as a pass protector. He is more or less a jack of all trades.
He is not very aggressive and can be prone to stopping his feet while run blocking. He seemed to wear down as the game went on against USC. While he fought hard throughout the game, it seemed Nick Perry was getting the better of him more often than the other way around.
His best fit is probably at right tackle. He can be scheme diverse and fits most teams.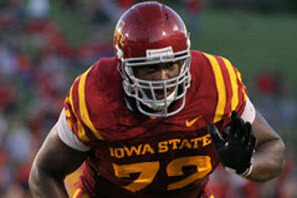 Kelechi Osemele is an absolutely massive man. He can completely engulf any defender he gets his hands on. In the run game, you can count on him to create some movement along the front.
Unfortunately he doesn't move his massive frame around as well as you would hope a blindside protector can. He might not even be a fit for right tackle. In a phone booth, he is a force to be reckoned with, so his best fit is at guard.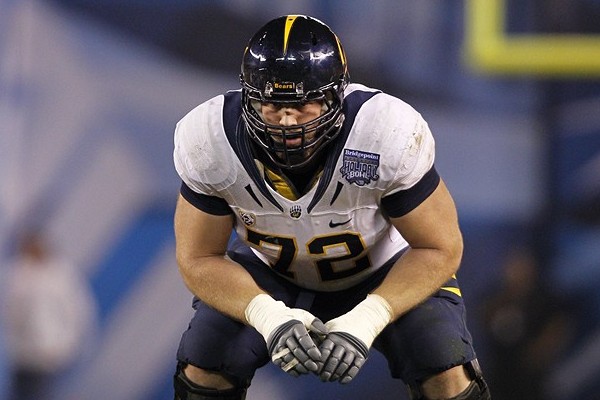 If I had to describe Mitchell Schwartz as a football player in one word it would be "mean." He is a guy that consistently blocks through (and sometimes a little after) the whistle. He gets under people's skin as the game goes on. He is tenacious and his energy and fighting spirit never seem to wane.
As far as athleticism and size go, he is good but not great. I wouldn't put him on the blindside, but he can hold his own in space and would be a nice fit at right tackle. He can play any scheme but would fit best in a zone scheme where he can use his motor and mean streak to his advantage without worrying about being one-on-one with bigger and stronger defenders.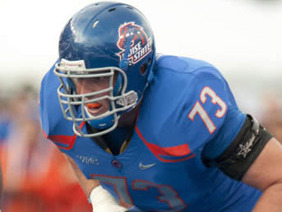 Nate Potter is an experienced left tackle who started 28 times for Boise State. His biggest strength is his understanding of schemes. Whether passing or rushing, he fights to get in position so the defender has to go directly through him to get to the ball carrier.
Unfortunately he is not a great athlete. Even though he only has adequate strength and quickness, I'm not sure if he will be overwhelmed in the NFL. He is smart and crafty, making him at the very least a valuable backup for either tackle spot.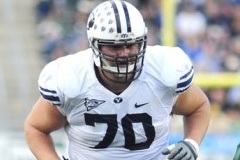 Matt Reynolds is a very experienced tackle from the pass-happy BYU. He is well-coached and plays with very smooth technique. He is big and anchors well to make bull rushes useless.
While Reynolds has a lot of experience, most of it was in a finesse, pass-heavy scheme that did not often ask him to put his hand down and pave the way for the run game. He has size that suggests he can be a powerful run blocker, but he does not demonstrate it very often. He is also not very quick, despite pass protecting for a long time at BYU. He will struggle with NFL speed rushers and will have to move to the right side or kick inside to guard.