2012 NFL Draft: Why the Buffalo Bills Will Take a Corner in Round 1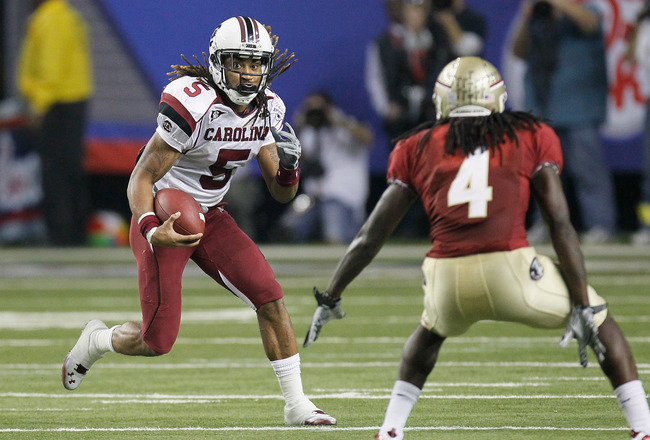 Kevin C. Cox/Getty Images
As a fan of the Buffalo Bills who no longer spends the majority of his time in the Queen City, I take pride in the fact that I manage to keep up with the day-to-day goings on with the team I grew up loving.
And while I do not consider myself an expert, by any means, nor do I claim to have any inside information of the Bills' draft plans, I do believe that after 20 years of heartbreak and missed opportunities, I have some level of relevant knowledge on what's best for the team.
O.K., now that I covered all of my bases, here is why I think taking a corner with the tenth overall pick is the best move for this organization.
Underachieving and Aging Cornerbacks
Buddy Nix has made it clear in recent weeks that he hopes to improve the team's depth at the cornerback position. This decision stems from issues in the secondary this past season with CB's Drayton Florence, Terrence Mcgee, and Leodis McKelvin.
Drayton Florence struggled mightily throughout the season, mostly with bigger, faster receivers. He also picked up illegal contact penalties at an alarming rate. After a pleasantly surprising 2010 campaign, watching Florence against the likes of Brandon Marshall and Hakeem Nicks last season was almost unbearable.
Terrence Mcgee fell victim to the injury bug once again, playing in just 6 games. He is simply not reliable enough at this stage of his career.
Leodis McKelvin, as most Bills' fans know, has a confusing problem when defending opposing receivers. He seems to always be in the right position to make a play on the ball but is almost always unsuccessful in doing so (For those of you who don't remember his play vs. Dez Bryant, see above).
Rookies Aaron Williams and Justin Rodgers did show flashes last season but, all in all, the lack of quality players in the the Bills' cornerback corps is alarming.
Gilmore and Kirkpatrick Fit the Mold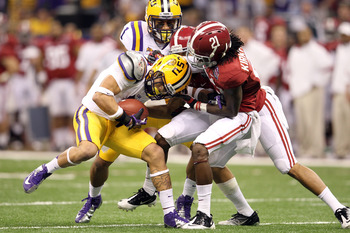 Andy Lyons/Getty Images
Buddy Nix and his staff have noted that they prefer bigger, more physical cornerbacks as opposed to finesse players. He proved this by drafting Aaron Williams (6'1''-192 lbs) last year. Williams was looked at as a more free safety prospect by many scouts because of his size and tackling ability.
Gilmore (6'1" 190 lbs) and Kirkpatrick (6'2''-186 lbs) fit the bill for what Nix wants in a corner. Both are viewed as sure tacklers and are not expected to have much of a learning curve as they adapt to the speed of an NFL game.
Buddy Nix's Draft History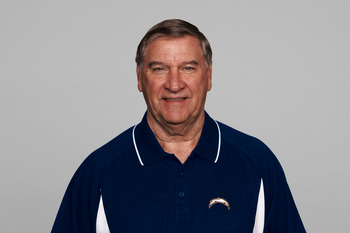 NFL Photos/Getty Images /Getty Images
Upon inspection of the past ten drafts that Buddy Nix took part in with the Buffalo Bills and San Diego Chargers, several patterns can be noticed.
One telling trend is that Buddy Nix sees value in drafting a cornerback in the first round. Four out of Nix's eleven first-round picks in the past ten years have been used on cornerbacks (Quentin Jammer, Sammy Davis, Antonio Cromartie, Antoine Cason), the most of any position.
Nix's draft history also suggests that he is not keen on drafting wide receivers or offensive lineman that early, two positions that are greatly needed on this team. Nix-led organizations over the past decade have only drafted one WR in the first round (Craig "Buster" Davis) and have not drafted a lineman.
Changes in the Front Office Mentality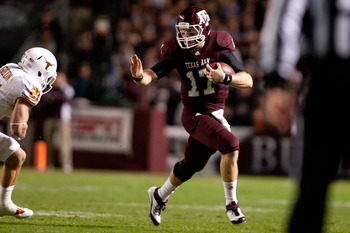 Darren Carroll/Getty Images
The Buffalo Bills' front office has often been maligned for not making the big (or smart) moves to get the team over the hump. This off-season has been different with the signings of free agents Mario Williams and Mark Anderson.
Buddy Nix has made it clear that this organization's goal is to win and they believe that they have many of the pieces in place to do so. This idea will shape Buffalo's draft as the team searches for an "impact player" who can come in and make an immediate difference. In my opinion, this eliminates players like Ryan Tannehill and Riley Reiff from the equation, who may take a little longer to develop.
Interest in Barron, Tannehill Seems Feigned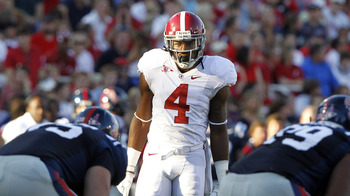 Butch Dill/Getty Images
This slide, I admit, comes mostly from my gut rather than informed analysis. Both Mark Barron and Ryan Tannehill are guys whose names have rocketed up draft boards. Many reporters have cited "sources" within the Bills' organization that claim they are enamored with these prospects. To me, this feels like a smokescreen put up by the Bills to incite a bidding war for the tenth overall selection.
Mark Barron would make sense for the Bills due to the fact that he could step in and play right away. However, I do not think it's a coincidence that the folks at One Bills Drive are leaking information on how they are "extremely interested" in Barron. Especially with teams that have a serious need at safety selecting right behind them (Dallas Pick 14, Philadelphia Pick 15, New York Pick 16). George Wilson, when healthy, proved last year that he was an upgrade over Donte Whitner and Jairius Byrd. Thus, while it is not out of the question for Barron to be the pick, color me skeptical.
In my opinion, there is a less than zero percent chance that Tannehill will wind up a Bill. Both Nix and Gailey have hitched their wagon to Ryan Fitzpatrick, especially Nix who has repeatedly said that this is the year the Bills must take the "next step." With so much emphasis put on this season, drafting a developmental quarterback in the first round sounds like a dumb idea. I do not believe Buddy Nix is a dumb guy so I see this as another attempt to promote interest in the Bills first round pick. That is if Tannehill gets past Miami.
Conclusion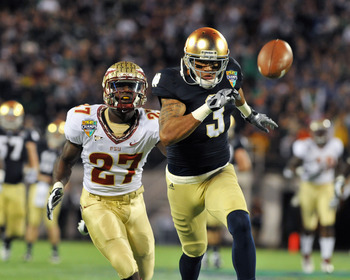 Al Messerschmidt/Getty Images
All of the information that I have presented indicates the way that the Buffalo Bills' front office should go on Thursday night. Though a cornerback may not be the sexiest selection in the way that a big name like Michael Floyd would be, it does help fill a void in a position that is becoming increasingly important in today's pass happy NFL. After this unexpectedly active off-season at One Bills Drive, I think I speak for most Bills Fans when I say, In Buddy We Trust.
Keep Reading

Buffalo Bills: Like this team?