5 Struggling Aces Who May Have Turned Around Their Seasons Tuesday Night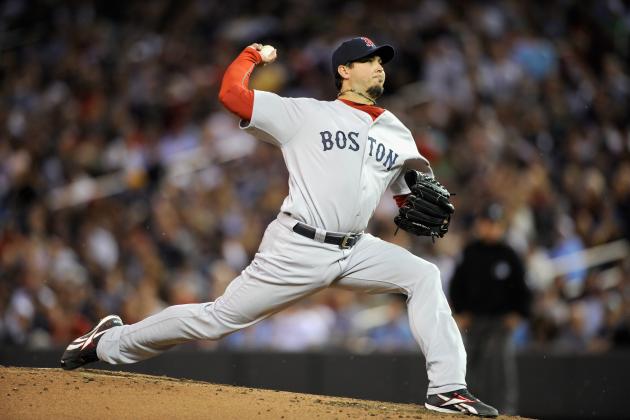 Hannah Foslien/Getty Images
Since getting bombed in his 2012 debut, Josh Beckett has pitched well for the Red Sox.
The first month of the 2012 MLB season hasn't been kind to several top starting pitchers throughout baseball. Of course, some of these previously dominating hurlers are also recovering from major injuries that required surgery.
But as the month nears its end, those struggling aces may be experiencing some turnaround. That's great news for their teams. Without getting No. 1 production from their No. 1 starters, some contenders could find themselves on the outside looking in as playoff races begin to develop.
If these starters are finally on the rebound, fans benefit as well. Who doesn't want to see elite talent perform to the highest standards? That makes baseball better, as a whole.
Here are five pitchers who may have turned their seasons around on Tuesday night.
Begin Slideshow

»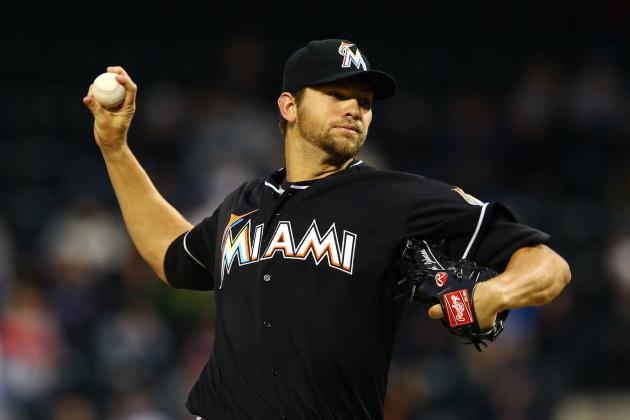 Al Bello/Getty Images
Josh Johnson finally looked like an ace again on Tuesday night for the Marlins.
Can we turn down the worry dial on Johnson now? After losing his first two starts and giving up 21 hits in the process, the Marlins' ace appears to have found his groove.
Pitching six-and-two-thirds innings, Johnson allowed just one run and three hits to the Mets. He also racked up nine strikeouts, more than he tallied in his three previous starts combined.
Johnson was working on six days rest, and perhaps the extra day helped him to recoup some strength and stamina.
Or maybe working out in Central Park worked wonders for Johnson. As reported by the Palm Beach Post's Joe Capozzi, Johnson and Marlins pitching coach Randy St. Claire decided to throw some long toss in Central Park on Monday because Citi Field was unavailable with the Mets and San Francisco Giants playing a game.
The Marlins should probably hope that Johnson's not too superstitious. After his performance on Tuesday, maybe he'd feel that he has to do his pregame throwing in Central Park. Getting him there or bringing the park to him every five days could get expensive.
This could be something to keep an eye on when Johnson negotiates his next contract. Or not.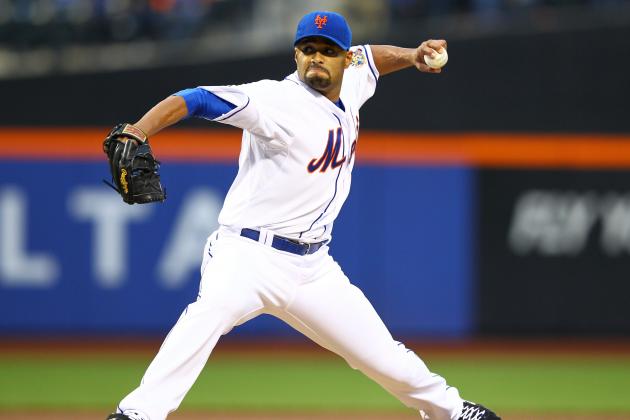 Al Bello/Getty Images
Johan Santana looked like he was returning to vintage form for the Mets on Tuesday.
Johnson wasn't the only starting pitcher who looked good at Citi Field Tuesday night.
Santana rebounded from his worst start of the season with his best performance thus far in 2012. He went six-and-two-thirds innings, allowing one run and three hits while also striking out 11 Marlins batters. The 11 strikeouts tied for the highest total Santana posted in that category since 2009.
In his previous start, Santana couldn't even make it out of the second inning against the Atlanta Braves. That was the shortest outing of his major league career. Quite a turnaround.
"I prepared myself pretty well," Santana told ESPN New York's Adam Rubin after the game. "We did everything that we had to do.
"I was waiting for tonight. When I got out of the first inning, I was OK. That's good. Now I've got everything going. It took me a couple of innings to establish my fastball in there. And then after that I was able to command the strike zone and throw all of my pitches."
With Mike Pelfrey going on the disabled list for elbow inflammation, the Mets need their ace to anchor a short-handed starting rotation. On Tuesday, Santana looked capable of handling that responsibility.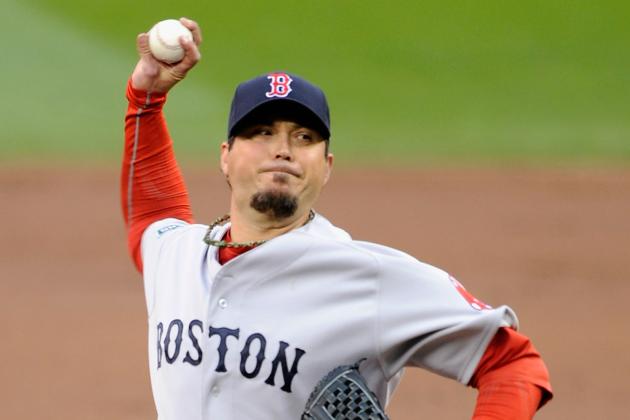 Hannah Foslien/Getty Images
Despite three walks, Josh Beckett notched his second win of the season for the Red Sox.
After getting shelled in his season debut by the Detroit Tigers, Beckett appears to have righted himself in his subsequent three starts.
Since giving up seven runs to the Tigers, Beckett has given up a total of six runs in his past three outings. That includes just two runs allowed against the Minnesota Twins on Tuesday.
It wasn't the sharpest night for Beckett, as he walked three batters in six innings. But he might blame home plate umpire Adrian Johnson for that.
As the Providence Journal's Brian MacPherson explains in his game recap, Beckett wasn't happy with what he felt was a tight strike zone. He issued three straight walks in the first inning, the last of which resulted in a bases-loaded run scoring. But from there, Beckett settled down and allowed one run and four hits over his last five innings.
Run support from his lineup might also have something to do with Beckett calming down. In his two wins this season, the Red Sox have scored 23 runs.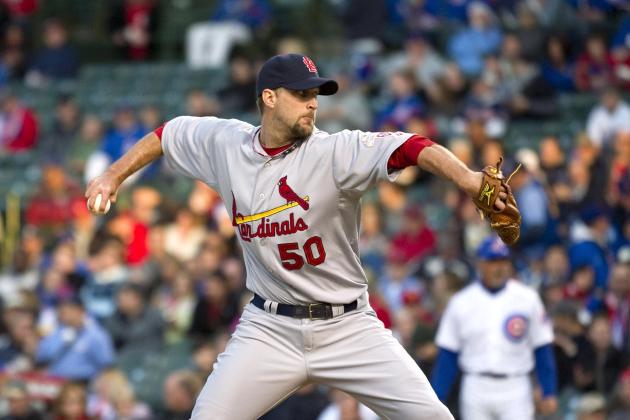 Brian Kersey/Getty Images
Wrigley Field has been very, very good to Adam Wainwright during his major league career.
It was probably unrealistic to expect Wainwright to pitch like a Cy Young Award contender less than 15 months after having Tommy John surgery. But the performance in his first three starts surely raised some concerns for the Cardinals. Especially curious was the five home runs he'd allowed.
Wainwright didn't serve up any homers on Tuesday against the Chicago Cubs. Perhaps not coincidentally, he allowed one run and tallied a season-high seven strikeouts.
Though he didn't get a win, his six innings were probably the most encouraging sign. It was Wainwright's longest outing of the season and shows that he's building his stamina back up.
Maybe pitching in Wrigley Field was recuperative for the Cardinals' ace. Tuesday's victory improved Wainwright's record in Wrigleyville to 5-0 with a 3.67 ERA in 12 appearances. He's also struck out 49 batters in 49 innings there.
Joe Robbins/Getty Images
Making his fourth start of the season, Mat Latos pitched seven shutout innings for the Reds.
It would be understandable if the Reds were rubbing their foreheads over Latos after his first three starts. Cincinnati's big offseason acquisition had allowed 14 runs in those three games, capped by an eight-run pounding by the Cardinals.
But being matched up against Matt Cain seems to bring out the best in starting pitchers. After Cliff Lee pitched 10 shutout innings versus Cain last week, Latos threw seven scoreless innings on Tuesday.
Of course, facing the Giants' lineup is probably a big help. But that's probably not a fair crack to make, with the Giants scoring 21 runs in their past four games.
Latos put that relative outburst to a halt, however, allowing only four hits, none of them for extra bases. With the scoreless outing, he lowered his season ERA from 8.22 to 5.64.
"Nobody really wants to go out there and get the crap kicked out of them," Latos said to Tom Groschen of the Cincinnati Enquirer. "It's definitely some weight lifted off my shoulders."