Russell Wilson: 5 Teams That Make the Most Sense for QB in 2012 NFL Draft
April 26, 2012

John Gress/Getty Images
By now, you know the 2012 NFL draft's "Big Three" of first-round quarterbacks: Stanford's Andrew Luck, Baylor's Robert Griffin III and Texas A&M's Ryan Tannehill.
Chances are, you've heard of Wisconsin's Russell Wilson too. 
However, could it be that just a few inches separate Wilson from being the fourth quarterback to hear his name called during the first day of the 2012 NFL draft?
Matt Waldman of the New York Times' "Fifth Down Blog" thinks so.
"Based on what I've seen from Wilson," Waldman wrote, "if he were 6-2 and 220 pounds, the draft would have four players that teams would consider potential franchise starters."
Nevertheless, Wilson is not 6'2" and 220 pounds. The former Wisconsin quarterback currently stands just 5'11" and weighs a sandwich over 200 pounds, which is clearly undersized for what the majority of NFL front offices look for in a starting-quality quarterback.
Not all is lost for Wilson, however.
While his size deficiencies will almost certainly keep him out of the first round, Wilson should have several teams down the draft board that are willing to take a chance on finding out if the quarterback can overcome the red flags at the NFL level. Frankly, I'd be surprised if Wilson got out of the top 125 picks. 
Here are five teams that make the most sense for Wilson:
GM Ted Thompson obviously wouldn't be drafting Wilson to be the Packers starter now or in the future, as reigning NFL MVP Aaron Rodgers has a stranglehold on the position for however long he wants it. However, Thompson did watch former seventh-round pick Matt Flynn sign a deal in Seattle this offseason, robbing the Packers of their valuable backup in the process.
Graham Harrell remains on the roster, but Thompson will almost certainly be looking for another body at quarterback in the draft. Considering the Packers are likely to get a third- or fourth-round compensatory pick for losing Flynn, Thompson could be willing to spend a similarly valued selection on a quality backup.
Wilson fits the mold, even if the Packers tend to look at quarterbacks 6'1" or taller.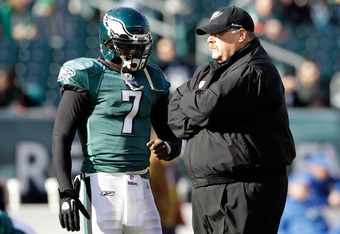 Rob Carr/Getty Images
Wilson isn't the kind of run-first quarterback that Michael Vick was coming out of Virginia Tech, but there are some similarities here that make the Eagles an enticing option.
The two quarterbacks are of similar size and possess a skill set outside the pocket that are rivaled by few at the position. In all reality, Wilson is a lot further along as a passer than Vick was even years into his NFL career.
Given the injuries Vick has suffered through recently, Philadelphia is likely to use a pick on a quarterback. Wilson would appear to be a natural fit for how the Eagles currently run their offense.
The Saints had to be included here, if not for the simple fact that Wilson is facing the same kind of "red flags" current Saints quarterback Drew Brees went through as he was coming out of Purdue. 
Wilson is even shorter, but if there's anybody Wilson should want to learn behind, it's Brees. Give Wilson three or four years to pick the brain of Brees, and you could have another quality starter once Brees retires or begins to fade.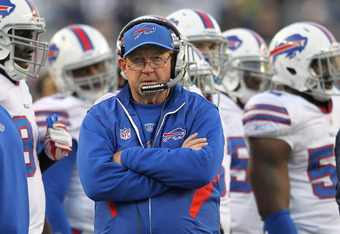 Jim Rogash/Getty Images
The Bills offer a fascinating landing spot for a couple of reasons.
Buffalo is currently locked into starter Ryan Fitzpatrick contractually, but there's no reason to think a player like Wilson couldn't eventually beat out Fitzpatrick with a year or two sitting and learning on the bench. 
It would also be interesting to see how an offensive visionary like Chan Gailey employed Wilson, who offers versatility both as a passer and runner. Simply as a backup plan, I don't see how taking Wilson in the fourth or fifth round doesn't make Buffalo better in the long term. 
What if the Dolphins shock the draft world and pass on Ryan Tannehill at No. 8? While seemingly unlikely, you just never know how teams have their draft boards stacked. That is especially true at the quarterback position.
The Dolphins could pass on Tannehill early and then take Wilson in the third round or later. With Matt Moore and David Garrard on the roster, Miami would allow itself time to groom Wilson to be the future at the position. It's a long shot, but the Dolphins have been as unpredictable this offseason as any.